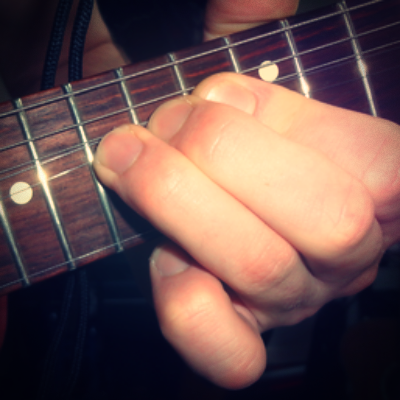 Vibrato, eh? This is one of those well-known guitar techniques that more people know about than they actually know how to do it well. But Tom Boddison will give you a few, precious tips on how to improve your vibrato technique – plus we'll have a look at the Top 5 best uses of vibrato by famous guitarists!
Vibrato is one of the most important lead guitar skills you can develop. It adds attitude to any phrase, and works brilliantly to improve your sound.
In this lesson I'll focus on showing you how to practice your guitar vibrato. There are hundreds of lessons on the web about the motions that you're supposed to use, but if you don't know how to practice and improve your vibrato then you won't get anywhere!
Some players believe that vibrato develops on its own as you play, and although this is partly true, you'll get much faster results if you devote practice time specifically to this one skill. If you want to make your solos sound really professional, this is absolutely vital.
The Key Elements of a Great Vibrato
In this lesson I'll assume that you know what vibrato is and you know how to perform the motions. We'll focus on how to improve it; what you can do to make it sound better and better every time you play.
There are a number of things that make up a really good vibrato technique:
1. Staying relaxed
No matter how much you practice your vibrato, if your fingers are tense then you won't get anywhere. Having a great vibrato is all about control, and control comes from staying relaxed. If you're tensing up then slow down, and don't use so much force!
2. Having an even rhythm
If you don't have an even rhythm when you play vibrato then it'll always sound out of control and messy. To make your vibrato sound better, you need to do it in an even rhythm – and preferably in time with the music. Focus on bending and releasing the note in time with the beat.
3. Having even pitch changes
The pitch change is also important when you play vibrato. Try to bend to the same pitch every time – this way, your vibrato will sound in tune and you'll have much more control over the way it sounds.
4. Using the right vibrato for the job
This all comes down to context. If you're playing a heavy rock song then your vibrato will most likely be wider and faster than if you're playing a slower, softer song. Consider what kind of song you're playing and then adjust your vibrato accordingly – will it suit a more aggressive sound, or a softer, mellower one? Some of this will obviously depend on personal preference.
How to Practice Vibrato
Now that you've got a good idea of what makes up a good vibrato, we'll go through how to practice it. Do this for five to ten minutes each day and within a couple of weeks you'll definitely see an improvement in your technique.
1. First, play a note on any fret and bend it up in pitch slightly.
2. Then, release the bend back down to the normal pitch again. Make sure you completely release the bend – otherwise your vibrato will sound out of tune.
3. Now, try and bend back up to the exact pitch that you bent up to before. You can use a tuner if you like to make sure you bend up to the same pitch.
4. Then, fully release the bend again and repeat the process.
Once you've gotten used to bending to the same pitch every time, then start doing this exercise to a metronome. Gradually speed it up over time, and before you know it your vibrato will sound great!
After you've practised in this way for a days, you can start to apply this stuff to songs. Whenever you add vibrato to a note, pay attention to how it sounds – try to make it sound just a little bit better every single time you do it.
Final Thoughts
I hope this article has helped you to improve your vibrato technique. If you'd like to see more cool articles check out my website www.tomguitar.co.uk, which is filled with reviews, guitar secrets and free lessons!
– by Tom Boddison
Top 5 Best Songs with Vibrato by Famous Guitarists
What are the best songs to feature vibrato? Well, there are a few great examples, but here's our top 5, picked by Tom, who explains:
"Each of those feature very different vibrato styles, from the subtlety of BB king to the raw, full expression of Stevie Ray Vaughan, to the fast, smooth vibrato of Gary Moore. There's something to learn from every single one of those."
1) BB King – The Thrill is Gone
2) Stevie Ray Vaughan – Ain't Gone 'n Give Up On Love
3) Rory Gallagher – Bad Penny
4) Gary Moore – Parisienne Walkways
5) Steve Vai – For The Love of God
More info: