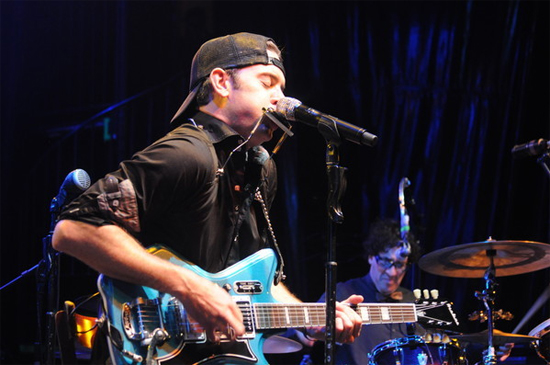 It's been over a year in the making, but now we are ready to unveil the new Airline Black and Blue. Many of you have seen G. Love on stage over the past half year sporting his Airline guitar.
Now, after more than six months on the road, we are ready to release the first small batch of these eye-catching, tone bending, road worthy beasts. The initial run of only 16 guitars are ready to ship now, complete with custom case. Full production will begin in September 2012. Here is the story…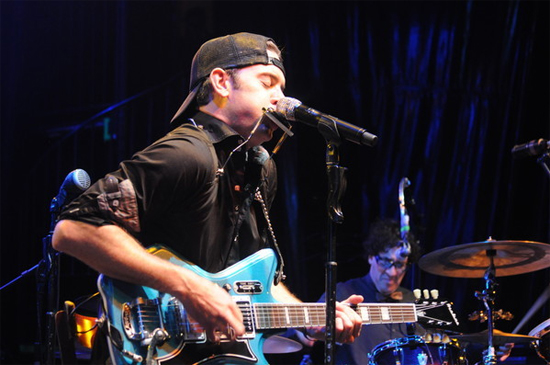 The Black and Blue
by: G. Love
My obsession with unique and weird guitars started on the first night I was in Boston in the late spring of 1992. I had just finished my first and only year in college and had driven to Boston to visit my best friend Jonny V and get a street performers permit. My plan was to move to Boston that summer and delve into my music. I was going to be a professional musician and my first gig would be on the streets of Harvard Square.
That night Jonny and I were rolling around the Berklee and North Eastern neighborhoods smoking and carousing. We happened upon Cambridge Music store and I saw the craziest red and white pawn shop guitar in the window. The shop was closed and I was broke. I don't even know what it was.
Later that summer I made it a point to check that store often and one night as I rolled by I saw the guitar in the window. It turned out to be a Blue Sparkle and white mother of toilet seat Fender Mustang rip off by an Italian guitar maker, Crucianelli. I ran in the store and put down $25 on it. The next day I came back, traded in my Squire Tele, paid $125 in cash and walked out with the freshest guitar I had ever seen. For $250 bucks I had a sound and a guitar that no one else had.
You see, I was not trying to be a Gibson or Fender guy, I wanted to be original. I wanted a unique sound and look. Original baby!! Awwww yeah. I used that guitar on 10 records and toured the world for 20 years. Along the way I was able to find a couple more copies of the guitar and when shit would break we would piece it back together with spare parts. Man, did that guitar have a sound. I thought I would never find a better more unique and cutting tone. Until now.
My obsession with cool and different guitars led me to Eastwood guitars. Through a mutual friend, Lou Vito who I had worked with at both Fender and Gibson, I met Mike Robinson who is a man with a vision. Through his My Rare Guitars site and Eastwood guitars, Mike has been collecting and producing some of the coolest and strangest guitars I have ever seen.
We started talking immediately about designing a new guitar that had all the elements of a crazy pawnshop guitar. What you are seeing, and what we are proud to present, is the brand spanking new G.Love Black and Blue. This replica of the classic Airline 59 3/PU is the bomb. I thought the Crucianelli had the sound but I swear to the good lord above, the Black and Blue triumphs. It's got a cutting tone that sparkles and shimmers. It's got soaring sustain like a Les Paul. The fret board has both resistance and fluidity so I can crunch my blues riffs as well as flow into melodic solos with ease. It's got the most bad ass look I've ever seen with a body shape that looks like a work of art.
We based the colors on that blue sparkle of the Crucianelli with a black neck and headstock. It looks tough. It's one of a kind no doubt. We put 3 single coil pickups to give the guitar that cutting tone and enormous presence. It's got the Bigsby tremolo bar and a bunch of knobs to tune your tone in perfect on all pick up settings. This guitar is road worthy; it's never gone down on a show. It sounds amazing in the studio and it keeps sounding better and better with every gig I play. What can I say? I've been looking for this guitar my whole career and now I ain't never letting it go.
I know this Black and Blue Airline is going to make you satisfied in every way. I guarantee it. So what are you waiting for, get Black and Blue and play the blues! Thanks for stopping by.
Your friend, G. Love
G. Love Black and Blue, early release price only $1199.
Colours: G. Love Signature Black and Blue
Body: Tone Chambered Mahogany
Neck: Bound Maple, Bolt-on
Fingerboard: Rosewood, Block Markers
Scale Length: 25 1/2″ (648mm)
Width at Nut: 1 11/16″
Pickups: Three AIRLINE Vintage Voiced Single Coil
Switching: 5-Way, Vintage Switchplate
Controls: 3 Volume, 3 Tone, 1 Master Volume
Bridge: Roller, BIGSBY tremolo
Hardware: Vintage Kluson Style Nickel/Chrome
Strings: D'Addario #10
Case: Custom G.love Deluxe AIRLINE Case INCLUDED
Unique Features: Custom Color, 3 VVSC pickups
Suggested Retail: $1499.00US
---
G. Love Black and Blue, early release price only $1199.