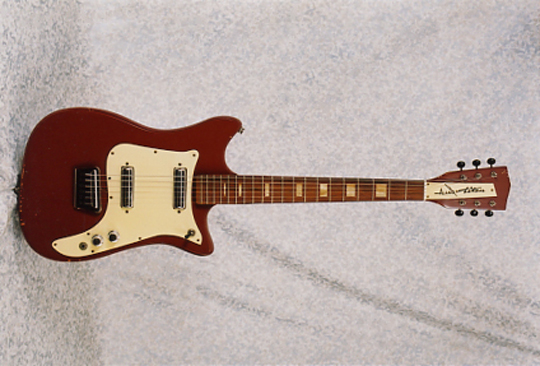 As I've said many times, one of the privileges of writing about off-beat guitars is that I get to do detective work and, when I'm lucky (and in time!), talk to someone who had a direct hand in bringing us the guitars in question. I had to dig hard to uncover something about Alamo guitars and I was both lucky and luckily in time with this story!
Alamo may be a little better known for its amplifiers than its guitars, but these days neither are especially common, probably because they were not high end instruments, but rather targeted mostly at the beginner market. Ergo, not much incentive to keep them around once the kid has moved on to tennis, or a Fender.
I'm sure I first became aware of Alamo guitars through copies of their brochures that I obtained from paper-purveyor Michael Lee Allen. I eventually scored this guitar at a Philadelphia-area guitar show, and, of course, that required opening up a new case, as it were. From the catalogs I knew that Alamo guitars came out of San Antonio, Texas (where else?). I called Chris Smart, whose Krazy Kat Music is a vintage shop in San Antonio, and asked if he knew anyone who knew anything about Alamo. He promised to ask around. Not long thereafter he called back and gave me the phone number of Charles Eilenberg, the man who had actually started and run Alamo! I was thrilled and gave Mr. Eilenberg a call.
We talked for several hours and I got a pretty detailed play-by-play of the Alamo tale. A native of Newark, New Jersey, Eilenberg worked in radio before World War II began, during which he served as a communications engineer in the Navy. Following the War, Eilenberg was recruited by Milton Fink of Southern Music, a music publisher and distributor in San Antonio, to start an electronics business and in 1947 Alamo Electronics was born. They began with record players and battery-powered radios and by around 1950 had graduated to electric lap steel guitars and amplifiers.
Alamo began making electric Spanish guitars in either 1959 or 1960. Alamo guitars were pretty much made in San Antonio, including the pickups, though some mysterious ads for Mexican Alamos appeared in the early 1960s. At some point between 1960 and 1962 Alamo hooked up with the big New York distributor C. Bruno & Son.
Until the advent of the Titan Series in 1963, Alamo guitars were set-neck solidbodies. With the Titans, Alamos switched to a hollow core construction with bolted on necks. The Titans included the one-pickup Mark I, the two-pickup Mark II, and a Titan Bass. Early Alamos were made of Swedish plywood. The sides would be bent to shape and then tops and backs glued on.
Seen here is an Alamo Titan Mark II. I estimate this guitar to be from 1964, when it was included in the Alamo Stars Semi-Pro line. The earliest Titans had a French curve on the top of the headstock, but by 1964 this kind of "center-humped" shape shows up. Alamo numbered its models according to finish color. The catalog lists a Model 2591 (sunburst), Model 2592 (blonde), and a Model 2596 (cherry). This looks "plum" to me, but it could be interpreted as "cherry," so it's probably a 2596.
Basically the Alamo Titans like this were only around for about 2 years. While the name continued into 1965, the design was radically altered. Alamo, it appears, wasn't too worried about consistency, and examples show up with what appear to be the "wrong" model name all the time. Alamo continued to make electric guitars until around 1970, though the majority seen are from around 1965-67. Amps actually marched on into the later 1970s.
Look, no one would confuse an Alamo with a Fender! Like their many Japanese counterparts, you can set them up to play pretty well, but you would really probably want one for its unusual styling…and as a pretty cool piece of American guitar history that won't break your bank.
I wrote up the Alamo story and the good news is that it ran in Vintage Guitar Magazine and was featured later in my book Guitar Stories Volume 2. The bad news is that Chris Smart called me just before the article saw ink to tell me that Charles Eilenberg had passed away, never seeing his story in print. Like I said, in getting the Alamo information I was both lucky and luckily just in time.