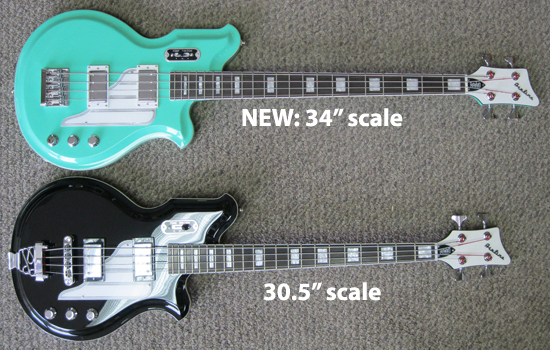 Eastwood's Top Selling Bass gets BIGGER!
For a few years now customers have been asking us for a "Bass Players" version of the popular Airline MAP Bass. Well, that day has come. We only have 12 of these new models in stock, so if you are ready to rumble, hit the BUY NOW button right away as they are shipping now and won't last long. Special Price only $879
SPECIFICATIONS
Body: Tone Chambered Mahogany
Neck: Bound Maple, Bolt-on
Fingerboard: Rosewood, Block Markers
Scale Length: 34″
Width at Nut: 1 5/8″
Pickups: Two Alnico Hot-10 Humbuckers
Switching: 3-Way
Controls: 2 Volume, 1 Tone
Bridge: Tune-o-matic bridge, trapeze tail
Hardware: Grover Style Nickel/Chrome
Strings: D'Addario #45-#100
Case: extra
Unique Features: NATIONAL Style Striped Pickguard
Suggested Retail: $1099.00 US
I'm not sure who this fella is, but he has some nice things to say about Eastwood and Airline models:
Stephan Wickham: Eastwood Guitars basses and guitars are real sleepers for most people. It will surprise many that they have large acceptance with musicians in alternative genres such as West  Coast Punk, grunge and modern alternative rock. Eastwoods are popular with some top players like John Fogerty, Mick Karn and groups like Foo Fighters.  People expect the build quality of original Danelectro (e.g. particleboard  bodies) and Valco / National guitars / basses and are surprised to see Eastwood Guitar reproductions that there are improvements, such as the body tonewood. While the Airline MAP bass carries Airline name it is actually based on Valco 1962 Val-Pro 85 bass. It produces a killer low rider tone and works best with a medium-to- fast player. In addition to punk, grunge it fits well with 60s rock, Grateful-Dead tone, reggae, modern country & blues. The body is chambered mahogany, rather than acrylic resin / fibreglass of original Val-Pro 85. I would swap out the bridge, nut and knobs to better quality components and it would be good to go. For people that don't like the Sea-Foam Green, it also is available in White or Black. In Black it comes with black & white pick guard with white binding on body, which gives it a bit of art-deco Duesenberg design flavour. The addition of a 34″ scale to the Eastwood Airline MAP bass product line offers an excellent tone alternative to original 30″ short-scale model and more familiar length for most bassists.

More Pictures of the new 34-inch scale Airline Map Bass: