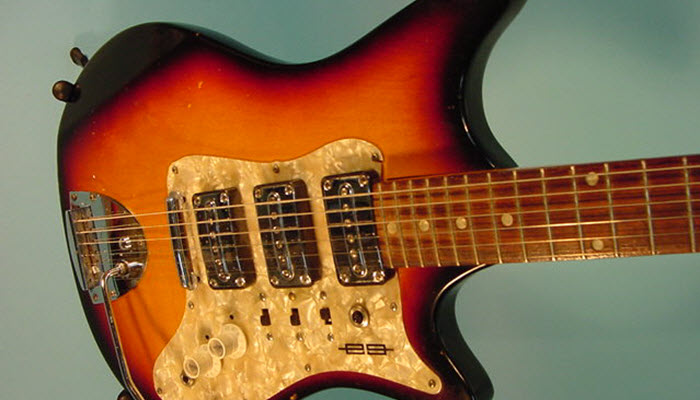 Uilke Egmond (1878-1959) founded a music school and a music shop in Valkenswaard, that was named Musica. In the shop he sold instruments imported from the Eastern Europe. In 1935 the business moved to Eindhoven. The import of instruments ended and they decided to make the instruments on their own.
In the early 50's there were 20 employees making 50 guitars a week and by the early 60's there were 80 employees cranking out 2000 guitars a week.
Egmond was the largest luthier in Europe and they were more known for quantity than quality. Cheap instruments were made in large numbers that everyone could. The cheapest models had a price tag that was one tenth the cost for a comparable model of a Gibson or a Fender.
But Egmond also made high quality instruments, the Egmond 2 and 3, 2V and 3V. They had 2 or 3 pickups, as the number states. 2V and 3V (V=vinyl covered body) had the body shape of a Fender Jaguar or Fender Jazzmaster. Later the Egmond 2 and 3 got the name Egmond Thunder, and the Egmond 2V and 3V got the name Egmond Typhoon. A more advanced and luxury guitar, with the same body shape as the 2V and 3V, was the Egmond Tempest.
Here is a fine example of the Egmond Thunder: