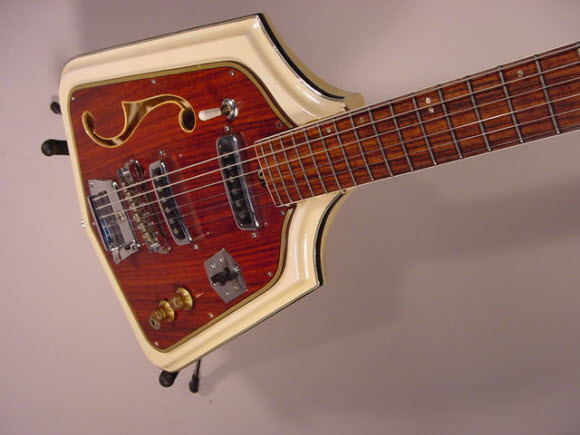 In the 1960's Maurice Lipsky Music Co., a prominent importer and distributor in New York City, developed the Domino brand of guitars. One of my favorites from them was the Californian Rebel. Lipsky was also the company that offered the Orpheum brand of guitars from the 1950s on. Many Orpheum's were made by United Guitars of Jersey City, NJ, the successor to the Oscar Schmidt Company. There is some evidence that Lipsky's Orpheum name was used on some Italian Wandré guitars, as well.
In 1967 Lipsky introduced a line proto-copies carrying the Domino brand name. Most were inspired by European models such as the EKO Violin guitar. Among the offerings were two models sporting a California cache, the #502 Californian, an asymmetrical copy of a Vox Phantom, and this #CE82 Californian Rebel. It was a semi-solid, since most of it is solid, but built in halves with a sound cavity routed out under the one sound hole. The top has a nice German carve relief, the slotted head adds a kind of retro vibe and cool dots along the top side of the bound fingerboard. What looks like a rosewood pickguard is wood grained plastic. Featuring high output for a single-coil pickups, two sliding switches for on/off control and a tremolo.
Who actually built this guitar is unknown, but these pickups appear to be associated with Kawai guitars, and that's probably a good guess. Rumor is www.eastwoodguitars.com is planning a reissue of this guitar before the year is out.