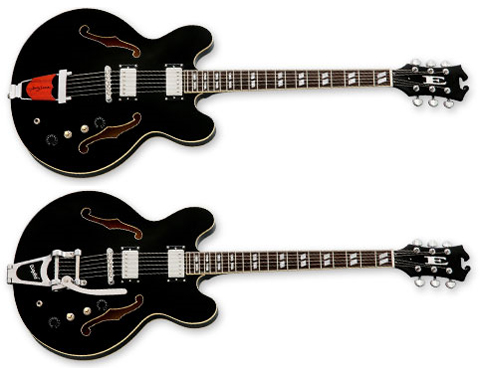 Why is the New Joey Leone SuperFast The Best Semi-Hollow Guitar Ever Built?
Eastwood Guitars and Joey Leone wanted to improve the already sucessful Joey Leone Model, they wanted it to be more responsive and resonant. We decided to think outside the (usual guitar) box and use Alder wood as the centerblock instead of rock maple. This lightened the guitar and made the resonance of the strings more consistant throughout the guitar. We also used a two piece pancake laminate process to make the alder centerblock as stable as maple but with half the weight. We even used paduka wood for the tailpiece insert to add a bit of weight (ballast) to the trapeze tailpiece. This combined with the already popular longer scale length (25 1/2″) adds a livelieness to the scale behind the bridge. All Leone models have the 2mm additional wideness of the neck which allows your fingers to stretch out a bit and not be cramped together, aiding in finger fatigue and ease of fretting. All you need to do is play this guitar acoustically to actually feel the difference. We made the SuperFast with two (coil tapped) pickups instead of three to also lighten the guitar and make the top more responsive. But the best part, in an effort to get this guitar in your hands faster, Eastwood has lowered the price on the Joey Leone SuperFast, because we believe that our customers will, see, hear, and feel the difference.
"It's super light, super responsive, super versatile, super affordable, and its SuperFast."
Includes hardshell case.
Trapeze Tail
PAYPAL $999
---
BiGSBY Tail
PAYPAL $1249
---
Check out this jam with Joey featuring Rick Redington on a Mandocaster:
---
Joey Leone Superfast: