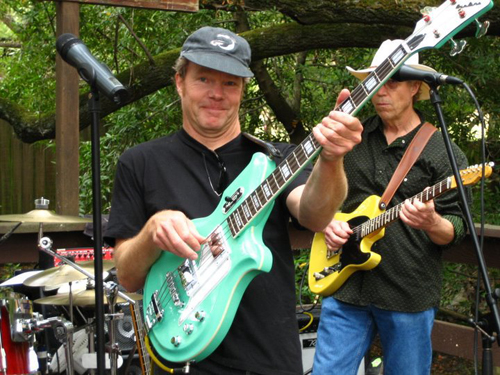 Hello Mike,
Tim Sarter from California here. We spoke a couple of years ago. I used to have one of the two or three map basses Metropolitan made – long scale, weighing a million pounds, etc. Been wanting one of yours for years. Finally got one a couple of months ago. Writing to tell you how much I love it. Compared to my old Metro it is so comfy to play. I may have my tech do a custom wind on the pickups for me to get a little more clarity and bite out of them, but after completing a run of the stage play Always Patsy with it I may not need to.
I have it strung with La Bella flats right now. On some of the tunes I used the bridge pickup with a pick to get an outrageously cool tic-tac Bass tone. Used both pickups fingerstyle for most of the show, but switched to the neck pickup for the segments of the play that were underscored. Beautiful.
Considering trying some Thomastik Jazz Rounds on it like I have on my old Guild M-85, but for now I could not be happier with what I'm hearing out of it. Also used it with a county/rock and roll band Sunday. It was loved by all who heard it there as well. For your viewing pleasure here's a few shots from that gig.
Anyway, thank you for your efforts in producing this bass. I have a lot of different basses that I use regularly, and yours is going to be getting heavy rotation from now on.
Cheers,
Tim