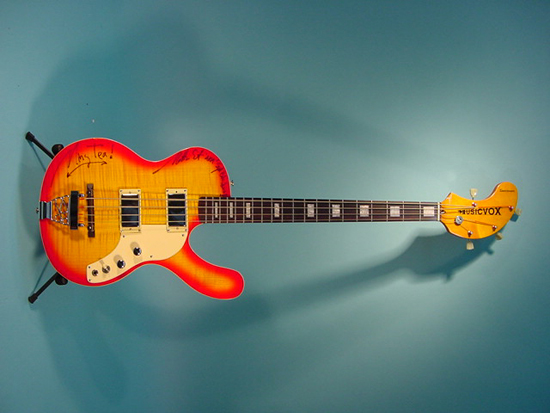 As most of you know I've been running www.myrareguitars.com since about 1997. Before that I was doing it with pen and paper. Recently I discovered a file folder on my backup drive with TONS of photos containing just about every guitar I'd ever bought and sold over the years. Looking at these photos have stirred up some memories. So, here are some stories and photos (to the best of my deteriorating memory) from the Back Catalog of myRareGuitars.
Story #3 – Musicvox Spaceranger
Musicvox guitars are pretty wierd. But, you never know what will come of a sketch on a napkin and an enthusiastic owner – Matthew Eichen – who was responsible for Musicvox guitars. These were part of a small Korean production run in the mid/late 1990's. You've probably never seen one in your local shop, as the distribution of the brand did not gain any traction, but you may have seen one when New Line Cinema put the guitars in the hands of musicians playing parts in the Mike Meyers/Austin Powers film Goldmember in 2002.
The "band" in the film was named Ming Tea:
Mike Myers (as Austin Powers, vocals)
Susanna Hoffs (as Gillian Shagwell, lead guitar)
Matthew Sweet (as Sid Belvedere, bass)
Stuart Johnson (as Manny Stixman, drums)
Christopher Ward (as Trevor Aigburth, guitar)
They are best known for their song "BBC", which appeared after the ending credits of the movie Austin Powers: International Man of Mystery, as well as the song "Daddy Wasn't There", which Myers' character Austin Powers sings in Austin Powers in Goldmember. Both songs appear in their respective movie soundtracks.
Check out the original music video of "Daddy Wasn't There":
My son Troy and I are big fans of the Austin Powers movies, and also big fans of Matthew Sweet. Matthew has been a customer of My Rare Guitars for many years. He is not only a great singer / songwriter / guitar player, he is also a collector of the very weird and oddball guitars that our website is known for. So, a couple of years after the films release, I traded some cool stuff for a couple of Spacerangers from the movie GOLDMEMBER – a sunburst bass and a 6 string. He was kind enough to have them signed, the bass by himself as "Syd Belvedere" and the 6 string by Susanna Hoffs. We donated the 6-string to a Toronto Charity auction that year, but I kept the bass because it is just so wierd, and it's a peice of Austin Powers history that I can pass on to Troy.
Here are some photos of the Spaceranger Bass: