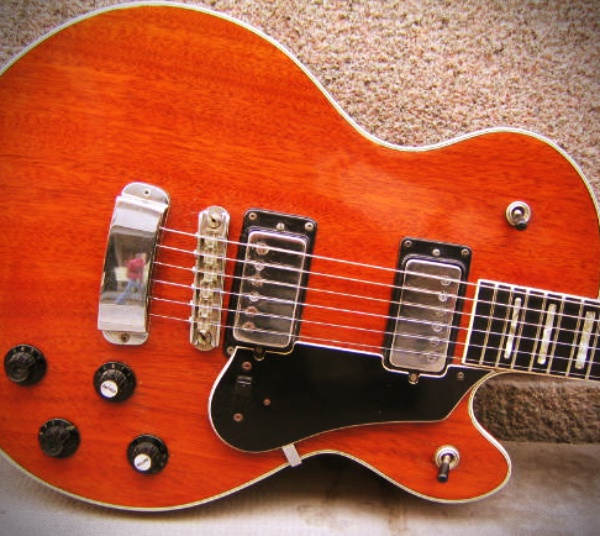 Swedish brand Hagstrom is a familiar name for most players interested in vintage and rare guitars. But most of them probably know little about this Patch 2000 model. Guest blogger Michael Wright sheds some light on this obscure guitar.
When I pick up a guitar to plunk on these days, 99% of the time it's to play classical guitar, something I returned to after about a 30-year hiatus. But I've enjoyed playing all kinds of guitar over the years, including electric guitars. There's something especially exhilarating about hitting that first "power" chord, an electronic signal passing through some tubes or transistors and coming out a speaker amplified exponentially. I've used pedal effects, too, but beyond that my electrical engineering skills pretty much evaporate. Which is probably why I've never tried to master the Patch part of this special Hagstrom Swede!

I'm sorry, this sounds like I'm advocating for another instrument, but this is yet another story that begins with…accordions. Yep. Hagstrom began as an accordion-maker in Sweden. Indeed, that's probably what gave them a leg up because they opened up an office in the United States in the late '30s just before World War II with a view to exporting squeezeboxes.
Hagstrom was one of the first European manufacturers to see interest in the guitar on the rise and thus was one of the earliest exporters of electric guitars to the U.S. in the late 1950s. This would be those sparkle-plastic-covered "Les-Paul-style" hollow-body guitars with interchangeable pickup modules. Or, you were supposed to be able to play these acoustically, too. Right! Still, it was a pretty cool idea, actually. These early Hagstroms weren't all that successful, but Folk Music was all the rage at the time and, well, you weren't going to pull out a blue-sparkle guitar to accompany "Tom Dooley" or "Kumbaya."
Hagstroms held on throughout the 1960s, even with the Japanese challenge, making budget solidbodies. I played one of their basses a little bit. Serviceable, but budget, for sure.
There was a decided drop-off in demand for guitars at the end of the 1960s and a lot of guitar companies in both Europe and Japan didn't survive. Hagstrom was one of the few that continued to bring in guitars to the U.S. Like most companies—from Europe and Japan—Hagstrom had to up its game to compete.
Part of Hagstrom better game was the Swede in the line by 1972. Like a lot of the European makers—and unlike the Japanese—Hagstrom chose to make guitars that were similar to popular American models, but weren't exactly copies. The Swede was Hagstrom's answer to the Les Paul. It had a solid, carved, bound mahogany body with a bolt-on neck, bound ebony fingerboard, and pearl block inlays. Hagstrom had always billed itself as having the thinnest necks in the world, which was pretty much the case.
The Swede's neck was super thin, reinforced with an elaborate "rail" rather than the usual truss rod. These sported a pair of humbuckers and the usual controls. I actually like the Swede a lot. The mahogany is light weight, the feel great. These pickups aren't DiMarzio Super Distortions, if that's what you need, but they're clean and responsive.
In 1974 Ampeg inked a distribution deal with Hagstrom and offered the line for the rest of the decade. By 1978 the Swede was joined by the SuperSwede, which sported a maple cap on the body and a pair of hotter humbuckers.
But the big news was the introduction of the Patch 2000 version of the Swede seen here in 1977. This was Hagstrom's answer to the challenge of keyboard synthesizers that were coming on at the time, fueling Disco, and an alternative solution to the technology being developed by Roland in Japan. The Patch 2000 Swede had the regular electronics plus a 7-pin DIN cable that plugged into a double footpedal designed to interface with and control your synthesizer modules.
So, with Roland, you connected the guitar to a synthesizer unit and controlled things with your fingers. With the Patch 2000 system, you had to use your feet. Well, you may by now have figured out that we're way beyond my pay grade. There was a Swede Bass Patch model, as well.
I don't think I was the only guitar player who wasn't motivated to figure this system out. This Patch 2000 is the only one I've ever seen. Roland's concept fare a bit better, but then Disco fell out of fashion and most guitar players decided to leave the synthesizing to their keyboards man.
WATCH THE HAGSTROM PATCH 2000 SWEDE DEMO:
I don't know for sure how long the Patch affair lasted. They were introduced in 1977. This guitar dates to 1978, so maybe a year, or less. Hagstrom got out of the guitar game in 1983, although the brand was revived—the line very similar to the late 1970s—in 2004. I think the Hagstrom Swede with a Patch 2000 system is cat's pajamas, but I think the only pedal I'll be using in the forseeable future is my little old classical guitar footstool.
By Michael Wright
The Different Strummer