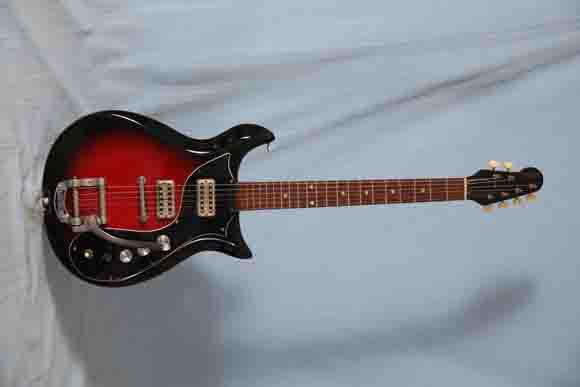 Get around round round I get around/I'm a real cool head/Get around round round I get around/I'm makin' real good bread. Back in the day, The Beach Boys were often pictured with what was sort of their "band car," a Chevy Corvette Stingray. There was some spiritual force that inextricably linked hot rods and guitars back in the early to mid-1960s. Rock and roll and Big Daddy Roth kind of went together. Just ask Billy Gibbons. Or just consider this 1967 Gretsch Corvette 6135.
While it's blasphemy to many hardcore vintage guitar guys, I never really found myself attracted to Gretsch guitars. I grew up (a long time ago) in northern Indiana, northern Ohio, and northern Michigan. No one played Gretsches. No one played Fenders. A cheap guitar was a Harmony or Kay (or some no-name abomination) either from a teaching studio or, more likely, out of the Sears or Ward's catalog. A good guitar was a Gibson from Kalamazoo. That's what you aspired to.
It was, no doubt a function of geography and distribution (and not living in a big city). Plus, of course, Kalamazoo was "local" to all those places I lived. It was only later that I became aware that there was a much wider world of guitar options, well after this guitar was made!
Gibson, of course, was competitive in the lower end of the solidbody electric market, with its Les Paul Jr. And, of course, it had wreaked its wrath on its long-time competitor Epiphone when, after purchasing the company in 1957, it turned the brand into its budget alternative. Then also there were those semi-dreadful Kalamazoo models.
Another Gibson competitor, Gretsch stuck with electric hollowbodies until Gibson's plunge into solids with the Les Paul in 1952. Gretsch responded with its similarly styled Duo Jet models the following year. Then the Baby Boom market (me) hit the radar. To offer a more affordable entry-level alternative for young players about to start jamming to the Beach Boys or the Ventures, Gretsch introduced its downscale Corvette in 1961, a slab-bodied version of this guitar, outfitted with a trapeze tail and one Hi-Lo Tron single-coil pickup. This beveled body style debuted in 1963, outfitted with a Burns vibrato, with one or two Hi-Lo Trons (6132 and 6135). This reverse head appeared in 1964. The guitar seen here (#97363—September 1967) was built right around the time of the Baldwin takeover of Gretsch, though it's still a Gretsch Gretsch, not really a Baldwin Gretsch.
I picked this up years ago at a vintage guitar show in Philly at a bargain because it wasn't Kosher. While Corvettes did come with Super-Tron pickups beginning in 1970, this had its pickups changed for Super-Trons (OK but amateur job) probably early on in its existence. Of course, the irony is that it was actually an "upgrade!" Still, this has a great vintage Gretsch sound with glued-in neck and a real Bixby. Knobs are volume and two tones, the threeways a select and a treble boost. If you're getting on like me, one thing you appreciate in a light-weight guitar like this is you can play it as long as you like with no implications for your back!
The Gretsch Corvette had a pretty good run actually. Debuting in 1961, it remained in the Gretsch line until it was discontinued in favor of those somewhat goofy models like the TK-300 and the Beasts in 1978, nice enough in their own way, but pale reflections of the classic Gretsch era.
Unless you're really, really old (and probably not reading this), it's pretty likely that seeing either a chopped and channeled '32 Ford Roadster or a cool if modified Gretsch Corvette like this will bring a similar kind of ear-to-ear grin to your face! You could get around with this Corvette. Play in the right band and you might even make real good bread!