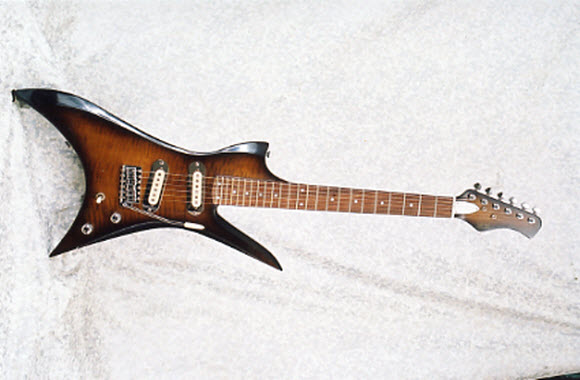 First of all, let me confess that, despite my affinity for electric guitars, I've never been much of a rock 'n' roller. Truth to tell, I'm more likely to pick up an acoustic guitar or banjo. But I love the "art" of electrics, and they are fun to play, I admit, especially pushed through my old Rat distortion box. But sometimes that "art" goes somewhat awry. At least, in my aesthetic opinion, that's what happened with the '83 Hondo H-2 featured here!
Oh, I played in a rock band in 1967, on my original '58 Gibson ES-225TD. We did a mean cover of the Boxtops' The Letter. But by the early '70s I was playing and teaching classical guitar. In fact, I pretty much missed the 1970s with my nose in Giuliani barnstormers and my ears glued to Latin and Big Band swing from the 1930s and '40s, mostly on original 78rpm discs.
During my cultural exile I continued to read Guitar Player and had perhaps some dim awareness of what was going on. I knew disco was a threat. But I didn't disco and had put on some weight. Only your fingers move in classical guitar and with Segovia as your model, well… In the early 1980s I decided I needed to get some exercise so I bought a cheap exercycle and set up my KLH stereo with headphones. I'd been reading about this hot-shot guitar player named Randy Rhoads playing behind some dude named Ozzy Osbourne, whoever that was. I bought a copy of Blizzard of Oz, strapped on the 'phones, and started to pedal.
It took about 12 seconds of Randy Rhoads for me to become a convert to Heavy Metal. Man, could he play guitar. "Don't ask me, I don't know" became my anthem. Still is. I started reading Kerrang! Magazine and before long I was collecting LPs by all these British and American bands with steaming lead guitar(s). I never got to where I could wear Spandex or jump off an amp, but I have some great rare metal records in my collection.
One of the first things you noticed back then was that the guitarists liked guitars with odd shapes. There was the occasional Les Paul or Strat, but not that much. Vees, Explorers and even stranger fare were the order of the day, often with custom graphic paint jobs. It was all part of the post-punk gestalt.
There was no immediate impact on my guitar playing or instruments, but there was a latent impression on my tastes. Later, when I began collecting guitars, anything with a weird shape attracted my attention. So, it was inevitable that when I strolled into Sam D'Amico's music shop in South Philadelphia, this Hondo H-2 would grab me. I didn't know what it was, but I had to have it.
Indeed, it was this guitar that led me to eventually track down Jerry Freed and write the Hondo history, as imperfect as that was at the time. Back then I didn't really have much of a context for it, but several decades later it now makes perfect sense. In response to the predilections of the metal guitarists, guitar companies began introducing increasingly unusual guitar shapes. Both Ibanez and Aria had introduced exotic "X"-shaped guitars. The Hondo H-2 was an extreme variation on that theme.
Hondo had been formed by International Music Corporation (IMC) of Fort Worth, Texas, by Jerry Freed and Tommy Moore. In 1969 they decided to get into importing guitars and, in a visionary move, travelled to Korea to see about sourcing guitars there from what would become the Samick company. By the time this guitar was made Korean guitarmaking was on the verge of respectability, but not quite there yet.
This Hondo H-2 was made for a kid who wanted to be Michael Schenker but probably never had more than a dream's chance. It gives you the right image at the right price, but the laminated plywood body is hardly disguised. The neck is glued in, and the flamed maple veneer is cool. But the two single-coil pickups are kind of a joke on a heavy metal axe. Then again, if you're playing through a Rat, you really only need a pulse to get something impressive out the other end, so this might not be as bad as it appears! Still, I doubt if Yngwie ever considered one of these!
The Hondo H-2 may not be high electric guitar art, but you gotta admit it's pretty fetching. It certainly was—and still is—to me. I'm back to losing weight again and if I ever get fit enough for Spandex, I'm thinking of strapping this H-2 on and beginning to work on my amp-jumping skills… Not.