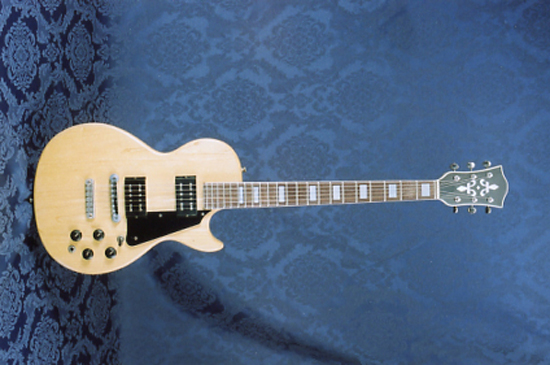 "Suppose," enticed the email message (back when email messages were still something of a novelty), "I could get you into a strip mall that has one music store and the rest of the spaces are FILLED WITH GUITARS?" Thus began a remarkable once-in-a-lifetime adventure that involved packing up my photographic gear into jerry-rigged thrift shop suitcases, hopping onto an airplane to head west, joining Tom, a knife salesman I'd never met except on the internet and at the other end of a telephone line, and driving up to Bob's House of Music in Wheat Ridge, CO, just north of Denver. Where I would encounter more vintage guitars—including this 1974 Carvin CM95—than anyone could ever conceive! The second Temple of Doom of my life (so far).
Bob's House of Music was the creation of Bob Goodman, a former music teacher from New Jersey, who'd made his way out to the Denver area. He did, indeed, own a little strip mall in Wheat Ridge, a single-story L-shaped cinderblock affair with four or five storefronts facing the main street and another three or four along the left side. The space in back made by the two legs of the L constituted a large service and storage area. Parked in the spaces in front were various "vintage" cars and trucks that Bob had taken in on trade, none of which ran, and all of which got him periodic citations from the city. Along the front row was Bob's House of Music, very crowded with guitars, basses, amps, and accessories, close quarters but for all intents and purposes a normal music store. However, all was far from normal!
That's because there were no other tenants. Every—and I mean EVERY—square inch of the rest of the building—from the former beauty shop to the service area—was crammed floor to ceiling with vintage instruments. Hanging on racks, stacked in piles, lying in cases. Thousands of guitars everywhere and barely enough room to walk!
Mainly this was the case because Bob followed a unique business model. You'd walk in and see, say, a Rickenbacker on the wall marked $600. You'd say, "You take $500 for that?" Bob would scowl, draw himself up straight, square his shoulders, glare at you and spit out, "$700." The Guitar Nazi. Bob didn't sell a lot of guitars. Indeed, Bob lived on thrift shop clothes and expired canned food. For himself and the feral cats. Did I mention the cats? Hundreds had the run of the place. Use your imagination…
Bob and I got along fine. I was a "celebrity" and he let me photograph hundreds of prime guitars. Plus the chaos around us. I even bought quite a few guitars. As long as none were obviously valuable and I priced things fairly, he didn't jack up the price. I even checked them into baggage for the flight home; this was way before you got a per-bag charge! They all arrived safely, with no "United Breaks Guitars!"
This 1974 Carvin CM95 was one of my prizes from Bob's. Carvin was begun in Lowell Kiesel's kitchen back in 1946. Kiesel, from Kansas via Los Angeles, began producing Bakelite lap steels carrying the Kiesel brand. After some early distribution through Continental, Carvin became one of the earliest direct-to-consumer mailorder guitar companies, a model it follows to this day. In around 1949 Kiesel's brand name changed to a contraction of his two sons' names: Carson and Gavin. Carvin.
Carvin began making solidbody electric guitars in 1955, the first a kind of cross between a Tele and a Les Paul. This was supplanted by more Fender-inspired solids in the early 1960s. In around 1965 Carvin began importing necks from Höfner in Germany. Carvin guitars sported imported necks until 1978 when it returned to making its own handles again.
The Carvin CM95 seen here was a short-lived model made in 1973-74. Carvin made the Eastern hard rock maple single-cut body, the APH-6 humbuckers, and the hardware; Höfner made the neck (it's signed by the German makers on the back of the heel). The serial number is 1745, putting this at around 1974. This was at the height of the so-called "copy era," and would have provided guitarslingers with an American-made (well almost) alternative to an Ibanez or Electra or Bradley from Japan.
I think there's something in our DNA that looks down on a bolt-neck Les Paul-style guitar, but, honestly, there's really nothing not to like about this CM95. I've always felt that Carvin's pickups from this period lacked personality, but since all of us color our sound even if we just use an amp, nevermind effects, about all you really need is pickups that work and a guitar that plays well and this fits the bill!
In around 1979 Carvin's brief fling with Gibson-style solidbodies began shifting toward pointy Strat-style guitars that would subsequently characterize the brand, several years before that style became popular, it should be pointed out.
Curiously enough, Bob's father also had a music store in Wilmington, DE, and when I returned to Philly I drove down to see it. In stark contrast to Bob's overflowing Temple of Doom, his father's shop was a temple of gloom. It had an ancient pump organ in one corner and a couple new Johnson guitars on the otherwise totally bare walls. A few months later the story I wrote on the whole adventure ran in Vintage Guitar Magazine, and several weeks later Bob suddenly died. The next day—that's the NEXT DAY—Bob's father passed away. My friend Tom, who'd initiated the whole tale ended up buying Bob's stash, liquidating it on eBay. I'd think I dreamed the whole story if I didn't have this Carvin and a few other tokens to remind me of that fateful email once upon a time!