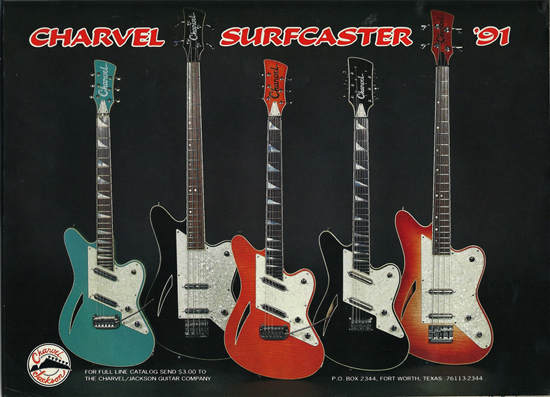 The Charvel Surfcaster surfaced in the early 1990s, and it was manufactured from 1991 to 2005 by the Charvel/Jackson guitar company. It was never very popular in terms of sales, but was considered a boutique style guitar and those who like them, like them a lot, like me! It is reminiscent of the Fender Jazzmaster but with a Rickenbacker style f-hole. These design aspects make it significantly different than other models from Charvel/Jackson that focused mainly on the hard rock guitarist. The Surfcaster was picked as a "Pawn Shop Prize" by Guitar Player magazine in July 2003.
Originally available only in the two lipstick pickup configuration, later models would include a humbucking pickup in the bridge position. Later solid body 3 lipstick pickup variations were also produced. A twelve string and four string bass version were also created and are highly collectible. Quality & cosmetics suffered. When Charvel/Jackson was purchased by Fender in 2002 they dropped the Surfcaster because of its similarity to guitars sold under the Fender brand.
Here are a some detailed photos of a beautiful matching pair. Enjoy!