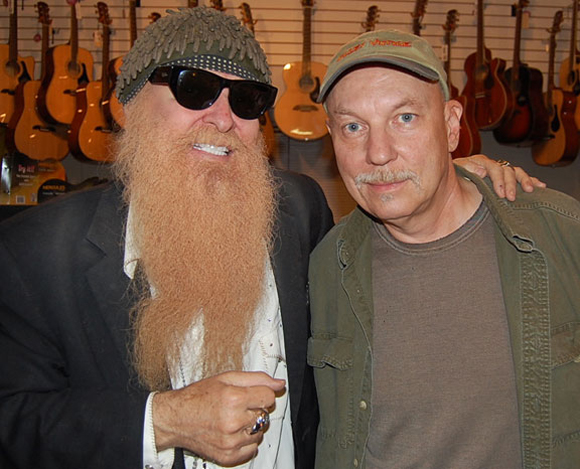 If you have spent any time at all perusing the web for vintage gear, chances are you have run across the names Dave Hinson and Killer Vintage. Located in the heart of St. Louis, Killer Vintage has a reputation as one of the world's foremost vintage guitar shops. The building sits on the quiet corner or Ivanhoe and Scanlan, and at first glance looks as if it will burst apart from all the gear crammed into every nook and cranny. The vibe is cool, and the guys at Killer Vintage know their stuff, so whether you're looking for the next ultra-rare piece for your collection, the final element of your ultimate stage rig, or just a place to dream (and pick up an awesome t shirt!), Killer Vintage most likely has what you are looking for. I recently caught up with Dave Hinson, owner and head boss at Killer Vintage, and got a chance to ask him a few questions about his experience with the vintage guitar market.
1. Before we drill down into the details, what would be your single paragraph biography?
I began playing guitar in 1962, with Mel Bay as my first teacher. I started playing for pay in 1966, and began dealing guitars in 1970. Killer Vintage was started as a legitimate business in 1994 and continues to buy and sell guitars and vintage gear today. I currently serve as one of the editors of the Vintage Guitar Price Guide, as well as a contributing editor and adviser of the Blue Book of Guitars. I am on the advisory board of the Modern Guitar Museum (Los Angeles), expert Appraiser for Heritage Auctions Dallas TX, and frequent consultant to the Antique Roadshow (PBS). I can be heard every 6 weeks on Overnight America as the Guitar Guy (CBS radio) and as the Guitar Guy on St Louis 97.1 FM KFTK (Dave Glover Show). I played 6 nights a week for many years, but now play 6 nights a month. As owner and proprietor of Killer Vintage, I have a long-standing reputation as a premier vintage guitar authority, and my T-shirts are legendary though very politically incorrect!
2. How did you get started collecting guitars and what were some of your first pieces?
I started just trying to get myself a better guitar in the mid 60's. Never really collected and still don't. I do have a a collection of sorts. But they are guitars that have either or both sentimental attachment or ones I can use on gigs. My first electric was a 1964 Fender Mustang (Red) I bought it at Mel Bay music on his advice and even had a payment book from Kirkwood Bank (11.44 per month) I paid it off in 3 months mowing lawns. I still had that guitar in 1967 and traded if even for a 1957 Chevy Convertible (Black) at a Ford dealer. I had a couple others by then (SG Special & Vox pitfire). Still have the first guitar which was my Dad's 1940 D'Angelico Style A but that wasn't cool to a 13 year old in 1964.
3. What do you feel is the current state of the vintage guitar market?
Right now is the time to buy I believe prices have come down from the 2006-2008 bubble. They were way out of control during that period as was most everything else. There is some question about the baby boomers graying out of the market and the potential of a flood of instruments. The true blue chip guitars 30's/40's and even 50's Martins, 50/60's Fender Gibson and same era Gretsch, Rickenbacker etc.. Should remain collectible and many models are not subject to fads.
4. What guitars today will be the vintage pieces tomorrow?
That is the 250 Thousand dollar question? I feel that some of the Colling's guitars could be candidates for that. Gibson, Fender etc have all had peaks and valleys in production and only time will tell. One disturbing factor is the of lack of guitar driven pop music in the market. Many of the guitars that have risen to the top of the hill so to speak are equated with our 50/60's/70's guitar heroes but not many of those around these days.
5. What's your personal favorite vintage piece on your collection currently?
My entire collection is not what you would expect I suppose. Here is the list though:
1959 Gibson Les Paul Junior Factory Black
1960 Gibson Les Paul Junior Factory Black
1957 Gibson Les Paul Junior TV Model
1960 Gibson Les Paul TV Special
1960 Gibson ES-335 Sunburst (The one in the Lee Harvey Oswald Shirt)
1964 Gretsch Custom Black
1951 Fender Esquire
1940 D'Angelico Style A
1966 Epiphone Sheraton Blond
1961 Fender Telecaster Blond
1970 Harptone Acoustic Blond (George Harrison Concert for Bangladesh style)
1966 Fender Stratocaster Oly White
1966 Fender Jazz Bass Oly White Matching headstock
2006 Linhof Special #0072
A couple J. Black made Tele Customs (One Esquire, One Telecaster) Bound 2 tone w/ maple neck
As I said I tend to keep guitar I can Play out. Museum quality or extremely rare guitars are not ones I like to hold on to. That is just me though!
6. What's the one that got away?
Oh there are so many of those!! Wish I had kept a complete list??
 I had Waylon Jennings 1969 Rosewood Tele back in the mid 90s' (Went to Switzerland)
1954 Stratocaster #0812
1958 Gibson ES-335 Cherry Ser # A28800 this one was discovered in California near Reno NV. In the Gibson records as completed./ shipped Dec. 1958 The first Cherry 335 ever.
1951 Fender Esquire. Dave Crocker called me and said I have your guitar. Neck date was TG 7/23/51 (my birth date). I did not have the money at the time and regret to this day not getting that one. I do know where it is though!! Maybe someday??
1964 Gibson SG Custom Cherry 12 string….Yes!! the weirdest and coolest guitar I have ever seen.
1959 Gibson Les Paul really didn't get a way I arranged the sale to a customer of mine but it came from South Africa later known as the African Burst.
1956 Stratocaster Shoreline Gold with Gold Hardware. Beautiful !!
Several Sunburst Les Paul's….never liked those back when they were 4-600.00 Hell you could buy Maple Neck Strats and black guard Tele's for 100-150.00 and Es-335's were 175.00 to 200.00. Juniors were 50.00 if you paid for them at all most of the time you would buy a couple guitars and close the deal with "OK I'll take those if you throw in the Junior".
7. How do you feel Japan has impacted the vintage guitar market over the years?
The Japanese are still serious buyers and collectors. In the 80's/90's especially they did influence the market by driving the prices up. But they in many ways helped establish the importance and value of these instruments. Fortunately many people from all over have also come on board collecting and investing in American guitars much in the same way one would great works of art. I am curious if other parts of the world will eventually take a similar approach. The Chinese are busy making fake Gibson guitars but will the wealthier individuals become interested in owning original examples??? same could be said for many other regions such as the Eastern Block countries and even the Middle East?? Who knows?
8.What impact has the internet had on the vintage market?
Obviously the internet has made the world smaller as far as market. A store in Iowa for example can sell a guitar to a buyer anywhere in the world. 15 years ago the would have been nearly impossible. We have had a website since 1995 now it is nearly impossible to do business without one. eBay and Gbase have become important vehicles for dealers to market their inventory. We do not use eBay anymore but Gbase is almost essential to display inventory and point to a stores website. One downside to the internet is the prolification of sort of self appointed experts from websites and forums. Many do not have much if any real knowledge but only hearsay and what they have read in either books or other websites and a lot of the credibility is suspect at best. This has created sort of a black Market in many respects.
9. What advice do you have for people who want to get into the vintage guitar market?
If you wish to enter the market make sure you do your research on the instrument and find a dealer to either purchase from that is knowledgeable and credible. There are many honest guitar guys but there are many more as afforementioned that do not have the history or expertise to be a dealer or expert if you will. I advise many people yo collect what you like. I feel this is most important factor. I have freind/customer that likes Custom Color Strats. Once in the while he will ask me to find him a Gold top or something my first response to him is you don't like those. He will think about it and realize that he really doesn't and continues on the path he is comfortable with. Try to only buy all original guitars or with minimal changes if you are building a collection. Refret most would agree is a minimal change if it has been done well. Stay away from refinished or guitars with changed parts unless you are OK with player grade guitars. Most importantly I would suggest staying with Blue Chip guitars. IE: 30's-50's Martins as far as acoustics and 50's/60's Fenders, Gibsons, Gretsch, Rickenbacker ETC… Still the ones that have held their ground throughout the years.
More pictures of Killer Vintage:
Post & Interview By: Dave Anderson