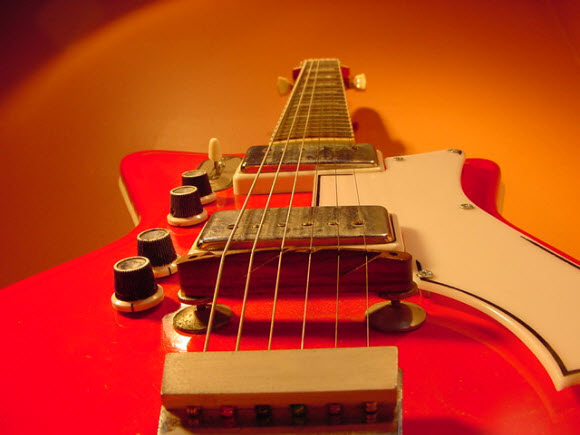 Airline guitars were being made in USA from 1958-1968 by Valco Manufacturing Company and sold primarily through the Montgomery Ward catalog company. Valco also made other popular brands like Supro and National. Today they are being made through Canadian company Eastwood Guitars. By the early 1960's Airline were producing many different models – most in those early days were solid wood designs like the Town and Country, but the more valuable vintage models were made of res-o-glas. This model is often referred to as the Jetsons model.
Res-O-Glas was Valco's term for fiberglass. These guitars we made with two clamshell pieces (top and bottom of the body) that were aligned and held together with a slotted rubber grommet strip, then long machine screws through the back and into the front. There was a maple block inside the hollow body which served the purpose of mounting the neck. The necks did not have a truss rod – a major setback to these old guitars, especially 50 years later – but had a 3 screw pivot system to tilt the neck angle back and forth to adjust the action. These were covered but chrome plastic covers on the back of the body. One giveaway that a vintage version has a bad humped neck? Those covers are always missing, as someone over the past 50 years tried and tried to adjust the neck and eventually lost the covers.
Although they appear to be humbuckers, these guitars had single coil pickups with a unique tone that became popular with the blues players (not just for their tone, but more likely for their affordability vs. a new Fender Strat). That is what modern players are seeking out these old guitars, like Jack White, for the growly single coil tone. This sample had two pickups, each with its own volume and tone controls, and a unique 3-way switch labeled "Tone Switch".