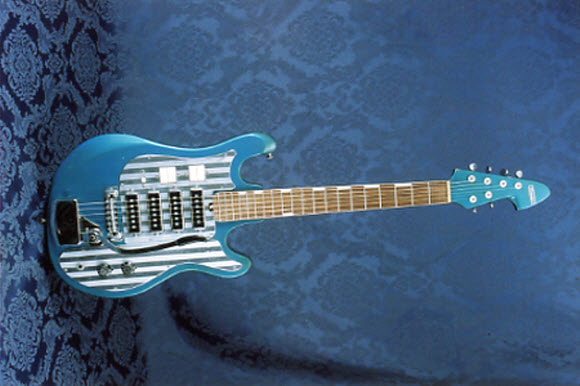 One of the highlights of life back when I was a youngster was the arrival of the latest Sears or Montgomery Ward catalog. Anything you desired could be delivered right to your door. A lot of my early knowledge about guitars (and lingerie) came out of those "wish books." One piece of that knowledge, however, wasn't about this Sears Silvertone because when it was made in 1965, Sears only sold Japanese-made guitars through its retail store outlets, not through its catalogs!
Ward's was probably the first to sell guitars through its catalogs. Aaron Montgomery Ward started his company in 1872 as a solution to the problem of farmers obtaining the items they needed to make life more palatable out on the Great Plains. At the time, the farmer's only source for household goods was the general store. And their only source of merchandise was the railroads, who charged an arm and a leg. To combat the high prices, the farmers joined to form buying clubs and put together lists. A representative would take it to the big city to buy the stuff and ship it back in one big container. Lot's cheaper. Ward's idea was to return to Chicago and put the lists together for them by assembling a catalog and sending it to the farmers direct.
Ward's concept was so successful that Richard Sears and Alvah Roebuck decided to compete head-to-head with them, starting Sears, Roebuck & Co. in 1893. Sometime between Ward's founding and Sears' first catalog in 1894 Ward's began selling guitars. There's a guitar offered in Ward's 1894 catalog with a woodcut and some copy. That very SAME woodcut and copy appears in the first Sears catalog!
Sears sold increasing numbers of guitars as the years progressed, obtained from various sources, including Lyon & Healy, Oscar Schmidt, and the Harmony Company. In 1916 Sears purchased Harmony to supply the majority of its stringed instruments, which began appearing carrying the Supertone brand name in 1917. While it was a subsidiary of Sears, Harmony was still free to sell its own brand independently and to make guitars for other companies. Sears, for its part, mainly relied on Harmony for its guitars, except occasionally when a specialty model was sourced from someone else. In 1940 Sears sold Harmony to its president Jay Kraus, after which it operated pretty much as before, with Sears as its main customer, with the Sears brand name changed to Silvertone.
Sears had branched out into retail stores in 1925. By the 1960s, when this guitar was made, Sears was the largest retailer in the U.S. Throughout the 1960s the guitars featured in the Sears catalog were exclusively American-made, mostly by Harmony. However, obviously, as evidenced by the very existence of this guitar, they also sold guitars made in Japan, only just through their retail store outlets.
This Silvertone is a Model 1437, otherwise known as a Teisco WG-4L. Except for the logo, it's a completely stock Teisco. The Teisco company was founded in Japan in 1946 by Atswo Kaneko and Doryu Matsuda. Teiscos were distributed within Japan and probably regionally until the end of the 1950s, when exporting to the U.S. commensed. The first known American importer was the late Jack Westheimer whose Westheimer Sales Corp. began importing Kingston acoustic guitars from Japan in 1959, followed either later that year or early in 1960 by Teisco electric guitars. Jack added the "del Rey" most often seen on these guitars.
In around 1964, Sil Weindling, Barry Hornstein, and Sid Weiss formed Weiss Musical Instruments (W.M.I.) and began importing Teisco Weiss guitars. Westheimer's focus had shifted toward his Kingston brand, so W.M.I. sort of took over the Teisco franchise. The WG line debuted in 1964 with a plain pickguard, changing over to the very groovy striped metal 'guard in 1965. W.M.I. undoubtedly provided this guitar to Sears.
There's nothing not to like about this guitar! I mean, how could you resist the look of that pickguard?! And metallic blue paint! Plus four—count 'em—four chunky single-coil pickups. And I love those typically Teisco rectangular adaptations of Gretsch's thumbprint inlays. As with almost all better Japanese solidbodies from the 1960s, with just a little attention this can be set up to play quite nicely. The neck is a little hefty for a modern taste, but then so were many others back then. To be honest, you don't really get that much tonal variety out of four pickups, but it's still way, way cool. Perfect for a chorus or two of Walk, Don't Run or Apache!
By the 1970s, Sears was finally featuring Japanese-made guitars in its catalog, but the Sears hegemony was waning, replaced by emerging "big box" retailers such as Kmart. The catalog soldiered on into the 1990s, but its value as a source for interesting guitar—or lingerie—information was long past.