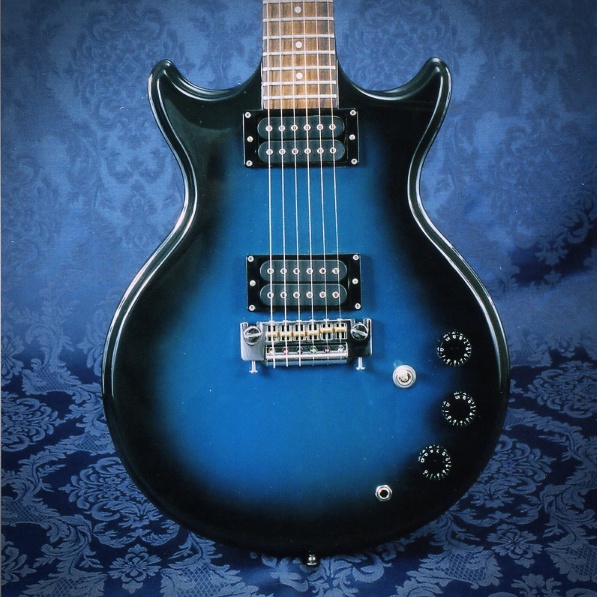 Guest blogger Michael Wright takes a look at an Eighties rarity – the O'Hagan Nightwatch. It's more than a SG/Melody Maker lookalike, you know…
To guitar lovers, the O'Hagan name will probably always and forever be attached to the legendary O'Hagan Shark, a kind of elongated Explorer with a big tail fin (which we discussed here a few years back). But Jerrel O'Hagan built other guitar models including the Nightwatch, which came in a roughly "Les Paul"-shaped single-cutaway model and a roughly "SG"-inspired Double Cutaway model seen here.
As I've said on previous occasions, one of the coolest things about being a guitar historian is that I get to track down people like Jerry O'Hagan, interview them, and rescue their recollections…while they're still with us. Alas, I've missed a few folks through slow reactions over the years. But I did catch Jerry on the telephone many years ago, although I don't recall how I connected with him.
Jerrel O'Hagan was a clarinetist who found himself working as a rep for a regional music distributor up in Minnesota during the 1970s, chiefly handling imported Japanese guitars. Unfortunately, his employer wasn't one of the mega-distributors, so he could never be sure of getting a steady supply of instruments—bigger orders always got filled first.
O'Hagan briefly imported his own line of Grande acoustic guitars from Japan in around 1975-77, but the market for acoustic guitars for singer-songwriters was moving on to harder rock 'n' roll. That's when the idea came to him: why couldn't reasonably priced electric guitars be made in the U.S. of A.? And, anyway, this craze for foreign-made guitars was bound to pass anytime soon, right? O'Hagan's market analysis skills weren't his strong suit.
In 1978 Jerrel O'Hagan set up the Jemar Corporation in St. Louis Park, Minnesota, to produce solidbody electric guitars. The first guitar was the aforementioned O'Hagan Shark. That was a neck-through-body beauty—neck-through guitars by the likes of Alembic and B.C. Rich were just beginning to penetrate the guitar-playing world—that looked a little goofy but was actually a swell, well-balanced guitar. This was the time, you'll recall, that other Midwesterners were also starting specialty guitar companies, including Hamer, Dean and others. The Shark hit the market in 1979.
The Shark, which was heavily promoted in Guitar Player advertising, was moderately successful, enough to encourage O'Hagan to introduce new models, including the Nightwatch single- and double-cutaway models in either late 1979 or early 1980. While certainly not as exotic as the Shark, O'Hagan's Nightwatch models proved to be much more acceptable to average guitar players, many of whom can be pretty conservative in their tastes.
The Nightwatch Double Cutaway seen here is a 1981 done up in a funky blueburst finish. The "sunburst" finish goes back at least to the 1930s when it was known as an "antique violin" finish, and it's become one of the standard, prized finishes. But it got a really weird twist in the late 1960s when Fender botched the finishes on some Coronados. They managed to salvage the mistake by coming up with the opaque "Antigua" refin, a sort of dark brown to tan sunburst. It wasn't too successful. Fender brought the Antigua finish back in around 1977, transposed into a grey scale. Gibson picked up on this in 1978 and introduced a greyburst Les Paul, which was put on a number of Gibson models into the early 1980s. This was apparently moderately popular and a number of guitar companies came up with copies and variations on this opaque, often metallic "'burst." The O'Hagan blueburst was one of those variations.
This is a neck-through body guitar, but otherwise pretty conventional. It has a pair of DiMarzio pickups with two volumes and one tone control. The brass nut was the cat's pajamas back in the day, believed to add sustain. The basic Nightwatch cost around $450 with a $90 upcharge for the special blueburst finish. The Nightwatch models were by far the most popular O'Hagan models. The Nightwatch was a straight-ahead rock 'n' roll machine, not particularly flexible, but a pretty darned good guitar.
O'Hagan added several other models to its line, including a V and a bizarre Strat, but by 1983 an economic recession, some dissatisfied investors, some distribution issues, and a big bank note came calling. Followed by the I.R.S. The dark of night fell over the O'Hagan Nightwatch and everything else. Jerry got out of the guitar business and into the jazz orchestra game.
About 3,000 O'Hagan guitars were made from 1979-83, not especially rare, but not especially plentiful, either. The bluebursts were special orders, so this would be a much smaller subset. Plus, DiMarzio pickups were only used in 1981, giving this a pretty small production window. Still, you'd probably rather swim with an O'Hagan Shark!
By Michael Wright
The Different Strummer