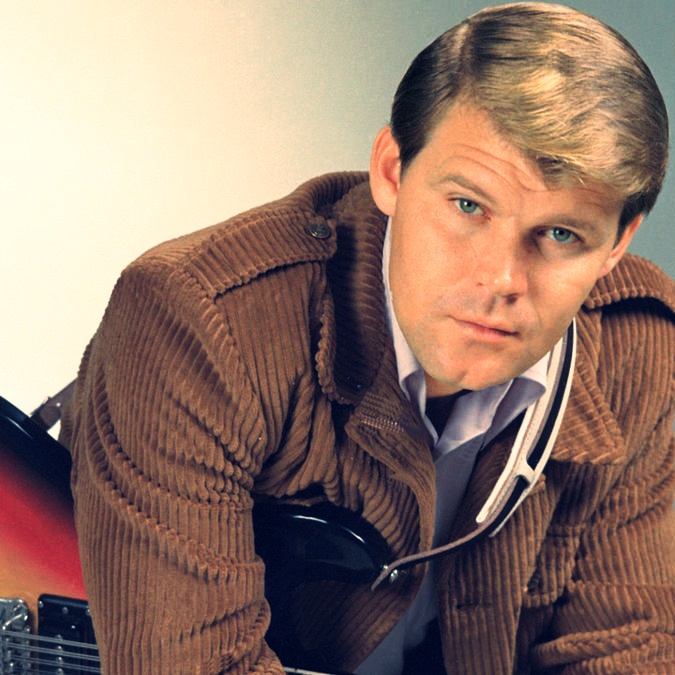 Last night (Tuesday 8th August) it was announced the passing of Glen Campbell, a true musical giant. Here's our tribute – and Top 10 reasons why he won't be forgotten.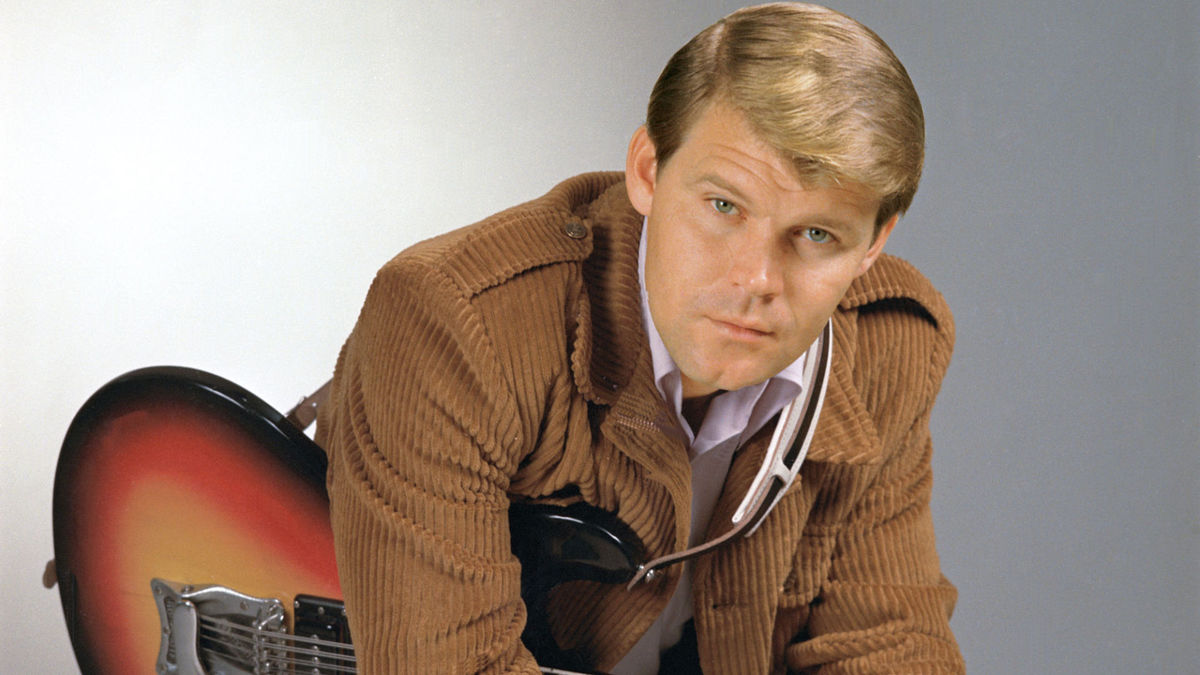 Singer, songwriter, star guitarist. Glen Campbell had a fantastically rich musical career – spanning different genres, instruments and playing with some of the greatest names in music. Not to mention stints as TV presenter and award-nominated acting roles! With over 45 million records sold, Campbell was also a true crossover artist like few other musicians before or since – with 48 country hits and 34 pop hits between 1967 and 1980.
His attitude was the he didn't really care about being bound to "genres", but just about whether something was good:
"I felt my music wasn't aiming at anybody. Everything I was doing was because it was a good song" he once said.
From a guitarist perspective, there's no doubt he was an inspiration to many, being one of the most notable players of baritone guitars – and, for us fans of vintage and rare guitars, a look at his instruments over the years is nothing less than mouth-watering!
Here's just a few reasons why Glen Campbell was such a musical legend, who won't be forgotten:
1) He was a former member of the Wrecking Crew
The Wrecking Crew was the greatest assembly of session musicians ever – the L.A. group played in innumerable legendary sessions, and, with Campbell, performed on tracks by names such as Bobby Darin, Ricky Nelson, Dean Martin, Nat King Cole, the Monkees, Nancy Sinatra, Merle Haggard, Jan and Dean, Elvis Presley, Frank Sinatra and Phil Spector.
One of the session tracks featuring Campbell is The Beach Boys 'I Get Around':
Despite the Wrecking Crew featuring so many extremely talented people, only Glen went on to become such a massive solo star in his own right – some feat!
2) He was a touring member of The Beach Boys…
As part of the Wrecking Crew Glen also played on the sessions for Pet Sounds, but, before that, he also toured with the Beach Boys in 1964, replacing none other than Brian Wilson on bass and vocal harmonies, while Wilson recovered from a nervous breakdown. No small job!
And once a Beach Boy, always a Beach Boy – Glen joined the band onstage on a number of other occasions since.
3) … and Brian Wilson was forever grateful
As a "thank you" to Campbell, Brian Wilson wrote him a wonderful song, 'Guess I'm Dumb', one of Glen Campbell's finest moments – with the Beach Boys singing backing vocals!
Wilson, unsurprisingly, was one of the first to pay tribute to the news of Campbell's passing: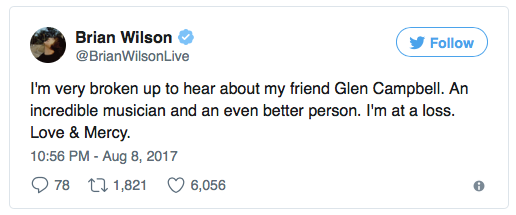 4) Glen Campbell introduced America to Cream
During his stint as a TV show host, Campbell was the man who introduced Cream to mainstream America. His TV show brought together a very diverse mix of musical acts, which people paid attention to thanks to his popularity as a performer himself. Respect.
Coincidence – or not! – only 2 weeks after Cream's appearance on Glen's show, the band entered the Top 10 with "Sunshine Of Your Love". Other songs on that same week's Top 10 included The Doors (who Glen had once opened for) at #1 with "Hello, I Love You". Mason Williams (who was a writer on Glen's show) close behind with "Classical Gas" while the 5th Dimension (who appeared on Glen's show & had big Jimmy Webb hits!) were on #3 with "Stoned Soul Picnic". And that was not all – "Lady Willpower" by Gary Puckett & the Union Gap was at #7 featuring Glen on guitar, and the Vogues had their first Top 10 in three years with (the Glen Campbell-penned) "Turn Around, Look At Me".
5) He was an award-nominated actor…
What was the last time you heard of a celebrated session musician who went on to join one of the biggest bands in the world, and who was also nominated for a Golden Globe? Exactly – but that was Glen Campbell for you… nominated for "Most Promising Newcomer" for his turn on the original 'True Grit'(1969)!
6) … and an Oscar-nominated songwriter!
Glen was brilliant until the end. After announcing his retirement due to Alzheimer's, Glen recorded his final song, "I'm Not Gonna Miss You" with members of the Wrecking Crew, for the documentary "Glen Campbell…I'll Be Me." The result? A heart-breaking beauty that got him nominated for the Best Original Song Oscar at the 87th Academy Awards!
7) Glen inspired a generation of younger rock musicians
Like Johnny Cash before him, Campbell branched out to perform modern rock'n'roll songs in his later years, covering tracks from bands as diverse as U2, Foo Fighters and Green Day on one of his last albums. Musicians who lined up to work with him in his final records include Paul Westerberg from the Replacements (who wrote Ghost On The Canvas), Jellyfish, The Wallflowers singer Jakob Dylan, Chris Isaak, Rick Nielsen and Billy Corgan of the Smashing Pumpkins.
8) 'Wichita Lineman'
The song, written by Jimmy Webb, is arguably Glen Campbell's greatest moment. A timeless classic, which also inspired many guitarists to try a baritone guitar!
9) All those guitar solos…
At the end of the day, we can't underestimate Glen Campbell as a guitarist… what a wonderful player! This video compilation says it all:
10) …and let's not forget the guitars!
Besides having introduced the baritone guitars to many players, over the years he could be seen playing some amazing guitars, including many Mosrites which, as those who are familiar with My Rare Guitars will know, is one of our favourite brands!
Here's some of our top Glen Campbell guitar photos:
Read more:
Glen Campbell: the guitar prodigy represented the best of pop and country