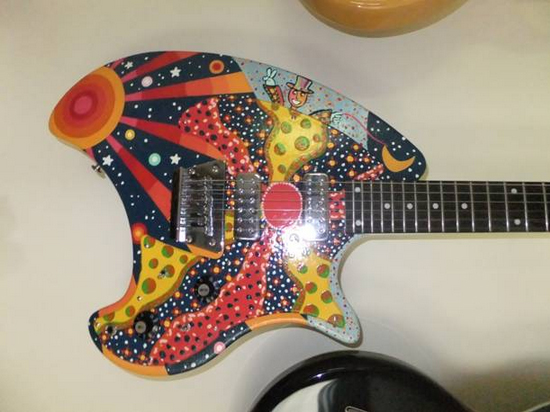 A few years back I bought the Eastwood Breadwinner … then last year the Eastwood P90 Special. As a product of the 60s and all the psychedelics that go along with "my era", I decided to take the Breadwinner and have a custom paint design done to it. My wife is a fabric artist and located this guy named Rob Burger in St. Cloud, MN USA (www.burgerguitars.com) who made a name for re creating George Harrison's design off Magical Mystery Tour. The famed Strat with the wild paint job.
Anyhow, I sent him the Breadwinner and told him I wanted a totally mind blowing design and to keep these 3 things in mind:
Lava lamps
Acid trips
Beatles psychedelic
BUT to maintain the Eastwood badges on the headstock. When he got my guitar he was blown away with the design and playability. He wants one! ;o) Hope he pulls the trigger. I have officially nicknamed it "Hurdy Gurdy". (Donovan). Band I play with does 60s thru 90s and I am the 60s psychedelic guru of the unit.
Wanted to share it with you. I hope you don't hate me for doing this, but I wanted to make it "mine". Man .. does it turn heads and get the comments …. Naturally I tell them it's an Eastwood first and foremost! Gotta love it!
Wow, now there are at least 3 decorated Eastwood Breadwinners guitars out there. Here are the other two courtesy of Bill Nelson:
by Rich Bittner