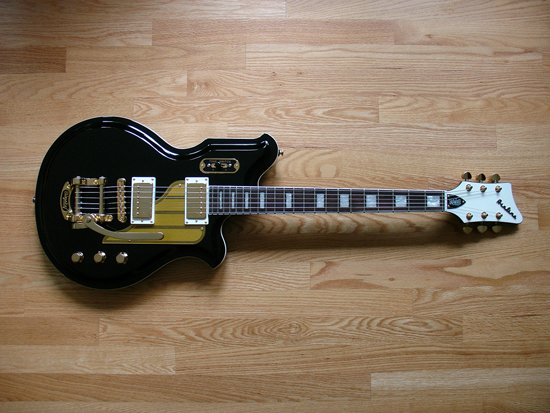 Is there an Eastwood or Airline guitar you've always wanted but in a different color? Different hardware? Or perhaps a left-hand model of something that is only available in right-hand? Well now it may be possible to have whatever you want. Read on…
Earlier this year a customer came to us asking for a custom shop guitar. He wanted an Airline MAP guitar, but he wanted it with gold hardware, gold switchplate and gold pickguard. Our standard reply was, "Any time we introduce a new color/model, our factory has to make a minimum of 8 pcs, so if you want to buy 8 of them, we'll do it". Typically at this point the customer will say, "Oh, I guess that's out of the question then".
But this customer was different. He said, "I'm willing to pay a LOT more for this, so name your price and let's get it done!". That got me thinking. I liked his concept of the gold hardware MAP model and I thought it would appeal to some of our existing customers, but did not want to make 8 of them only to sell just one. So I went back to him and suggested the following arrangement:
Send us deposit of $3,000 to commit to the order, and within 3-6 months, the 8 custom guitars will be completed.
Once complete, we send him his one guitar.
Then we offer the next 7 guitars at $999 each (including hardshell case) to our customers via www.myrareguitars.com
Once we have sold 4 of them, we refund $2001 back to him, making his cost on the custom guitar of his design only $999.
He agreed, and here is the guitar (sorry, they SOLD OUT within the first week!!).
So if there is something you are looking for that we do not currently make, send me an email and we can talk about it: michael@myrareguitars.com
More pictures of the Airline Map in black: