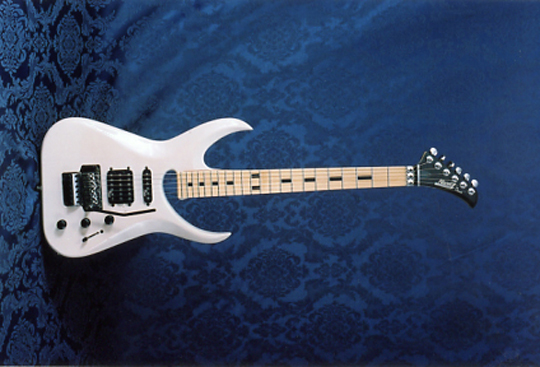 I don't recall how I got his number, but when I called Dana Sutcliffe to talk about what is probably his most famous—at least known famous—guitar, he said we should do lunch. Dana lives just down the road from me in Delaware, so it was an easy meeting. I asked if he'd ever had Vietnamese pho (beef noodle soup, one of the world's most perfect foods), and since he hadn't and since he loves to eat, we met one day in one of South Philadelphia's numerous pho parlors to discuss the genesis of the Alvarez Dana Scoop. It was, as it turns out, all the result of an accident.
Sutcliffe grew up in the Philadelphia area and Delaware. At 13 years of age, he got one of those 4-pickup Kent solidbodies with the horrible pickups. He promptly rewound them and was on his way. Armed with guitar experience, in 1978-79 Sutcliffe cut his teeth on guitarmaking at the short-lived flop—but ultimately fascinating—Renaissance (plexiglass) guitars out in Newtown Square, PA.
Most of you have probably seen his next work. Sutcliffe began working with another Delawarean, George Thorogood, converting Gibson hollowbodies to his taste and repainting them white. Sutcliffe began adjusting amps for a local Crate amp rep using a guitar with his own pickups, and that eventually led to a gig outfitting electrics in Westone solidbody guitars for St. Louis Music (Crate's owner) in around 1987. The following year he had a line of Dana Westones.
In 1988 one of Sutcliffe's employees was working on a Matsumoku-made Westone body when the router hit a knot near the treble cutaway and accidentally cut a big gash in the body. The body was discarded, but another employee finished assembling the guitar. The next day it was the joke of the shop, but when Sutcliffe played it, it sounded really, really good. He fiddled around with the gash and invented the Dana Scoop prototype.
Sutcliffe took the guitar to the 1989 NAMM show and showed it around as a novelty. However, SLM pulled him aside and told him to stop showing it. They were looking for a new model and this would be it! The new Alvarez Dana Scoop (made by Cort; the Westone brand died when Matsumoku stopped making guitars perhaps as late as 1990) debuted at the 1992 NAMM show, where it was named the "Guitar of the Year." It was extremely successful and a number of variations appeared over the next couple years, including a Strat-style "L.A." model and a Tele-inspired "Nashville."
However, the relationship between Sutcliffe and SLM quickly began to sour. By 1994 versions of the Scoop that Sutcliffe had not approved began to appear, including the one with a Modulus Graphite neck and the guitar shown here with the 3-coil Tri-Force (probably a descendent of the Mighty Mite Motherbucker; Cort owned the Mighty Mite franchise by this time).
Seen here is an Alvarez Dan Scoop AE650TRW from around 1994. It has a see-through butterscotch finish over a figured maple body with the unauthorized Tri-Force pickup. The fiveway offers five different one- and two-coil combinations. Controls include a master volume and two tones. These were basically made for about one year, possibly less. By 1995 Sutcliffe and SLM had parted ways. Since Sutcliffe had a patent on the Scoop design, the model also departed the guitar universe. Production numbers are impossible to determine with any accuracy, but Sutcliffe estimates that approximately 2-3,000 of the original design were made, plus a 500-700 more L.A. and Nashville Scoop variants, and a fair number of custom-shop examples. How many of these Tri-Forces were produced is a total mystery.
The Alvarez Dana Scoop is pretty cool for a pin-router accident! And a lot of fun to play. It only had a brief roughly three year run, though it seems to loom larger than that. These days Sutcliffe keeps extra busy doing custom restorations and set-ups of high-end collectable guitars and banjos for well-heeled, mostly pro clients. We both keep trying to schedule another lunch, but so far it hasn't worked out.
Michael Wright, The Different Strummer, is a collector and historian whose work is featured in Vintage Guitar Magazine.