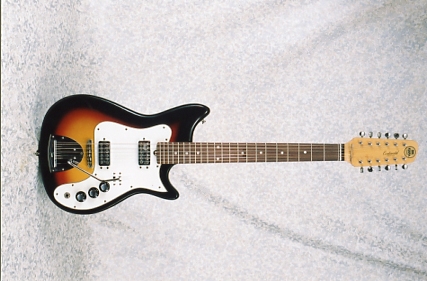 A View From the Back of the Rack
From the Temple of Doom (I): Koob, Albert, Patricia, and Adeline
By Michael Wright
The Different Strummer
Imagine someone telling you about an old-time music store that had a huge stash of unsold guitars from the 1960s, plus some guitar effects from the '70s lying around in its upper floors in Newark, NJ. Well, you can bet it didn't take long for me to beat a path to the door of Newark Music City (calm down; this was a long time ago and, while the company still exists, it's long gone from Newark). Even though I was late in the game, there were still unmined treasures to be had. A real Temple of Doom!
I pulled a lot of good stuff out of Music City and owner John Ciarfella was great to work with. The store was full of New-Old-Stock gear, not to mention a bunch of vintage pieces taken in on trade over the years and just never sold. Maestro pedal effects, replacement Victrola parts, Japanese guitar hardware. Plus this NOS c. 1966 Kapa Continental No. CO-XII-V 12-String, culled from a huge pile in their old cardboard boxes stacked in a corner on the 3rd Floor. All leftover from when John's father ran Newark Musical Merchandise and distributed Kapas, but was never able to sell. More about the Kapa later.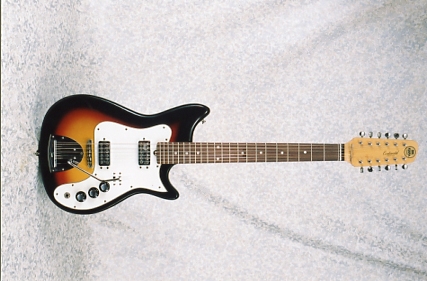 But the trip to the trip was the upper floors.  Music City was actually two joined 4-story buildings on a corner near the "new" Newark performance center.  The stairs were rickety and the floors unfinished, everything dusty.  The 2nd floor was full of old shelving and drawers filled with the NOS stuff.  The stairs between the floors and buildings were a maze.
After I'd bought a number of things on several trips, John took me up to the 4th floor of the corner building.  That had originally been a speakeasy and on the 4th floor was a Burlesque theater.  It was still there.  The proscenium stage, all the seats, tattered curtains.  Water damage and some graffiti by locals who'd broken in through the skylight.  It was awesome, almost dwarfing the Kapa find.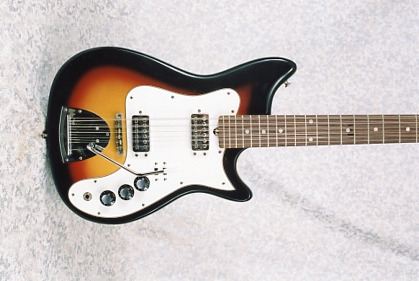 But, unlike the KAPA, I couldn't take the theater home with me. Kapa was a brand started by another music distributorship begun in 1960 and owned by a Dutch immigrant named Koob Veneman in Rockville, BD.  Veneman's father had operated a music store in Holland and distributed guitars carrying the AMKA brand, an acronym made up of the first letters of his childrens' names (K was Koob).  In 1962 Veneman decided to plunge into the Guitar Boom and manufacture his own line of solid- and hollowbody electric guitars and basses in nearby Hyattsville, MD.  He named the guitars KAPA after his family, himself, son Albert, daughter Patricia, and wife Adeline.
KAPA began in 1963 or '64 (sources differ) with three solidbodies, the Challenger (sort of a two-pickup mini-Strat), the Wildcat (three-pickup version), and an occasional single-pickup Cobra, made from scraps.  KAPAs were famous for their ultra-thin necks, made by KAPA, not Höfner as some online sources claim.  Until 1966 the pickups, which looked like Höfners, were made by KAPA.
In 1966 KAPA's lumber stock got thinner and they began using Pix pickups made in Germany, the same as used by Höfner (but not made by Höfner).  They also switched from threeway toggles to sliding on/off switches about this time.  KAPA also introduced the Jazzmaster-style Continental in '66, including the 12-string example seen here.
KAPA guitars were actually quite well made, very easy to play, and give off a nice vintage '60s vibe.  They made upwards of 120,000 of them, so they're not especially rare, but then, not too many people ever thought they'd be of interest to anyone in the future!
Unfortunately, KAPA doesn't seem to have been very concerned about consistency, and you'll find Continentals with Challenger decals and vice versa, and dating is primarily a matter of guesswork.  In 1968 KAPA added a Minstrel teardrop-shaped solid to the line and in 1969 some thinline hollowbodies with bodies made in Japan.  However, by then sales were in decline and in 1970 Veneman shut KAPA down, selling leftover supplies and machinery to Micro-Frets and Mosrite.  Veneman sold Bradley copy guitars during the 1970s.  In the 1980s the shop got into the mailorder music biz.  The shop still exists, but as a premier Guitar Center location.
In any case, besides being a relatively rare '60s soldibody 12-string, this KAPA Continental carries the cachet of having been found unsold in a musty old corner of a musical Temple of Doom in Newark, NJ, next door and an obscure staircase away from a mothballed attic burlesque theater!
Michael Wright, The Different Strummer, is a collector and historian whose work is featured in Vintage Guitar Magazine.