by Michael Wright
The Different Strummer
It's odd that I never thought of things this way before but it was encountering Japanese guitars that started me on the road to writing guitar history.  It was probably more about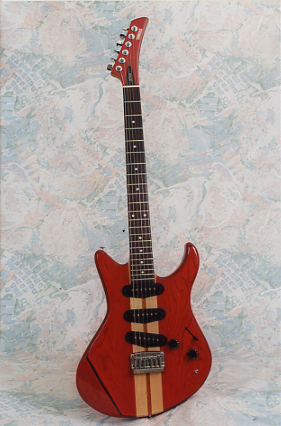 coincidence—and me being cheap—than any sort of far-sighted strategy, maybe salted with a generous dash of aesthetic appreciation.  In fact, it was this very Japanese Yamaha SC-600 that provided the "Aha" moment!
I began shopping for electric guitars in the mid-1980s after I finally started holding on to decent paying jobs.  I'd been an acoustic player for several decades and thought I ought to have a solidbody electric.  I had a radio show at the time and spent a lot of time combing through record bins looking for interesting guitar records.  This brought me in contact with lots of 2nd-hand stores of various types, where you'd occasionally encounter a guitar.  I was on a record mission at this sort of pawn shop in New Jersey when I found my first, a Japanese-made, 4-pickup 1967 Kent with birdseye maple top and back laminates and this really groovy wide, almost Baroque black and white plastic strips on the side.  It spoke to me and at around $80 was quickly mine.
A few more guitars followed until the day I walked into Lou's Pawn Shop in Upper Darby, PA.  It's still there, actually.  That's when this red beauty reached out to me.  It cost more than $80, but not a fortune.  Back then, Japanese guitars were considered "used guitars," not in any way collectible.  That denomination was reserved for Pre-War Martins and old Les Pauls and Strats…American guitars.  There were whole books about those.  Nothing about Kents or Yamahas.  Nada.
Every time I would find one of these mysterious beauties, I'd ask the seller, "What's the story about this guitar?"  And the seller would invariably shrug his shoulders and utter, "I dunno."  It would kind of annoy me.  But by the time I got to this Yamaha, I'd heard the same ignorant response numerous times.  That's when, like the Blues Brothers watching James Brown, the light turned on.  I was on a mission from God.  I would figure out the stories of these unloved guitars and tell them.  I called the editor of the then fairly new Vintage Guitar Magazine and asked if he'd be interested in publishing these stories and I've never looked back since.  Fortunately, the world has come a long way, baby, since those days in the desert!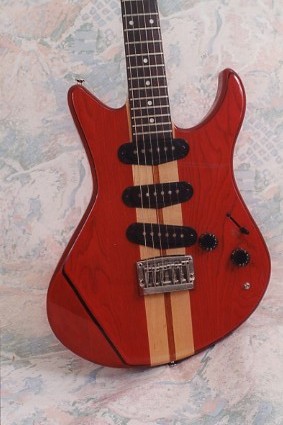 So, what was it that caught my eye that day?  Obviously being a nice cherry red helped.  And that distinctive shape, which turned out to have more significance that I knew at the time.  Then I saw that it was a neck-through-body guitar, a feature that was highly prized back then.  Then I cast my gaze over that arm contour, realizing that Yamaha had built a "sandwich" with an alder core between a thin layer of mahogany topped with nicely figured ash.  Slice through that sandwich at an angle and you get a really gorgeous guitar!  I'm usually more of a humbucker than single-coil kind of guy, but these are beefy units and the five-way switch gives you those coveted glassy out-of-phase sounds.
It was only years later that I realized that the Yamaha SC-600 was actually a take—sort of a revival of—on a classic Yamaha design from the 1960s, the "Blue Jeans" models that were unique models, sold only domestically (or at least in Asia), inspired by the Mosrite Ventures guitars so beloved in Japan.  Yamaha kind of got sidetracked in the mid-1970s when its SG series of double-cutaway solids found considerable popularity—and great press coverage—thanks largely due to the endorsement by Carlos Santana.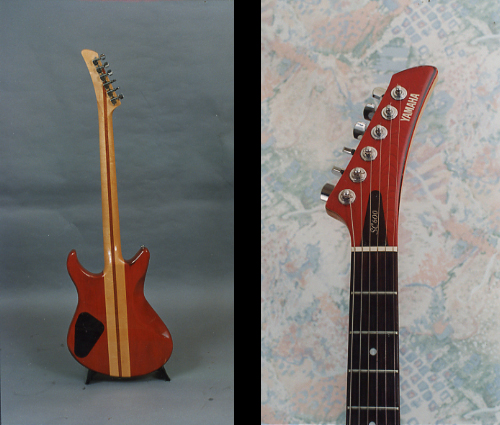 As much as I liked the SC-600, I think I was pretty much in a minority.  The model was not especially well-received, at least in the U.S., and these were only offered in 1981 and '82.  The SC-600 had a companion SC-400 that was also a pretty guitar, differing in that it had a set-in neck and the body was flat with no arm contour.  I have no idea it these are especially rare, but with such a short production timeline, they're probably not plentiful.  Contrary to popular opinion, no Japanese guitar companies were selling boat-loads of guitars yet in 1982.  Certainly I had no one competing against me for that SC-600 the day I walked into Lou's and the salesman shrugged his shoulders in yet another "I dunno."
One never knows what path his or her life will take, of course.  I may have been destined to write guitar history even if I hadn't heard the siren call of those Japanese guitars back in the 1980s.  But finding all those great Japanese guitar designs, pretty much unwanted, unloved, and unknown—and not expensive—certainly turned into a mission from God!