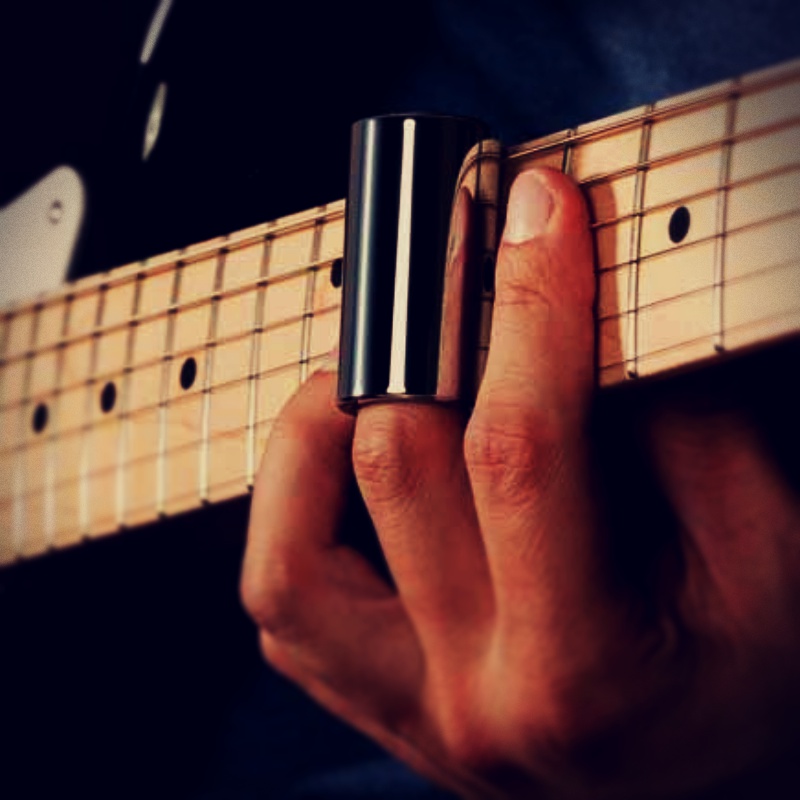 There are few things more satisfying for a guitarist than playing slide – you know, proper, blues slide guitar! And guess what? It's not that hard… if you follow some simple tips!
Before we start, it's important to make clear that the slide guitar technique wasn't invented for blues, and is not for exclusive use for blues guitarists. The origins of slide can be traced to one-stringed African instruments, and anyone can use a slide in any musical style – from Hawaiian music to experimental, noisy bands such as Sonic Youth. George Harrison was also an adept of the slide, using it on Beatles tracks and in solo recordings.
But of course, it's in the blues format (and blues-inspired rock'n'roll) where the slide found its perfect home, and one of the earliest accounts of the blues, by W. C. Handy, mentions an unknown blues player at a Mississippi train station, playing slide guitar… with a knife!
"As he played, he pressed a knife on the strings of the guitar in a manner popularised by Hawaiian guitarists who used steel bars. The effect was unforgettable."
So, it's for those interested in playing blues slide that this blog is intended.
You don't need a special guitar… but you will need a "slide set up"
Though lap-steel guitars and resonator guitars are used for playing slide, it doesn't mean you need one. Any guitar will do, whether electric or acoustic. If you plan to play or practice slide regularly, it's recommended that you get a new / spare guitar just for that, because it'll need a few extra adjustments for this purpose, which may not feel great when going back to playing your normal style, without a slide!
But don't worry, those adjustments are fairly simple:
the action on your guitar needs to be setup higher than usual, otherwise it'll rattle too much.
it's recommended to use slightly heavier gauge strings for a "thicker" tone, though that's a matter of taste, mostly.
the guitar needs to be tuned to an "open" tuning, because you won't be making any chord shape with your slide!
What are the best slide guitar tunings?
You'll manage with any open tuning, but the most common are Open G and Open D, as used in many legendary blues recordings.
OPEN G: G B D G B E
OPEN D: D A D F# A D
Here's a good example of how the open D tuning sounds like. The slide used was a heavy gauge Bronze one by Dunlop.
What's the best kind of slide: glass or metal?
Again, this is a matter or taste. Generally speaking, glass / pyrex slides will give you a warmer tone, and metal slides (bronze, steel…) will give you a louder and brighter tone, besides the fact they won't break! Of course, there's a taste for everything and some players will say bronze is better than steel etc etc… the best thing is: go to a shop and try a few, or if in doubt – just go for any steel slide, because that's the most common.
There are also ceramic slides, which are not as popular as glass or metal, but which many connoisseurs prefer, because they sit somewhere between the warmth of glass and the sharpness of metal.
This video of the new Eastwood The Continental by Jeff Senn features a glass slide – check the tone!
On which finger should I put the slide?
The most common choice is the ring finger, which makes it easier to use the slide wherever you play on the fretboard. Some players prefer to use the pinky, because this way you can more-or-less easily use the other fingers to play chords.
For beginners – just go with the ring finger, we say!
Two quick slide guitar lessons to get you started
Now that you are all set to go, here's two of our favorite slide guitar lessons on Youtube, to get you started!
RJ RONQUILLO: 6 SLIDE GUITAR LICKS
The always excellent RJ shows how to play 6 side licks plus talks a bit about the guitar setup.
SLIDE GUITAR BLUES LESSON IN OPEN D
One of the best and most straight-forward guitar lessons we've ever seen on YouTube. WARNING: some profanity ahead… make sure no kids are around!