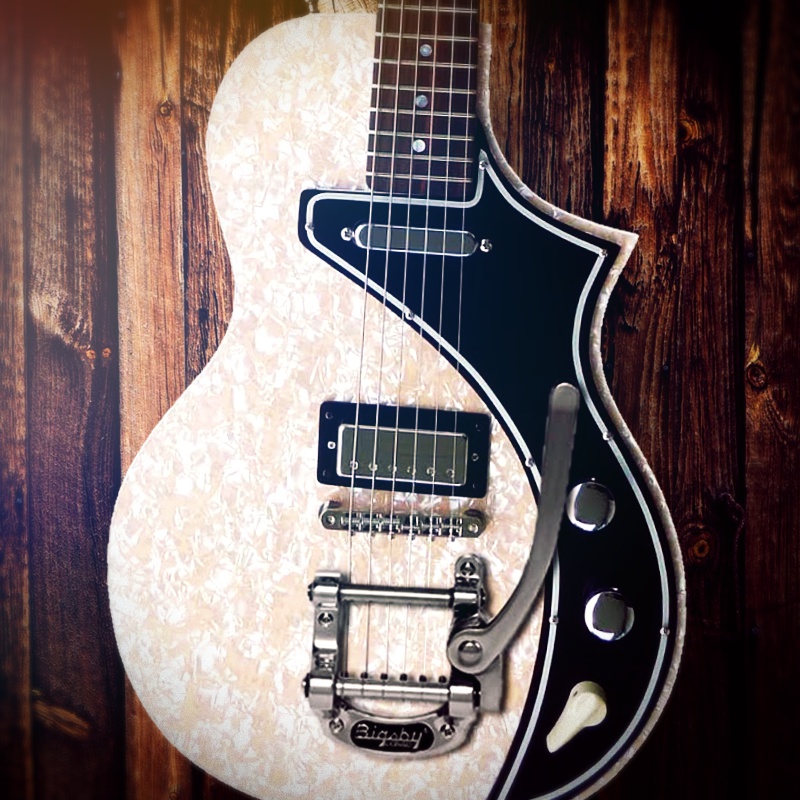 The Continental is the latest collaboration between Jeff Senn and Eastwood. This model is more "upmarket" than the popular Model One, and looks very much like a vintage classic!
On a recent interview on the Eastwood website, Jeff Senn Explained the inspiration behind his new design, which also has a certain hint of the legendary Supro Ozark to it.
"When I was building the original Continental for myself it was built with a vintage Supro pickup in the bridge position and a vintage Guyatone pickup in the neck position. When we decided to make The Continental available as a production instrument I chose pickups that evoked a similar tonality but were easily accessible.
"It's a very versatile combination as the guitar can twang, growl, sparkle and cover many genres of music from Punk to Western Swing, Blues and Jazz. I'm personally drawn to guitars that I can take on almost any gig without worrying if they will fit the style of music. Versatility is a good thing and this is what I had in mind for The Continental. Another aspect of the pickup choices is that they are easily replaceable with a plethora of choices should the player want a different sound or output. By mounting the mini-humbucker in a P-90 rout the mini can be traded out easily for a P-90 should the owner wish to, which would be another great version of the instrument."
Read the full Jeff Senn interview here.
More about the Continental by Jeff Senn
It's worth mentioning that The Continental is NOT in production just yet (March 31 as we write this) because this is a new crowdfunding project by the Eastwood Custom Shop. Even though the guitar was designed by Jeff Senn, this model won't be manufactured or sold by Jeff Senn Guitars, Senn's own brand.
Those interested can simply pay a deposit ($200 for hardtail version, $250 for Bigsby version) via the Eastwood Continental Page, to guarantee theirs – if Eastwood reach their target! If they don't reach at least 100% of their goal, the guitar won't be made and those who left a deposit will be refunded.
Crowdfunding ends on April 27, 2017.
But, oh boy… it's such a beautiful guitar, that we can only hope she'll get made! It would be a shame otherwise, wouldn't it?