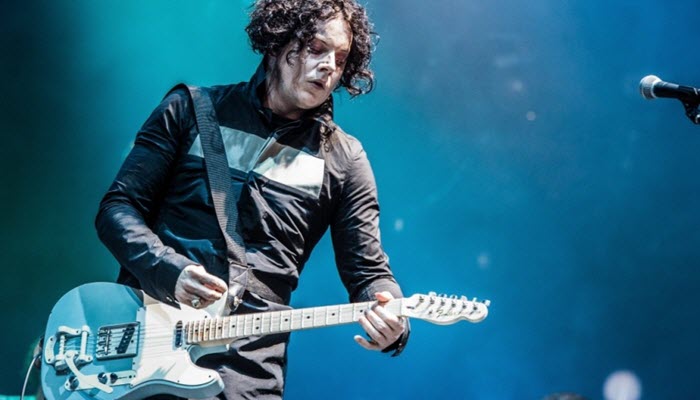 In an era where guitar heroes are a dying breed, Jack White stands among the greatest guitarists of his generation. His preference for older, more primitive equipment came at a time when most guitarists were neck-deep in processors, pedals and preamps. Relying on his distinct style and killer tone, White became the touchstone for a new movement of more blues-inspired guitarists.
White used a truly unique collection of instruments to propel his no-frills style into the limelight. As you will see, his equipment choices evolved slightly through the years depending on which of his many projects he was working on. Here is a breakdown of the guitars he has used through the many phases of his career.
The White Stripes:
1964 JB Hutto Montgomery Ward Airline
This is the most iconic guitar in Jack White's arsenal of rare axes. This model was made for Montgomery Ward department stores in the early 60s. This guitar was White's workhorse throughout his time with the White Stripes.
White's vintage JB Hutto Airline became so popular that Eastwood began producing a replica around 2000, however the replica features a chambered mahogany body instead of the original fiberglass model:
The one-pickup version from Eastwood, the Airline 59 1P, is also a good choice for players who aim to emulate Jack White's tones:
It's interesting to notice that during the Get Behind Me Satan tour, Jack started playing a modded Airline, with only one pickup – he removed the neck pickup and the control knobs:
1950s Kay Hollowbody
This vintage hollowbody was one of the three guitars White used with the White Stripes. The Airline was his primary axe, but White frequently used the Kay Hollowbody as his slide guitar. Kay Instruments was one of the first companies to make an electric guitar. Blues legend Howlin' Wolf–a major influence on White's style–was among the most visible artists to use the Kay Hollowbody. This is the guitar White uses for "Seven Nation Army," arguably the greatest guitar riff of the past decade.
1915 Gibson L-1 Acoustic
This guitar is commonly referred to as the Robert Johnson model. White began playing this guitar on the White Stripes' Icky Thump album. For live performances, White uses a tape-on pickup. In an interview for Gibson's website, White reveals that this guitar is his personal favorite.
The Raconteurs:
"Triple Green Machine"
This custom-made guitar started with a Gretsch Anniversary Junior. White enlisted Randy Parsons to modify the body and add a slew of bells and whistles, creating a truly unique instrument. He installed the same electronics from his Gretsch Triple Jet, a bigsby tailpiece, a lever-activated mute system, light-activated Theremin and a retractable bullet microphone. This guitar is also featured in the film, It Might Get Loud.
Gretsch Triple Jet
White is just as particular with the aesthetics of his equipment as he is with their performance. With the Raconteurs, White plated all of his equipment–pedals, amps, guitars–in bronze. This customized axe is based on a Gretsch G5445T Electromatic Double Jet. White added a third pickup (hence, "Triple Jet") and an onboard MXR Micro Amp. The result gave White a a bronze-plated axe with built-in overdrive.
Dead Weather:
Gretsch G6199 Billy-Bo Jupiter Thunderbird
This guitar was intended for White's tour with Alicia Keys in support of their James Bond theme, "Another Way To Die." Keys had the box-shaped Bo Diddley model, and the idea was for White and Keys to re-create the image of Bo Diddley and the Duchess. When White's neck injury sidelined that tour, he took up the same idea with Alison Mosshart in the Dead Weather.
1957 Gretsch G6134 White Penguin
Another one of the rarities in Jack White's collection. Gretsch only produced 12 of this specific model. White found the guitar while touring through Texas in 2007. The white guitar was a natural fit in White's Dead Weather color scheme. This guitar was also used on the later White Stripes albums.
Solo/Misc.:
Fender Telecaster
This may be the tamest piece in Jack White's guitar arsenal, but this American classic was White's main workhorse on his solo album, Blunderbuss. In typical Jack White fashion, the guitar has been outfitted with a Bigsby and painted blue to fit with the project's color scheme.
Gretsch G6022CWFF Rancher Falcon Cutaway Acoustic
This guitar has been a mainstay throughout White's career. He has said that this model is favorite acoustic to play live, because of the bass tones. Given his flair for customization, White has three Rancher Falcons, each with a portrait of a different women on the back.
White explains that the women featured on his guitars are Claudette Colbert, Rita Hayworth and Veronica Lake, which gives him a brunette, a redhead and a blonde.
Posted by: Jason Schellhardt, writer for the cheap ticket search engine, Rukkus.