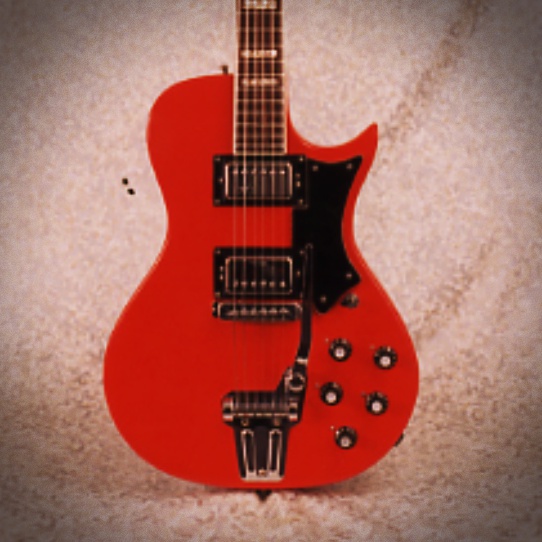 Find out more about JG Guitars – former New York accordion makers who turned to guitars. Guest blogger Michael Wright thinks it was a good move… and got the guitar to prove!
I've always had a love-hate relationship with accordions, largely due to my forehead-slapping reaction to being forced to watch the Lawrence Welk Champagne Hour as a kid. Well, "forced" is probably strong, but back then you only had one TV if you were lucky enough to have one at all. So, smiling accordion players it was if that's what your parents wanted. At least the Lennon Sisters were hot. On the other hand, I've also heard solo accordionists playing on street corners of Society Hill in Philly and I confess it was awfully romantic. In either case, the fact is, you just can't seem to avoid accordions if you're going to talk about Italian guitars.
Modern piano accordions were invented in Germany in around 1863 and almost immediately one showed up in Castelfidardo, Italy, on the northwest coast of the Adriatic near the mouth of the Po River. Castelfidardo has been the accordion capital of the world ever since. Piano accordions showed up in the U.S. in the early 20th Century and, like most things, had several waves of popularity. The biggest came in the early 1950s when young Baby Boomers—my sister was one—caught the accordion bug. The sudden rage for accordions was huge and Italian Americans who played accordions and were in the music business went nuts starting music schools and ordering accordions from Italian factories that ramped up production big time. There were huge accordion orchestras of smiling children.
Then, after a couple of great years, people lost interest, overnight. My sister's accordion went into the closet. Most of the Italian-American accordion concerns entered a period of depression. Long story short, at the end of the 1950s along came Folk Music and a thirst for guitars. Italy had a long tradition of guitar-making inherited from Spanish rule for centuries. A few accordion manufacturers threw their hats into the ring and opened up guitar operations. Oliviero Pigini (EKO guitars) was one. Other accordion makers partnered with people who knew how to make guitars and exploited their American export relationships to supply guitars where once it was all accordions.
JG guitars fell into the former bucket. Finding out about European-made guitars—especially Italian guitars—is not easy if you're in North America. Many of the people who were active importing these in the late '50s and early '60s are no longer with us. I was fortunate enough to talk with folks at LoDuca Bros. in Milwaukee, who imported EKOs, but by the time I figured the other connections out, the opportunities to recover at least the American side of the story were lost. Still, not all is hopeless. If you're interested in European (especially Italian) guitars, you should bookmark fetishguitars.com. Run by Jack Marchal and Stefano Aria, this site has been digging into European guitars for some years now. This site began more like an Italian version of Dan Forte's old Teisco Del Rey columns in Guitar Player back in the 1970s, viewing these sometimes fruity artifacts with tongue in cheek. However, as time has passed and they learned more, the approach has become more serious and they now provide some of the best information available on these curiosities.
I always knew that JG guitars were made in Europe, but I also thought they were also sold primarily in Europe. Turns out I was wrong on the latter point. According to Fetishguitars.com JG guitars were made for Giulietti & Son Accordion Co. of New York City. The company had been founded by the accordionist Luigi Giulietti in 1923 sourcing his accordions from the Serranelli factory in Italy. Upon Luigi's passing in 1950, the shop was taken over his son Julio, who changes accordion supplier to Zerosette. Zerosette had been founded after World War II by 7 partners with experience in making accordions and remains a major accordion manufacturer. With the rise of the guitar beginning in the late 1950s, Zerosette decided to open a guitar-making arm.
I don't know if Zerosette ever made acoustic guitars, like Pigini/EKO did. However, when the demand for electric guitar began to pick up in the early 1960s, Zerosette became a major Italian supplier. Brands produced at Zerosette you may know include Goya (for Hershman), Contessa (Höhner), and Sano, among others.
Zerosette produced JG and Juliett guitars for Julio Giulietti's shop in New York. The JG 300 seen here has no serial number and is impossible to date. However, during the 1960s most Italian guitars looked like 1960s guitars. This has the smack of being a Les Paul copy. By the end of the 1960s most European guitars had been eclipsed by Japanese guitars, so not many were being sold in North America. The copying of American guitar designs by Japanese makers didn't begin until 1969. European guitar-makers also indulged in copying American designs, but their copies tended to be more in the nature of "inspirations" rather than attempts to make close reproductions, as the Japanese did.
I suspect that this is an early 1970s guitar. It still has the '60s-style Van Ghent tuners. Overall, the workmanships is quite good and this plays and sounds very nicely. Controls are two volumes and two tones run through a master volume, with is a little odd. It's not a professional instrument like a Les Paul, but it looks very cool. As far as I can tell, these probably did not receive very wide distribution, probably about as much as Giulietti accordions! Still, it's orange and pretty unusual! I think I'm going to strap it on, put on my widest, toothiest smile…and think about the Lennon Sisters.
By Michael Wright
The Different Strummer