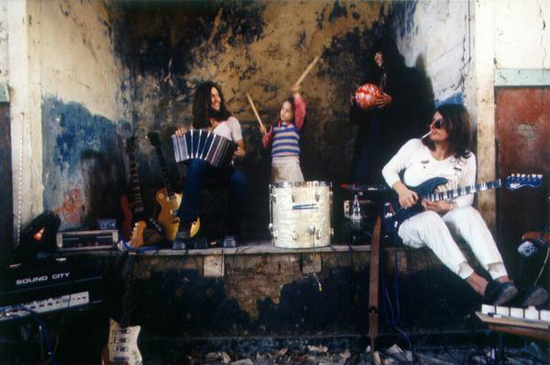 by Kevin C. Smith
Imagine what you would do if you were a member of a seminal electronic music band that influenced musicians in a myriad of genres over multiple generations and whose stature still remains unparalleled to this day? And then imagine what would you do if your chosen instrument was not a synthesizer but instead a guitar? If you were Michael Rother you would leave Kraftwerk taking drummer Klaus Dinger with you and form the equally acclaimed, if not as well-known, Neu!
A rare television appearance of Kraftwerk with Florian Schneider, Rother and Dinger can be seen here:
Check out the video for Part 2/2 here: http://www.youtube.com/watch?v=YU0Ls80ZhsY
In 1971 Rother and Dinger formed Neu! after six months of filling in for Kraftwerk's founding member (and half of the band at the time) synthesizer player Ralf Hütter while he pursued his studies in architecture. The duo quit Kraftwerk reportedly for – what would eventually become a supreme irony – their lack of vision and the following year released their self-titled debut album. Neu! consists (when there is a beat) almost entirely of Dinger's relentless 4/4 pulse with minimal fills and Rother's predilection for sticking to one chord throughout an entire song as well as playing a propulsive (often two note) bass line. If this sounds like a cure for your insomnia on paper, on record nothing could be further from the truth. While many of their peers in America and England at the time were exploring the kind of drones that would be suited to zoning out in pharmacologically induced states, Neu!'s music evoked a sense of forward motion particularly the kind found on driving open roads (Dinger's signature beat was later dubbed Motorik by the music press). Almost always instrumental, Rother took Dinger's unwavering beat as his starting point which he would then embellish with his layered, loping guitar vamps which ranged from fluid and shimmering (no doubt influenced by his time spent absorbing native music in Pakistan as in his early adolescence) to squalls of feedback to slashing, explosive crescendos at times within the same song. Completely abandoning any sense of traditional song structure including verses, choruses, and bridges, they instead opted for open ended, largely improvisatory workouts with the shortest song on their debut clocking in just under five minutes. While obviously not pop music their songs were also devoid of the virtuosic riffing so abundant at the time. Rother understood the importance of negative space and what he didn't play was just as important as what he did play. One of the most focused and fully realized albums of all the so-called "Krautrock" bands, Neu! would also become central in redefining Kraftwerk's previously unfocused sound and its influence looms large over their breakthrough 1974 album Autobahn (even employing the Motorik beat for a time on the title track).
After a second Neu! album the following year (side two of which consisted of various primitive manipulations of two recordings from the first side after the band ran out of money to record any additional songs), Rother collaborated with Hans-Joachim Roedelius and Dieter Moebius of Cluster under the name Harmonia even being joined for a time by Brian Eno. Regrouping for Neu!'s final album, Neu! '75, drummer Klaus Dinger emerged as a competent guitarist (and singer) in his own right though only on the second side of the album in which Thomas Dinger and Hans Lampe played drums simultaneously. While Rother's contributions to Neu!, as well as his string of fine solo albums, tended more to the ambient and reflective end of the spectrum (especially as he incorporated more keyboards), Dinger was more interested in straightforward, aggressive rock in particular his song "Hero" (from Neu! '75) which seems to have eerily presaged John Lydon's vocal style as well as Public Image Ltd's music. (Here's Dinger playing a beautiful Hagstrom Goya on "Hero": http://www.youtube.com/watch?v=iPuBCfvMrBA) This line up of Klaus Dinger, his brother Thomas and Lampe would continue after Neu!'s split in 1975 as La Düsseldorf while Rother would go on to become a solo artist.
In the midst of beginning his solo career in 1977, Rother was tapped by David Bowie to be his new guitarist as Bowie was relocating to Germany to record what was to become his Berlin Trilogy of Low, "Heroes", and Lodger. Bowie, as always, was tuned in to what was happening in music and had been taking inspiration from the then current Krautrock bands. Kraftwerk's 1977 song "Trans-Europe Express" contains the lyrics "From station to station / back to Düsseldorf City / Meet Iggy Pop and David Bowie" while Bowie returned the favor later in the year by naming "V-2 Schneider" after both a German ballistic missile and Kraftwerk's Florian Schneider. Due to an apparent miscommunication (depending on who you ask), however, Rother never worked with Bowie but it's probably not a coincidence that Bowie's '"Heroes"' was released two years after Neu!'s "Hero."
Although their records sold modestly at the time and they rarely played live (due to difficulties of translating their multi-tracked guitar and drums set up to the stage), Neu!'s influence has only grown in the intervening years exerting a strong influence on the genres of post-punk, new wave, post-rock, and electronica overtly influencing everyone from Stereolab (frequent employers of the Motorik beat), Mogwai (check out "Mexican Grand Prix" for a straight up Krautrock homage), Negativland (who named both their band and their label Seeland after Neu! songs), Julian Cope (who titled a song "Michael Rother"), Sonic Youth (whose drummer Steve Shelley played Neu!'s 'music with Rother in a band called Hallogallo in 2010), and even the Red Hot Chili Peppers who Rother joined onstage in Hamburg in 2007 for a nearly 25 minute improv set.
by Kevin C. Smith