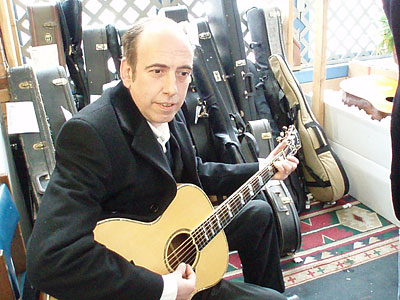 Scott Baxendale has been building custom hand made guitars since 1974. Recently he settled in Athens Georgia where he is currently building custom guitars, restoring vintage guitars and teaching the art of lutherie to aspiring craftsman.
Scott Baxendale's legacy of building custom instruments began in 1974, when he arrived in Winfield, Kansas to work for Stuart Mossman, owner and founder of Mossman Guitars. Scott joined Gruhn Guitars in Nashville, Tennessee, In l978, where he specialized in the restoration of classic vintage instruments. During this time he repaired or restored guitars for such professionals as Billy Gibbons, Johnny Cash, Hank Williams, Jr., Steve Howe, Elvis Costello, John Hartford, Marty Stuart, Norman Blake, Roy Acuff and many others. Here is the Mick Jones Custom.
Scott purchased Mossman Guitars, in l985, moving the company to Garland, Texas. He manufactured over 250 acoustic guitars, averaging five instruments per month, some of which are owned and played by Carl Perkins, Joe Walsh, Willie Nelson, Donovan, Greg Lake, Jorma Kaukonen, John Mellencamp, Chris Hillman, James Burton, Travis Tritt, Dave Alvin, B.J. Thomas and Ray Wylie Hubbard.
Scott's work on Harmony conversions was brought to my attention by long time friend and customer of Eastwood, Dewitt Burton, guitar tech for R.E.M. If you have ever owned an old Harmony guitar, you'll know how cool they are, but Scott can take a mediocre instrument and turn it into a world class guitar.
The Harmony conversion is a process by which they take old USA-made Harmony and Kay guitars and remanufacture them using our proprietary bracing and internal design, giving the guitars a new life and a world class tone that compares to vintage guitars of the highest order. This re-manufacturing process allows them to create a guitar that is also green, recycling and repurposing by starting with an existing guitar that was originally made with quality woods, and requiring no finish work. These are great guitars that retain their vintage patina and mojo at a price that the average musician can afford.
Many musicians have an old Harmony or Kay laying around that was their first instrument. Some have sent them to Scott to be rebuilt, and these guitars subsequently became their favorite instrument! Many of his customers are professional recording artists and musicians. If you would like to purchase a remade Harmony or Kay, have one rebuilt, or have one to sell, contact Scott baxendaleguitar@att.net