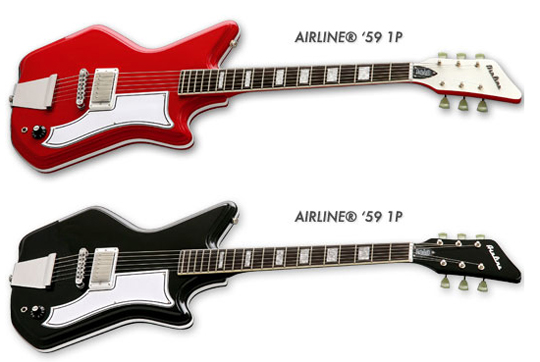 AIRLINE delivers TWO new Single Pickup Models – 1P DLX $549 and the '59 Custom $899. The original Airline's were made of Res-O-Glas and had a floating bridge. Eastwood has upgraded the design to a tone-chambered mahogany body / fixed bridge and reduced the signal path to a single pickup/volume control, allowing for crystal clear roll off tones to full on power crunch.
FREE SHIPPING until October 31.
Airline 1P DLX – $549 – Features tone-chambered mahogany body, bolt-on maple neck. Single Alnico HOT-10 Humbucker (case extra).
---
Or upgrade to the new Airline '59 Custom 1P…
Airline '59 Custom 1P – $899 – Adds the Airline Vintage Voiced Single Coil pickup, striped pickguard, rubber body binding, Tone Pro's Bridge, Wilkinson tuners, and the Airline DLX hardshell case.
---
Video Review: