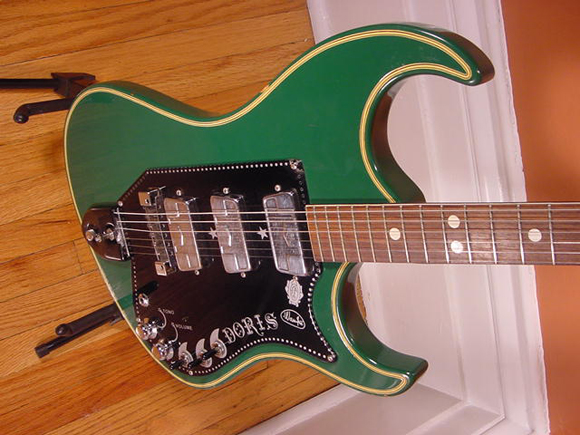 Wandre guitars are coveted by a very small group of people, but those who do are crazy about them. In 2002 I was not one of those people Now, almost ten years later, I can certainly raise my hand and be counted in the crowd. How big is the crowd? That is an interesting question. I think for every vintage Fender fan there are… wait, for every 200,000 Fender fans, there may be one of us. Then again, probably for every 20 million Fender fans might be more accurate.
Antony Wandre Pioli made guitars from the late 1950's through the 1960's. His claim to fame was an aluminum neck, but the attraction to most of us was the crazy body shapes. The guitars were musical sculptures, works of art. But this is not a story about his history – you can read about him on the internet – it is a story about how I came to become a Wandre junkie.
So as to best of my memory in late 2002, I found a curious guitar on EBAY that nobody seems to be paying any attention to – a Wandre Doris. "What the hell is that thing?", was my first thought. 30 seconds later I'm thinking,.. "damn, I gotta have it". It is an inexplicable phenomena that guitar buyers go through, but we've all experienced it. So I contact the seller, make him an offer (at the time I was cursing myself for spending so much) and we arrive at a deal. Two weeks later I get this beauty in the mail:
Wow. What a cool, fragile, ridiculously lightweight, spectacular, completely individual, personal, like-no-other-guitar-I-have-ever-held, sexy body shaped, weird?, big switched, comfortable, cozy, guitar. It was a piece of art… I mean a guitar. No, art. Whatever. I was hooked. Can you tell?
My first reaction was to tell everyone I know about this fantastic discovery! How did that work out? Kind of like telling everyone you know in grade seven that liver and onions is the best food on the planet. I started thinking the guy who sold it to me is telling everyone he knows that Mike at www.myrareguitars.com thinks liver and onions is the best food on the planet.
But fear not, I simply loved that thing. So much so that I photographed it from every angle and did some detailed drawings (yes, in my earlier years I was a draftsman, although that name sounds odd these days) so that I could catalog it for future use. Which I did in 2006 when we released the EASTWOOD Wandre to great fanfare.
However, back to the story of this specific guitar. There I was in my office about a year later when one evening the phone rang. "Hi, I see you have a Wandre Doris on your website", said the caller. "Yep, cool isn't she?", said I. It was not for sale. I did not have a price on it, just listed on the 1960's guitars pages that I'd been updating for reference. "I'd like to buy it", said the predator. For the next 30 minutes we had a great chat about our guitar collections, how much we loved collecting guitars, where we both lived, families, friends, and all things that guitar fans have in common.
One of the great things about this job is you meet people every day that share your passion for guitars. This guy was one of those people. Yet he was a persistent fellow. "How much did you pay for it?", he asked. I told him. "Can I offer you three times what you paid for it?". I think, "WTF?" to myself. "no, I love this thing, really don't want to sell it". So we chat for another 15 minutes about other guitar stuff, then he says, "I'm thinking you'd be pretty stupid to refuse five times what you paid for it". And of course I reply, "I'm not that stupid". or something like that. Thirty seconds later my email pops up with a message, "You've Got Money" from PAYPAL.
Yes, it is in the amount of five times what I paid for it… plus shipping.
The next morning it got filed under THE ONE THAT GOT AWAY.
VIEW EASTWOOD WANDRE DORIS TRIBUTE FOR SALE