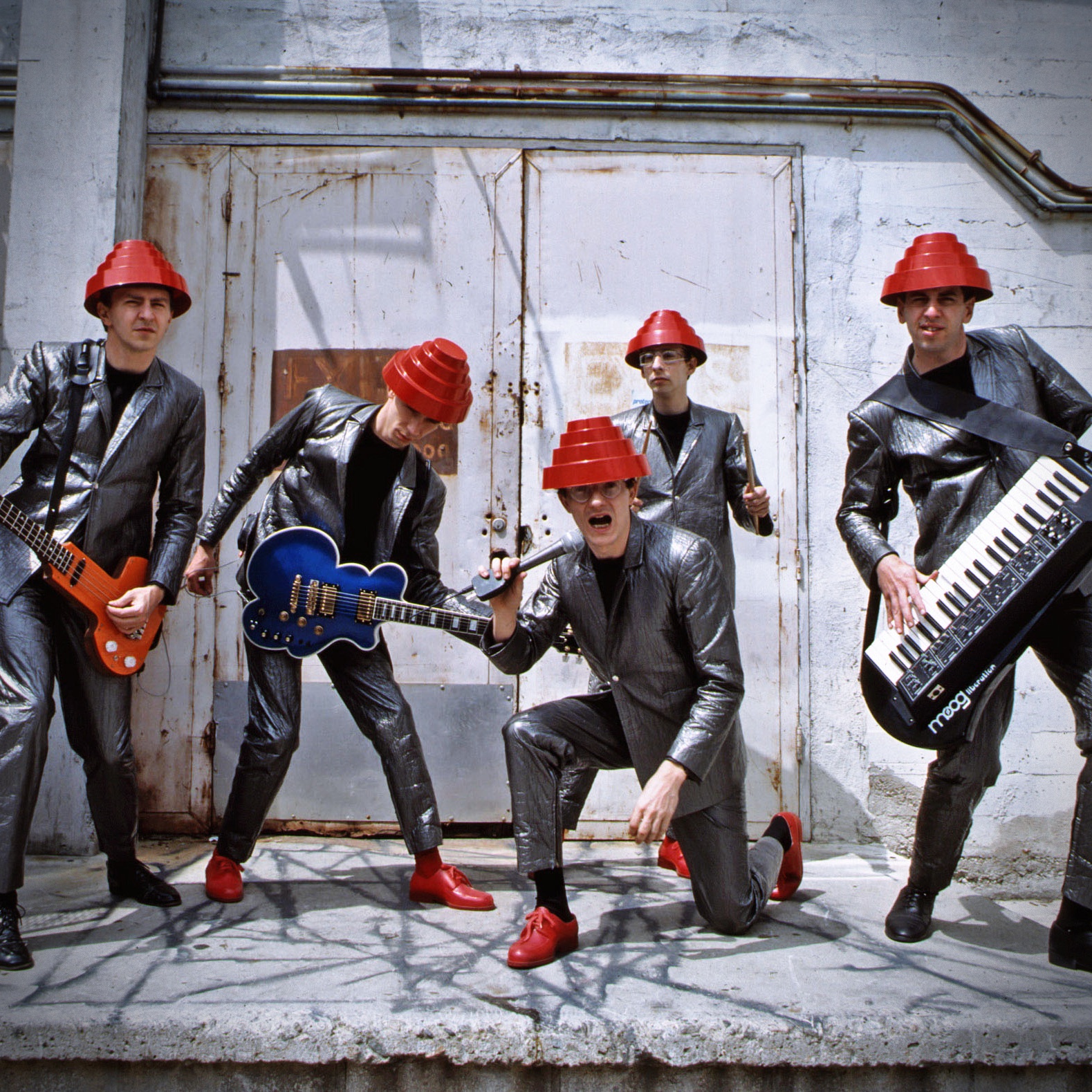 Devo have always taken an unconventional approach to their music, videos, and striking fashion sense so it's no surprise that this attitude would also apply to their choice of guitars.
While many think of them as a synthpop band with the occasional guitar thrown in, in their early years they were precisely the opposite – at times featuring three guitarists in their line up (guitarist Bob1 [Mothersbaugh], guitarist/keyboardist Bob2 [Casale], and singer/keyboardist/guitarist Mark Mothersbaugh). By the early 80s, however, Bob1 was the only member with strings on his instrument with Bob2 and bassist Jerry Casale having mostly switched over to playing their parts on synths. They seemed to have not only enjoyed unusual choices in guitars (shying away from the all too common Strats and Les Pauls) but rotating through many different models as well.
Bob Mothersbaugh
Bob Mothersbaugh's early guitar of choice was the (never particularly popular) Gibson L6-S Custom. A bit of an ugly duckling looking like a misguided copy of a standard Les Paul, it was designed by Bill Lawrence and was originally intended to be "a multi-sound system for the SG Standard" before morphing into an entirely new model. Initially embraced by players with jazz fusion leanings including Al Di Meola, Pat Martino, and Carlos Santana it was equipped with a six way chicken-head rotary knob to select any combination of the two pickups in series/parallel or in/out of phase. It's likely that Mothersbaugh utilized many of these settings to get some of the distinctive Devo guitar sounds. He can be seen playing it in during "Secret Agent Man" in the short film In The Beginning Was The End: The Truth About De-Evolution from 1976 as well as numerous other videos and live performances. Also, Devo's appearance on Saturday Night Live in 1978 saw both Bob Mothersbaugh and Bob Casale playing L6-Ss.Bob Mothersbaugh also used the striking (and extremely rare) LaBaye 2×4 "Six"only 45 of which were produced in 1967 in Neodesha, Kansas. An obvious forerunner of the Steinberger in design if not playability and sound (the original pickups were notoriously weak). He can be seen playing it in the "(I Can't Get No) Satisfaction" video from 1978 and some of their earliest live shows outside of their native Akron, Ohio in New York. He still plays the guitar during live versions of "Mr. DNA" and, in a bit of showmanship, breaks all the strings at the end of the solo by violently pulling up on the vibrato arm.Perhaps his most famous guitar is the custom made Ibanez that was originally supposed to look like a potato but came out looking more like a cloud and can be seen in the Devo – Live 1980 DVD (and on the cover) as well as the "Girl U Want" video from 1980. He sold the guitar in the mid-80s while not in the best state of mind and set out to find it again years later. After over a decade of fruitlessly searching, it was finally found in the possession of pro skateboarder Jason Jessee who reunited Bob with the guitar.Over the years he's been spotted with a variety of other guitars including a blue Ibanez Iceman (played on "Gates of Steel" on the late night TV show Fridays in 1980), an Olympic White Fender Musicmaster (as seen in "The Day My Baby Gave Me a Surprize" video from 1979 and "It Takes A Worried Man" in Neil Young's Human Highway film), a Wine Red Les Paul – only acquired to be compatible with the 360 Systems Spectre Guitar Synthesizer which he described as "horrible" – with a "reverse horn" (done by Bob himself) as seen in the "Whip It" video from 1980 and even a Kay K1962 (played in the "Time Out for Fun" and "That's Good" videos from 1982).He's currently playing a Gibson Custom Shop'59 Les Paul reissue (modeled after Mike Bloomfield's guitar), a 1964 Gibson SG Standard with P-90s and a Gibson Vibrola, and several entry-level G&L SC-2s which he has described as "probably my favorite guitar."
Bob Casale
Bob Casale's main guitar seems to have been a red Hagstrom PB-24-G which he played at Devo's first performance (as Sextet Devo) at Kent State University in 1973 as well as the "Satisfaction" and "Come Back Jonee" videos in 1978. Occasionally played by Mark Mothersbaugh as well as on Saturday Night Live in 1978 (with his trademark pedals duct taped to it). He can also be seen playing a Gibson Marauder at early shows in New York. During recent shows he has been playing a green Ibanez Talman TC420 with a red pickguard.
Mark Mothersbaugh
Mark almost exclusively used Fender Telecasters which he liked to duct tape his pedals to. This choice was not only aesthetic but practical as well as he can often be seen twiddling the knobs on the pedals while playing. He played what seemed to be a stock Telecaster in the "Satisfaction" video with what appears to be an Electro-Harmonix Frequency Analyzer mounted on the body though it looks like at times he had up to three pedals. Live footage of Devo in Japan in 1979 also shows Mark playing what appears to be a different Telecaster modified with a humbucker in the neck position. During current live shows he plays a left-handed Fender Stratocaster with a pedal duct taped to it, of course.
Jerry Casale
Left-handed bassist Jerry Casale has always played right-handed basses strung for a right-handed player (with the E string closest to the ground). At early live shows in Akron and New York he played a Gibson EB-3 before switching to a Gibson Ripper with the horns sawed off (and thick black arm padding added to the top side) supposedly to look more like a potato. This "Spudbass" can be seen in the "Satisfaction" video and on their Saturday Night Live appearance in 1978. He later had a plywood custom-made red rounded cross-shaped body fitted with two DiMarzio Model J's and the neck from his EB-3 (as seen in Urgh! A Music War filmed in 1980). He then became an early adopter of the Steinberger L2 which he used since its release in 1981 (as seen in the videos for "That's Good" and "Peek-A-Boo!" from 1982) and he continues to use in concert.
As Bob Mothersbaugh has recently said, "Twenty years ago, someone in the band decided that guitars were obsolete and nobody would be using guitars 20 years from then, and they tried to make that a reality, which really didn't work for us." It's good to see the guitars back.
Devo Signature Guitars for sale
In case you were not aware, Eastwood Guitars have release a full range of DEVO signature guitars and basses over the past few years! Some models are still available, and some have been discontinued. If you're a DEVO fan and own one of these, consider yourself lucky!
Devo Signature Cloud Guitar
Devo Peek-a-Boo Guitar
Devo La Baye 2×4 Guitar
Devo Signature 'Whip It' Guitar
Devo 'Be Stiff' Bass
Devo La Baye 2×4 Bass
For more info about DEVO Signature Models available, click image below: