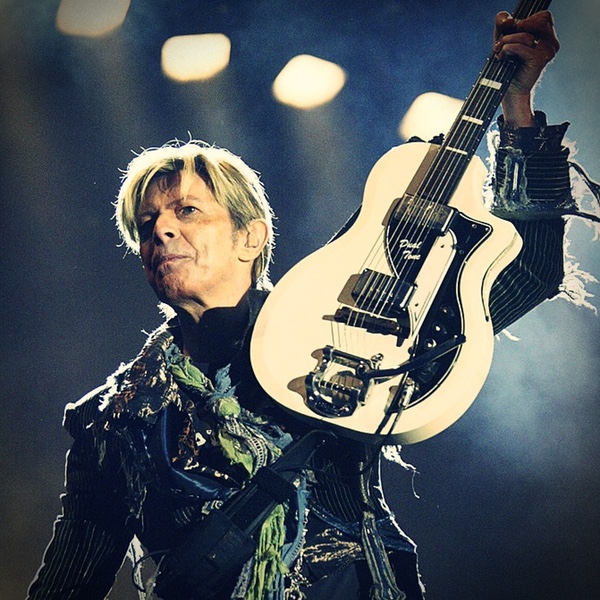 2016 was a year of great musical losses, but none was as shocking or as saddening as David Bowie's. One year on, let's remember a side of Bowie that's been often forgotten: the guitarist! Here's our guide to the guitars played by David Bowie over the years… enjoy!
David Bowie has had many different faces and personas over the years, but, surprisingly, one has been overlooked by most – David Bowie, the guitarist. In a way, it's not very surprisingly, considering he was far from being a guitar hero, and, most importantly, has collaborated with some truly stellar guitarists who contributed greatly to his music, including: Mick Ronson, Carlos Alomar, Earl Slick, Robert Fripp, Adrian Belew, Nile Rodgers and Stevie Ray Vaughan. Quite an impressive list!
Which Guitars Did David Bowie Play?
Though not primarily a guitarist, Bowie had a consistent taste for vintage, rare guitars and his choice of instrument often changed with his ever-changing musical directions. Here's a guide to some of his most notable guitars. We usually talk about electric guitars, but in Bowie's case we can't help but mention a few acoustics, too… after all, he was a huge fan of 12-string acoustic models, throughout his career! In any case – Bowie was a true connoisseur, and his choice of guitars over the years is nothing short of fascinating!
Here's Bowie's career – in 20 rare, amazing guitars.
1) Framus 12-String Acoustic (1965-66)
Of course, many of you will know that Bowie started his musical career as a saxophone player, and then became the frontman of different bands (The Mannish Boys, The Lower Third) but never playing a guitar. This pic of an young David Jones with a Framus 12-string is the earliest photograph of Bowie with a guitar.
According to Bowie biographer Paul Trynka, Bowie bought a guitar in late 1965. Considering Bowie's well-documented taste for 12-string acoustics in later years, it's fair to assume that the Framus in the photograph was indeed his first guitar, though there has never been any specific information about it. It's interesting to note that his guitar had pickup, volume and tone controls – perhaps it was modded and bought second-hand by the still struggling Bowie. Little trivia: the guitar was redburst.
Playing guitar was an important step in David Bowie's career, as he started to use the instrument to compose songs, such as "Maid Of Bond Street" and his first true classic, "Can't Help Thinking About Me".
2) Gibson B45 12-String (1968-69)
After the commercial failure of his 1967 debut album, Bowie tried other directions, including joining Lindsey Kemp's mime troup, buddhism and forming folky trio Feathers with his girlfriend Hermione Farthingale and John Hutchinson. During this period, Bowie used a Gibson B-45 12-string acoustic.
He's never been seen or photographed with this guitar again, after the end of Feathers. We actually believe this is the first time this guitar has ever been mentioned in relation to Bowie, as we couldn't find anything else elsewhere. Well, now you know!
3) Hagstrom 12-String Acoustic (1969-1972)
This is perhaps Bowie's most legendary guitar. It's believed it's the one he used to write his first hit, 'Space Oddity', as well as used live and to write most 'Ziggy Stardust'-era songs, including 'Starman'.
Curiously enough, the guitar is now on display at the 'Beatles Story' museum, in Liverpool. At some point, it seems to have had pickup and tone & volume controls added to it, though it's not shown with this configuration in any Bowie photos.
4) Espana 12-String Acoustic (1969)
This guitar was used on a famous promo shot for the 'Space Oddity' single, but strangely enough, there's not a whole lot info about it. It might have been used just as a prop for the photograph. It looks very similar to the Hagstrom 12-string, and it could indeed be the one he's using in other pics and footage, but it's hard to be sure!
5) Guild 12-String Acoustic (1971)
When David Bowie toured the US for the first time, to promote 'The Man Who Sold The World' in 1971, he could be seen playing a Guild 12-string acoustic. There's no report or pics of him using one before or since, so he probably just borrowed it for the tour.
6) Harptone 12-string (1972-83)
This Harptone 12-string is "the" Ziggy-era Bowie acoustic. He used it when touring with the Spiders From Mars and this guitar can be seen on most footage from the era.
Curiously enough, it seems Bowie decided to dust it off years later, after the release of Let's Dance, as this live pic suggests:
7) Harptone 12-String Jumbo (1972-75)
Many people don't realise this, but Bowie also regularly used ANOTHER Harptone 12-string, which at first sight looks similar to the previous one, but you'll notice that it has a different scratchplate and is also bigger. He used this model on the second, Ziggy-era "Space Oddity" video; during the Ziggy tour and up until the Young Americans- era.
8) Egmond 12-String, Blue (1972)
This is one of Bowie's most important guitars – if not for anything else, simply for being the guitar he used on the watershed moment of his career – playing "Starman" on Top Of The Pops, which finally launched Bowie as a bona fide popstar in the UK! He also used the Egmond on a few promo shots, and that seems to be about it.
9) Vox Teardrop Mark XII 12-String (1972)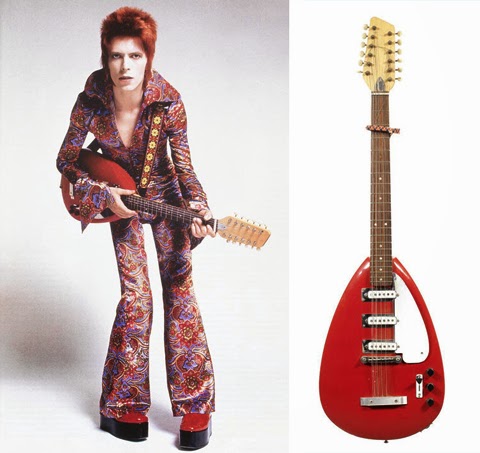 There's no record of Bowie using this cool Vox guitar other than in 1972, for promo pics. Years later, he used a Vox Teardrop Mark VI for the recording of one of his best songs in the Eighties, 'Absolute Beginners'. The guitar is now on display at the Hard Rock Cafe in Warsaw. There's no photo of him and this guitar, though.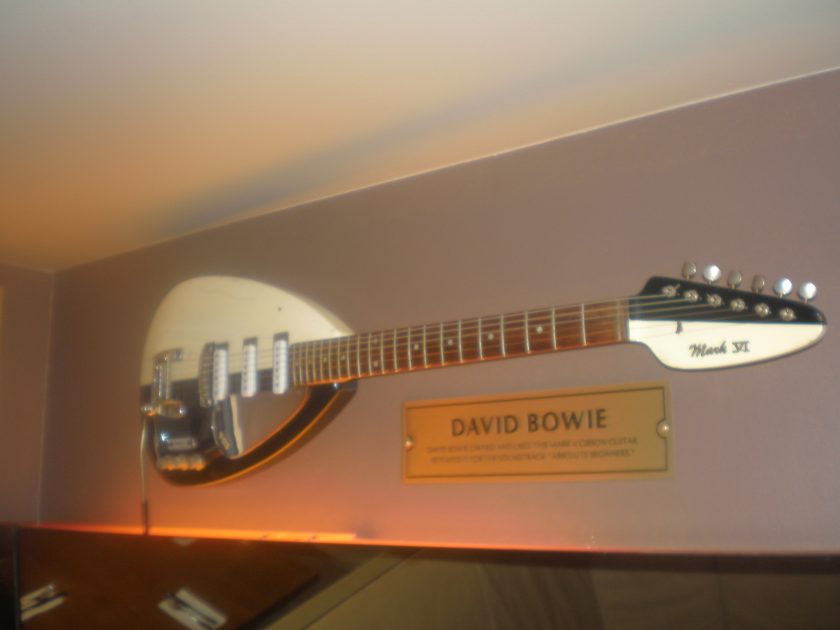 10) Gibson 1972 Deluxe Les Paul (1972)
David Bowie was always very conscious about his image and symbolism. That's why he posed with a borrowed Les Paul on the cover of the "Ziggy Stardust And The Spiders From Mars" album – to show the world he was now a tougher, "rock'n'roll" act. Maybe for this reason, he was up for using a Les Paul during his 1972 USA tour.
Presented to Bowie by Gibson, he used it live and on the 'Jean Genie' promo film. But given his more esoteric tastes in guitars, it's not surprising that it soon became Mick Ronson's back up guitar, never to be used by Bowie again.
11) Hagstrom I Kent PB- 24-G (1974)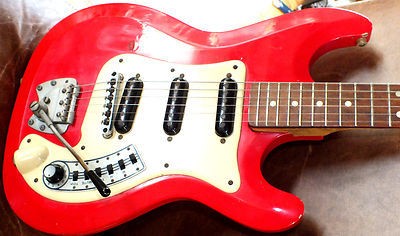 Now we're talking! The red Hagstrom I Kent PB-24G guitar was Bowie's first truly iconic electric guitar, which Eastwood Guitars are now bringing back – check it out HERE.
Though many fans will recognise and love it, this guitar was only used in promo shots for his 'Diamond Dogs' album, and there's no record of him ever using it elsewhere, apart from a TV appearance:
As most hardcore Bowie fans may know, he played most guitar parts on the 'Diamond Dogs' album, but according to those who worked with him, his guitar choice during the sessions was a Dan Armstrong plexiglass model – which he's never been pictured with… a shame! Unless, those recollections are slightly wrong and they really meant the next guitar…
12) Dan Armstrong 341 (1976)
Yes, David Bowie had for sure another Dan Armstrong guitar, but it was not a plexiglass model! Auctioned in 1991, this is an important guitar. Besides featuring on a famous pic used for the Sound + Vision compilation, it was also used to write one of Bowie's finest albums. According to Bowie, in '91: "I've had this Dan Armstrong guitar since the early 70s. I wrote most of the songs for Station to Station on it." Considering the cronology, it may have been used on 'Diamond Dogs', too.
13) Custom Fender Telecaster, Natural (1976)
During the tour to promote 'Station To Station', Bowie played a custom Fender Telecaster, with 3 pickups with individual on/off switches. A pretty cool guitar, never seen since.
14) Fender Stratocaster, Red and Sunburst (1977)
Two more conventional choices, during Bowie's least conventional period! In 1977 Bowie could be seen playing a red Stratocaster for the 'Be My Wife' promo, one of the most commercial tracks from 'Low', which became a single.
Bowie was also spotted playing a sunburst Strat that same year, for his duet with Marc Bolan, on Bolan's TV show. This guitar belonged to Marc, who gave it to Bowie as he turned up without one on the day!
15) Gibson L4, Black (1989-90)
Owned and used by David Bowie in the studio, on stage and while on tour with Tin Machine, accompanied by a Sound + Vision tour program showing Bowie playing this guitar, a signed letter of authenticity from Reeves Grabels and guitar picks. The guitar can be seen in videos for the Tin Machine 1 album, in Music News reports and was used heavily in the studio for the recording of Tin Machine II.
16) Gibson Chet Atkins Country Gentleman, Wine Red (1990)
The guitar was used on stage by Bowie during his March – September of 1990, Sound + Vision World Tour.
Bowie also subsequently used this guitar during studio sessions for his 1995 concept album "Outside."
17) Takamine FP 400SC (1990)
Bowie used this guitar during his 1990 Sound + Vision tour. It was his main acoustic guitar then, used on classic hits such as 'Space Odyssey'. The tour included 108 concerts over seven months in more than 80 cities around the world. Bowie promoted the tour as a "greatest hits" tour and stated it was the last time he was going to play songs from his back catalog.
18) Steinberger GL2, Custom Silver (1991-92)
Bowie was a big fan of headless guitars, since he saw Tin Machine's Reeves Gabrel's: "David saw mine and decided he wanted one like it. My guitar tech, Andy Spray, called the factory in Newburgh to see if they could make another chrome L series. Apparently, they had a guitar they used as a test run for the chroming process. That one had a normal fretboard (it did not have a chromed fretboard) making Bowie's copycat completely playable while mine was not. The non chromed fretboard is the easiest way to tell them apart."
19) Supro Dual Tone (2003)
The Supro Dual Tone is one of his most iconic later-years guitars. He used it during his last world tour, in 2003, and it even appears on his 2010 live album of that tour, 'A Reality Tour':
More recently, Eastwood did a great job at recreating this model (first made famous by Link Wray in the Fifties) as the Airline Twin Tone – a fitting tribute to Wray's model, but now also a great choice for fans of Bowie who also play guitar…
20) Hohner G2, Red (2013)
Bowie went back to a headless guitar in the video of 'Valentine's Day', from his superb comeback album 'The Next Day'. As ever, his choice of instrument was unusual but made total sense with his tastes over the years. Unique just like the man himself.