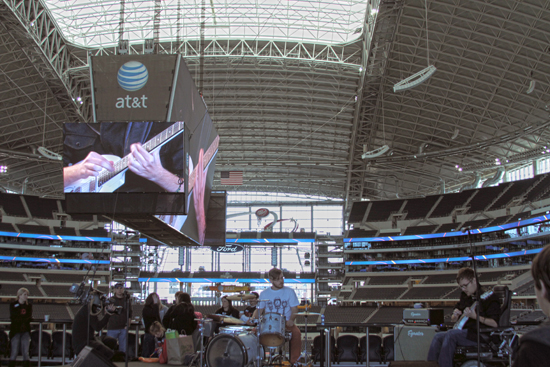 One of our "not-so-best-selling" models is the Breadwinner. We made a replica of this guitar some years back just because it was always one of my favorites, and is stupid comfortable to play. No other guitar on the planet seems so ergonomically correct like this one does. So we keep it in production, because every now and again someone else will stumble upon its design brilliance. In fact, last month I got a letter from a customer – Matt Plummer – that I thought I would share with you. Here is Matt in his own words:
Michael,
I just wanted to email Eastwood and say that buying an Eastwood Breadwinner was the best decision I have ever made. I have muscular dystrophy and am unable to stand or walk. I use an electric wheelchair for mobility and have been playing guitar for 8 years. One year ago, give or take, I came across the Breadwinner and thought to myself that it would be a perfect guitar for me because of the body style. Having to sit down and play made most guitars uncomfortable for me. I had the toughest time finding something that had that perfect fit. When I finally gave in and bought the guitar my mind was blown at how easily I was able to play it while sitting.
It opened up so many new things for me musically and physically. I now play quite often in a band of my own, Slow Static. This guitar, its shape, and lightness made playing guitar easier for me which, in turn, allowed me to expand my own musical ability. I play a style instrumental, cinematic, ambient music with my band. We have had the opportunity to play with many national acts such as Jeff the Brotherhood, Touche' Amore, and many others. Also, we had the opportunity to play a show at the Dallas Cowboys Stadium this past spring which was an amazing experience for me. So if it hadn't happened already Eastwood officially had someone play one of their guitars in that huge stadium! Haha.
I just wanted to let you know that this guitar has opened up so much for me personally. We are recording our first album and I'm excited for what the future holds. Rest assured that I will always be playing music on my breadwinner. I don't think any other guitar would do. I'm definitely saving up for another Breadwinner in the near future! Thank you and to the rest of the company. It might sound a little cheesy but that guitar has officially changed my life.
Thanks!
Matt Plummer