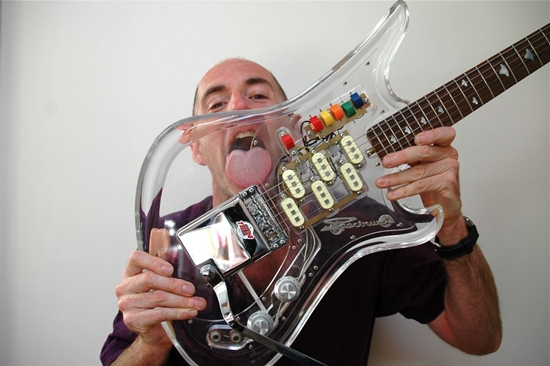 In the early days of My Rare Guitars I collected TEISCO guitars at a freakish pace. Look at the vintage 60's guitar photos and you will see just about every TEISCO model ever produced from Japan in the 1960's.
TEISCO guitars sold in the United States were badged "Teisco Del Rey" beginning in 1964. Teisco guitars were also imported in the U.S. under several brand names including Silvertone, Kent, Beltone, Duke, Heit Deluxe, Jedson, Kimberly, Kingston, Lyle, Norma, Tulio and World Teisco. Likewise, they were imported in the UK under such labels as Arbiter, Audition, Kay and Top Twenty. While guitars manufactured by Teisco were ubiquitous in their day, they are now very collectable. In fact, highly sought after models are now being reproduced.
The cream of the crop was certainly the Spectrum 5:
This model was a massive achievement on many levels: deep german carved body, stereo pickups and switching, wild colored switches and a crazy body contour. So no wonder forty years later that it is the serious collector's version of a TEISCO, at least three times more valuable than any other model. "So how do you make the rare, rarer??" I asked. Make a Plexiglas version of it, that's how. Here is where the story gets interesting…
I've said it before: one of the cool things about being in this business is the people you meet. I've recently come to the following conclusion – If you are really into weird guitars, and you live long enough, you'll eventually meet every other person on the planet that is into weird guitars.
A while back I got an email from one of the worlds best "out there" guitar players – Henry Kaiser. He saw an older article from the My Rare Guitars website that circled around a particularly wierd guitar and was interested in trading something for it. What did Henry have to trade? A Teisco Spectrum. Yes, a Teisco Spectrum is always in the top ten in my "trade-for" list. But wait… this one was a plexi Spectrum!! What the hell??? Apparently they made 100 or so in Japan (where Henry got it earlier in the decade) so I'm guessing not many – if any other than this one – ever made it across the pond.
So goes the lifetime obsession of guitar collecting. Cool things come and go every month, but this one was worth a mention for sure. For the most part, I enjoy the pursuit. Once I get them, I start looking for the next and the initial romantic attraction wanes. As a customer once stated, it is like fishing, catch and release. But sometimes you catch a really big one, and relling it in is so much fun!
Oh, by the way, do yourself a favour and catch up with Henry Kaiser.