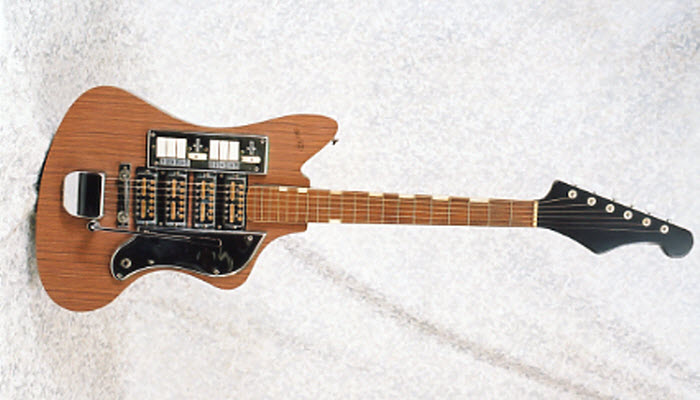 Look, I obsess as much as any old guitar nut about fancy tone woods. I love flame. I love burl. I love spalting (although I guess that's not too good for the tree). I love any exotic timbers, like purpleheart. I also like those fancy pearl-encrusted jobs, like Mike's Tuxedo Custom. So naturally, when I saw this little Teisco guitar, there's no way I could resist. How do you say "No" to a guitar covered in mother-of-dinette?
Teisco guitars have run a curious course in the opinion of vintage guitar fans. There was a time when any unidentified Japanese guitar from the 1960s—and that was just about all of them, even with brand names—was said to have been "made by Teisco," and was generally held in disdain. Then, what used to be just cheap old guitars became collectible "vintage" guitars and before you knew it, Teisco and other el-cheapos were all of a sudden desirable and treated more or less seriously.
Teisco guitars were somewhat unusual back in the 1960s because many—though certainly not all—were imported into the U.S. by Westheimer Sales carrying their own company's brand name. There actually was a Teisco company! In fact, it was the late Jack Westheimer who appended the "del Rey" suffix to give the brand a little more "Spanish" veneer. By around 1964 or so another company called W.M.I., which stood for Weiss Musical Instruments, started importing Teisco del Reys, as well. Westheimer's interest was more engaged in other brands he was selling, so he didn't complain about W.M.I.'s usurping his brand name.
The object of my desire seen here is a c. 1963 Teisco SD-4L, which could have been brought in by Westheimer or someone else. For a guitar that was once regarded as something close to junk, laughed at by Les Paul and Strat aficionados, this is actually a pretty remarkable piece of lutherie for its time, the formica facing notwithstanding. The body is laminated, which the more snobbish call "plywood." The neck is one-piece maple with a bound rosewood fingerboard. I don't know if this has a reinforced neck; if it does, it's certainly not adjustable. It's pretty straight, however.
The ultimate inspiration for this guitar was the Fender Jazzmaster, which was, at the time this was introduced, still Fender's top-of-the-line. However, it's probably more by way of European translation. Very early in the history of Japanese exports to the U.S. they determined that their chief competition was Italian and, to a lesser extent, German guitars. And they were often loosely based on the Jazzmaster. The presence of four pickups, rocker switches, and thumbwheels clearly takes its inspiration from the Europeans. However, the nifty, top-mounted chrome housings that hold the controls are more of a nod to Supro.
A faux walnut top, the groovy shape, and four pickups are enough to recommend this guitar. But the neatest part is under the hood. The thumbwheels are master volume and tone. I've always thought that each pickup having both was overkill and impossible to use outside of a studio. Notice this has six rocker switches. Four of the rockers are simple on-off swtiches for each pickup. The other two, marked "Rhythm/Solo," are actually phase reversal switches. Using these required that each pair of pickups (front and back) be on. The Solo position gives you both pickups in series or flat out. The Rhythm position reverses the phasing, giving you that funky in-between sound so cherished on Strats. Pretty cool.
The vibrato is also interesting. It sits on a little elevated platform above the guitar top and operates with three springs, one of the earliest 3-spring vibratos on a Japanese guitar I know of. All in all this is a great little guitar for getting down with "Walk, Don't Run." Once you get everything all set up, it plays very nicely indeed.
I've called this a 1963. In '62 when these were introduced, the pickups were large chunky chrome affairs with a black bobbin center. By '63 they had changed to these quasi-DeArmond gold foil single-coils (which are not bad, by the way). The Teisco SD-4L (and a companion 2-pickup SD-2L) only lasted into 1964. There's a perception that Japanese guitars such as Teisco were imported by the millions, but, in fact, quantities were not really that large. The biggest year was 1966, when 618,000 guitars were imported, including all electrics and acoustics. It's probably fair to conclude that this particular model is relatively scarce. In any case, when it was made nobody thought that inexpensive Japanese guitars were worth saving or would become collectibles! I'm sure glad this one made it. I love it! Mother-of-dinette and all.