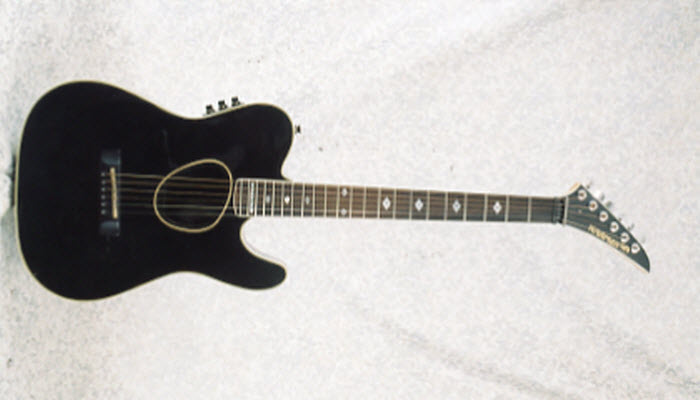 It's funny how history and evolution work. They follow a loosely Hegelian dialectical process of first going one way, then leaping to an opposing pole, and finally ending somewhere in the middle, only to start the process over again. This Kramer Ferrington acoustic-electric reflects one of those dialectical swings that occurred in the mid-1980s.
You know the evolution of popular music in the late 1970s and early 1980s as well as I, so there's no need to venture a reading here. But somewhere along the way, the non-stop "heavy metal" of the early years morphed into a poppier hard rock, still full of biting guitar riffs. Then one day, it became a requisite to incorporate a "power ballad" into your repertoire. This was usually a slower love song—still played loud—that featured some generally elementary fingerstyle guitar playing on an acoustic-electric guitar. All well and good. But you had your hard rock image to keep up, and, well, let's face it, an Ovation with wooden epaulets wasn't exactly going to cut it. What to do?
Leave it to Kramer Guitars to come up with the perfect solution in around 1986: Kramer Ferrington acoustic-electric guitars. Make the acoustic-electric look like a way-cool solidbody electric and you could be both tough and gentle at the same time!
Ferrington was not a made up marketing name. Rather, it was the last name of Danny Ferrington, somewhat of a celebrity luthier living in Nashville at the time who'd built guitars for a number of stars. Ferrington's main thing was to design guitars with asymmetrical or unusual shapes. I'm not sure whether Ferrington made the Strat- and Tele-shaped designs before hooking up with Kramer or not, but he designed these, the KFS-1 and KFT-1, for Kramer and they debuted in 1986, made in Korea. I interviewed Mr. Ferrington when reviewing a book on his guitars that came out in 1992. That book, by the way, was asymmetrically shaped and beautiful. It didn't sell well, so you're likely to find copies still available and should pick one up for your library.
Kramer Ferringtons had very lightweight bodies and came in black, white, red, and sunburst. They had a transducer pickup under the saddle with volume and tone controls. The necks were bolted on and featured a variety of headstock shapes and fingerboard inlays that evolved over the life of the line. By 1987 some plainer KFS-2 and KFT-2 models were introduced, mainly without neck binding and with dot inlays. The KFT-1 seen here was built in 1987.
In 1988 Kramer introduced Ferrington Signature models which were supposed to be made by Danny Ferrington himself in the U.S., or at least under his supervision. Marketing and reality are often at odds when it comes to classic Kramer guitars, so who knows! But they probably were American made and not Korean. These were upscale guitars with solid spruce tops, set-in necks, and asymmetrical Ferrington shapes. I think these are pretty rare birds. I only ever saw a couple of them in stores and they were pricey and hung around for quite awhile.
The Kramer Ferrington line lasted until the end in 1990, when Kramer imploded. Danny Ferrington relocated to Los Angeles and marketed the KFS-1 and KFT-2 with the Ferrington brand name for a bit, but the guitars trailed off fairly quickly. I don't know if the Korean-made Kramer Ferringtons were plentiful or not, but it's fairly easy to find them for sale. Kramer was pretty good at selling guitars.
Likewise, I don't really know if these guitars made it into too many hard rock acts. They certainly had a rock 'n' roll vibe and would look cool on stage. They're fully functional, but, frankly, if you're into real acoustic-electric guitar, they're more of a novelty. They might make you look good jumping off your amp, but if you want a really good acoustic-electric sound, you're going to go for one of the solidbody guitars like a Gibson Chet Atkins or, for that matter, an Ovation (with wooden epaulets).
Not long after Kramer Ferringtons bit the dust, the power-ballad-infused hard rock that was their reason for existing also fell from grace, replaced by the "alternative" sound typified by Nirvana et al. History was off on another dialectical tangent.