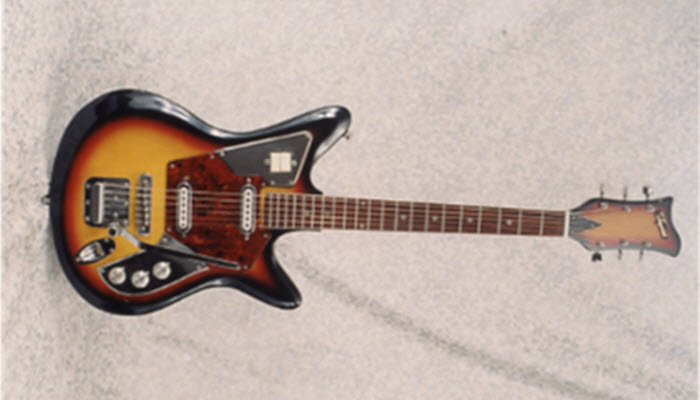 When I published my first book, Guitar Stories Vol. 1, we promoted it at a few vintage guitar shows and I would invariably get the wit from collectors and dealers, "Guitar stories, yeah, I got a few stories I can tell you." Of course, they weren't talking about histories, like I was, but amusing anecdotes about where they'd picked up this or that guitar. I guess most of us pack rats remember where we got things. Oh, maybe not so much the mail-order or internet scores, but back in the day when you looked the seller in the eye and tried to make him blink with a lower offer. It's hard to forget the story about getting this Imperial guitar.
This Imperial came out of a little piece of Dickens in Philadelphia called Torresdale Music in the neighborhood with that name, in the "near northeast" as we call it, near the Burlington-Bristol Bridge (cheapest toll bridge over the Delaware River to New Jersey and back). Torresdale was a tiny, ancient corner shop just up the street from Chink's Steaks, a legendary cheesesteak sandwich purveyor, the name of whose establishment has been the source of some local ethnic controversy. (Really good cheesesteaks consumed while sitting in 1940s-vintage wooden booths, highly recommended.)
Torresdale Music was run by Marvin Kopernik, who'd worked for the local music distributor 8th Street Music before becoming a guitar picker, as in flea market habitué, not as in Doc Watson. Anyhow, Marvin's shop was STUFFED to the gills with old guitars and amps that he'd pick up dirt cheap at yard sales and local swap meets, an endless stream of new treasures lurking behind something else under a shelf to tempt me.
Marvin liked to get a dear price for his wares and he would rarely budge from his sticker price. However, there were chinks in Marvin's armor. He'd write a little code on the reverse of the price tag. It didn't take long to decipher the fact that this was what he paid for the guitar written backwards. If it was, say, "501" I'd know that Marvin had $105 into it.
One other chink in Marvin's armor was that he couldn't add too fast on his feet. The strategy was to scope out three guitars, decipher what he had into them, bundle them together and offer him a larger, but reasonable sum for the lot. Marvin's circuits would fry and he'd hear $300 and that sounded like a lot of money and I'd walk out with a really great score!
But, no, this Imperial wasn't part of one of those deals. You see, in addition to the overstuffed racks out front, Marvin had this teeny, tiny little back room where he'd pile up recent finds and stuff he had no room for in the showroom, like so much firewood. It was kind of painful to see, really. It was lurking under one of these stacks of guitars that I found this Imperial early in my collecting days and when I first knew Marvin. I had no idea what it was other than being Japanese, but it spoke to me.
Much later I found out that this was a product marketed by the Imperial Accordion Company of Chicago. As we've discussed before, there was an accordion boom among Baby Boomers in the mid-1950s. Like many booms before and since, it didn't last and the numerous accordion manufacturers/importers/distributors that had sprung up to meet the demand found themselves in need of new markets. Fortunately, this coincided with the rise in guitar popularity. Also fortunately, the Italian accordion manufacturers, from whom most of the accordion guys sourced their products, were also near a guitar-making area, so they expanded into guitars, many of which were sold by the old accordion companies, including Imperial. By the early 1960s Imperial was selling solidbody electrics made by Crucianelli in Italy. By around 1965 Imperial had added Japanese-made guitars to its line, including this puppy.
Just what this model is is uncertain, but we can extrapolate. This shape is very similar to the older Crucianellis. A c. 1965 catalog has the Model S1 with one pickup and the Model S-3T, a three-pickup with "tremolo." This is probably a Model S-2T. Very similar Greco guitars from Japan are seen, and most Grecos were built by Fujigen Gakki, the factory that produced most Ibanez guitars as well. The style of this guitar probably puts it right around 1965 or '66.
Fortunately, this had a thick enough poly finish to survive Marvin's woodpile. Unfortunately, Marvin's health didn't hold up—certainly not helped by too many cheesesteaks from Chink's—and his shop finally had to close and become a piece of Philly history and legend. Every time I see this Imperial I smile and recall those glory days when I had Marvin's number and got to revel in his shop's treasures. How much did I pay? Now, that's another story…