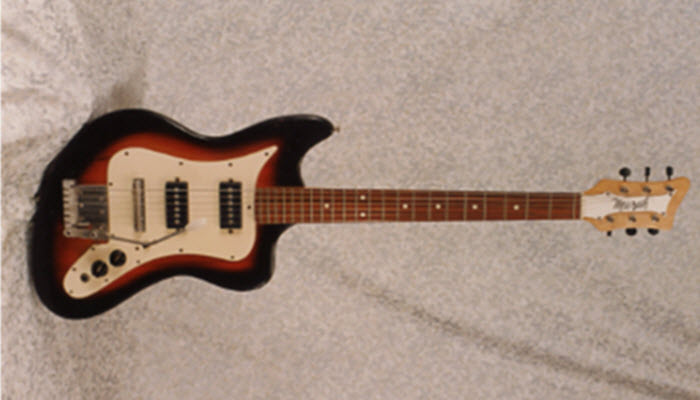 One of the big influences on my guitar writing "career" was Dan Forte's writing—under the nom de plume Teisco del Rey—for Guitar Player magazine back in the 1970s and '80s. Dan, or Teisco, took a much more tongue-in-cheeky approach to regaling the often goofy guitar designs of the 1960s, whereas I've always been a bit more dourly serious about the subject, but I like to think we kept the torch burning for decades for those of us who love whatever's whacky about guitars.
One of Dan's favorite subjects was a truly weird kind of heart-shaped Murph hollowbody 12-string electric guitar, a model called the Satellite, which was truly funky and bizarre. He featured it in a Vintage Guitar Magazine article a few years back. These "heart" 12s are exceptionally rare, but, really, so is any Murph guitar, including this Squire 11-T.
Believe it or not, there actually is a sort of Murph fan club with a Murph history web site run by an Aussie fan named Dan McGonigal and located at www.murphguitars.com. This is the kind of madness and devotion that deserves recognition!
As you'll learn on this site, Murph guitars were part of the Los Angeles-area guitar scene of the wild and wooly 1960s. Or 1965, to be exact. Actually, Murph guitars were the brainchild of a former Midwesterner named Patrick Murphy and were actually originally intended to help promote his children who had formed a family song-and-dance band called the Murphys. Or to have his children promote the guitars, which is a slightly different spin on the tale. The Murphys apparently did a mix of live gigs and recording local television commercials.
In any case, in early 1965 Murphy leased a small factory space and commenced an ambitious manufacturing program. Initially Murphy planned to call his guitars York, but since there were band instruments made carrying that brand, he settled on an abbreviation of his family name, which made sense given the tie-in with his children's band. Murphy's scheme was ambitious because he probably had too many designs. These included the aforementioned Satellites, heart-shape semi-hollobodies, plus his most popular model, the Squire, seen here and offered in a variety of other configurations, such as bass and 12-string. There was also a hollowbody Gemini, which looked very similar to contemporary Standel gutars. Oh, did I mention the single cutaway Continental IV solidbody? Or the Westerner, which was a Squire by another name. Or the Tempo I and II guitar kits? Or the acoustic model? Or the Califone model, some 25 or so were made for the record manufacturer Rheem Califone.
Murphy's plans were so ambitious he even targeted the mighty Sears, Roebuck & Co. and sold them another batch of 25 Murph/Silvertones. At its peak, the Murph factory employed as many as 22 workers. Murph guitars sourced its primary timbers locally but bought a lot of its hardware from the German collective C.A. Gotz Jr., which is still around as a violin maker.
The exhaustive Murph lineup was unveiled at the 1966 Summer NAMM show and Murphy lined up a stable of dealers. As with many other small '60s guitar companies, these Murphs are decent little guitars with that nice, bouncy single-coil sound that's perfect for riffing on a surf melody.
As mentioned, by far the most common Murphs were the Squires, which look suspiciously like a Fender Jaguar or Jazzmaster. There's also more than a little of a Rickenbacker vibe. Indeed, after the '66 NAMM appearance, according to the Murph site account, "someone" complained about patent infringement and threatened to sue. The "someone" isn't identified, but you can probably draw your own conclusions as to who was also in the neighborhood and might object. The Murph site implies that pressure was exerted on the dealers, too, who began returning guitars. Sustaining a prolonged legal battle wasn't in the cards for Murph guitars and the doors were closed in the Spring of 1967.
I have no idea how common Murph guitars are, but an educated guess is not very. As I write this there's a Murph Squire on eBay, well road-worn, the seller is asking $3,500 for. Good luck with that. They were never pitched as anything but budget guitars and by the time they appeared, there would have been plenty of competition from both European and Japanese manufacturers, not to mention Harmony, Kay and Valco. Probably like so many inexpensive '60s guitars, no one thought to hold on to them. Estimates are that only around 1,200 Murphs were ever produced, and of those around 950 were Squires.
Anyhow, muchas gracias to Teisco for bringing Murphs to our attention and even more thanks to Dan the Murph-man for keeping them alive on his tribute site. Now we'll just have to see how much that eBay Murph guitar fetches, if anything!