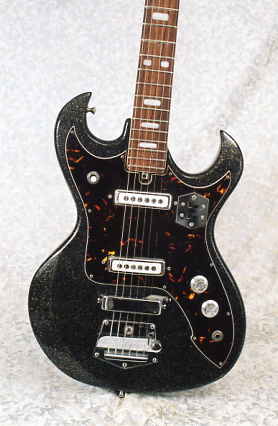 Over many years of writing about and photographing guitars, I've had numerous occasion to take pictures of guitars "on location." That means packing up rather bulky photographic gear—cameras, tripods, lights, backdrops—and voyaging near and far. Sometimes this took place at a vintage guitar shop, sometimes at a collector's place. When it came to the subject of TeleStar guitars, I got to combine both.
Actually, the coincidence of dealer and enthusiast coincided with working two rather disparate brands at the same time, TeleStar and Kramer. At the time I was working on the Kramer history with Terry Boling, who lived in South Carolina at the time and had a nice Kramer collection. I was also working on TeleStar and was in touch with Chip Coleman, who has a music store in North Carolina and a nice TeleStar collection. Into this mix was the fact that I lived in Pennsylvania and had more vacation days than my wife and I used some of it to take road trips during the summer. So, I combined all these and my son and I headed for Coleman Music, while Terry packed up his truck and drove north for the rendezvous. We set up a makeshift studio and I took pictures of both collections. We can talk Kramer later.
TeleStar guitars, basses and amps were sold by the Tele-Star Trading Corporation (Importers and Exporters), 1129 Broadway, New York, headed by Maurice Laboz, about whom we know very little. There's a possibility that Tele-Star had some sort of direct relationship with the Japanese manufacturer Kawai, since many features on TeleStars smack of Kawai and many were definitely built by Kawai, but any formal connection other than as a supplier is only speculative. The first TeleStar guitars appeared in 1965 and were pretty primitive short-scale beginner models, except for an amp-in-guitar made by Teisco, a version of the Teisco TRG-1.
Early TeleStars tended to stay among the offerings, sometimes with slight modifications, with new, better models added. However, the cool thing was the addition of a new Professional Solid Body Speckled Electrics line in 1966. Speckled by any other name means "sparkle" finishes. I've not seen any '66 catalogs, but these were probably similar to what we have here, possibly with narrow oval pickups.
In 1967 the name of the line changed to Sparkle Solid Body Electric Guitars, and included the 5002 (two pickups with vibrato), 5003 (three pickups with vibrato) and 5004 (four pickups with vibrato). Sparkles came in gold, silver, blue and green flecked finishes. These are what are mentioned in the catalogs, however, I own this black 5002 with silver flecks plus a cream-finished one with multi-color flecks, so obviously those were offered as well. (It's possible that these finishes signify that these are later than 1967.) You can see why Chip was into them. Who wouldn't be?
Seen here is a c. 1967 TeleStar Professional Solid Body Sparkle Electric Guitar 5002 built by Kawai. As you can see, it's kind of modeled after a Burns Bison. The sliders are on/off switches, with a volume and tone control. Basic but good enough to do Pipeline.
Look, you'd never confuse this with a Fender (or probably even a Burns Bison), but it sure has style, and, like most Japanese guitars of this period, actually plays very nicely once it gets the benefit of a good set-up, which most didn't. Pickups from this era are hit or miss. If you're lucky, they have a crisp, clean single-coil sound, with a tendency toward being microphonic, which is good or bad, depending on your point of view. Usually the weakest links are use of teeny wires for the harness and crummy tone caps, which this guitar shares.
In 1967 the company changed names to become the Tele-Star Musical Instrument Company, now a subsidiary of the Music-Craft Electronic Corporation now at 651 Broadway. That probably indicates that they were purchased by Music-Craft, or whomever owned/set up the company. At the same time violin- and teardrop-shaped guitars joined the line.
The sparkle solidbodies continued into 1969 pretty much unchanged, but by then kids were high listening to Hendrix, Clapton and the Doors. It's hard to imagine Hendrix playing a sparkle TeleStar! TeleStar begins to fade after this. At some point their New York City warehouse burned down and they relocated to Secaucus, NJ. With the move guitars were gone for good, and Tele-Star distributed accessories. In around 1982 Laboz, who was still in charge, sold the company to Fred Gretsch, Jr., and it effectively disappeared.
Fortunately, Chip Coleman had more than just the sparkle TeleStars for me to photograph, but it's really the Sparkle TeleStars we remember with fondness.
Michael Wright, The Different Strummer, is a collector and historian whose work is featured in Vintage Guitar Magazine.