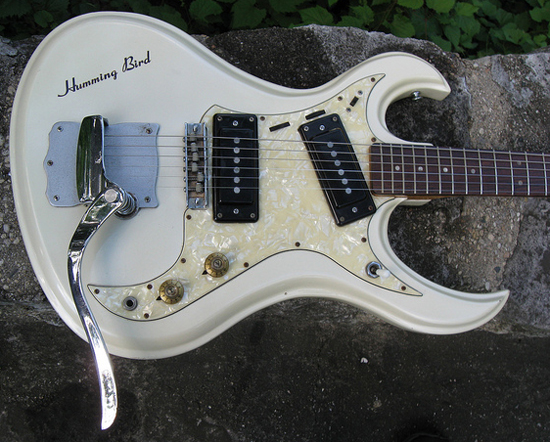 Late 1960's and early 1970's Tokai guitars are very well crafted instruments. Eventually they drifted into the more profitable Les Paul copies and developed a great reputation – which probably sparked the lawsuits from that era. However, before that, they were making some crazy guitars, and perhaps the Hummingbird was one of the craziest.
In all my years of scowering ebay and the inetner I can only remember seeing 3 or 4 of these. This one in a pearl white is quite rare. It is in near mint condition, and all original parts, great neck, a fine player. Check out these photos:
The Tokai Hummingbird was abviously inspired by the 60's Mosrite guitars – exagerated double cutaway and angled P-90's with a tremolo – but it had a "normal" strat style neck profile, not the super skinny Mosrite neck. Back in 2005 we made an Eastwood re-issue of this guitar and like the original, it did not sell too well. Yes, it was a cool guitar, got a little traction in the surf guitar crowd, but in the end we decided to discontinue it in 2009. So I was pleased to get my hands on this original last month.