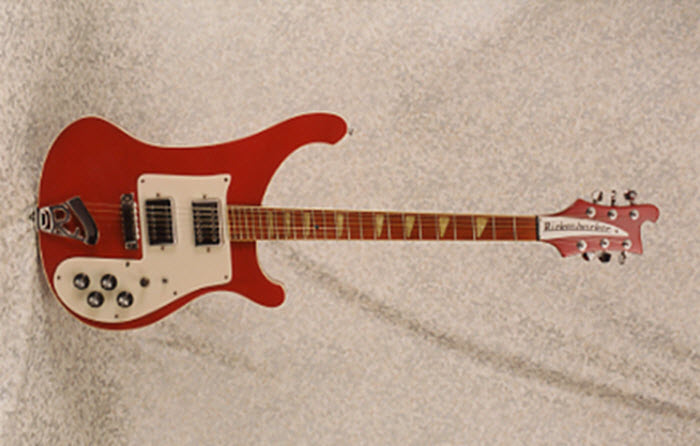 Even for someone as guitar promiscuous as me, some brands of guitar just don't speak to me. Rickenbacker was always one of those brands for me. Not that there's anything wrong with Rickys; it's just a matter of personality. However, when I found out Rickenbacker made a guitar with slanted frets, that definitely piqued my interest!
Something I've always found curious was the discrepancy between "correct" and "incorrect" technique on the guitar. If you ever study classical guitar, you'll get schooled on proper positioning of the left (and right, for that matter) hand, with the thumb in the middle of the back of the neck and the fingers coming down perpendicular to the strings. This helps maximize your reach and make it easier to fret the often complex harmonic line movements. It works. But then along comes Jimi who plays left-handed upside down and backwards with his darned thumb looped over the edge of the fingerboard and creates genius. Go figure.
In any case, periodically guitar designers turn their attention to the ergonomics of the guitar fingerboard and implement improvements to the traditional parallel fret layout. In modern times Oregon luthier Ralph Novak employs his patented "fanned fret" concept—with lower frets angled toward the bass side of the head, gradually migrating in a fan-like shape so that higher frets are angled toward the bass side of the body—on his Novax guitars.
Of course, somebody has always done something before, and in this case, conceptually if not actually, at least, it was Rickenbacker who came up with the slanted frets idea in 1973 with its Model 481. Or actually they reportedly did the slanted frets as a custom option as early as 1969. Rickenbacker had a tradition of trying to improve the ergonomics of guitar necks. Back in 1961 Rickenbacker designer Peter Sceusa filed a patent for a parabolic neck profile that was narrower at the top of the back to make it easier for ladies and people with smaller hands to fret the guitar (granted 1963). Who came up with the idea of slanting the frets I don't know, but the idea was that if you're resting the neck in the crook of your thumb, the fingers naturally curve forward. Thus, if you angle the frets slightly forward on the bass side, it's more comfortable to fret, more natural.
The notion must have been at least somewhat popular because the concept got its own guitar model with the 481 introduced in 1973. Basically this is a solidbody with what's called the "cresting wave" shape derived from Rickenbacker's distinctive 4001 bass guitars. Rickenbacker even came up with a pair of high-output humbuckers with 12—count 'em—adjustable pole pieces each for the 481 which only ever appeared on this guitar. One of the toggles is a threeway select and the other is a nifty phase reversal switch.
Hard information on the 481 is difficult to come by. The slant-fretted Model 481 was offered for 10 years from 1973-1983, but online references suggest that these are relatively scarce. There was a sort of companion Model 480 which had a similar shape, but different electronics and no slanted frets. Apparently, the Model 481 is favored by a guitarist named Serge Pizzorno of the contemporary band Kasabian, but I confess I don't know their music (reflective of someone like me advancing on in age).
I love the idea of this guitar, even if for me the slanted frets don't work all that well. They're not a real obstacle to playing—they're not that slanted—but if you favor classical technique, like I do, they're no real advantage, and they don't work all that well if you play a lot of barred chords. Unless maybe you're Jimi, but who is?
Certainly the Model 481 is one of the more desirable of Rickenbacker's 1970s output, probably because it's so unlike the usual Rickenbacker. I love phase reversal switches and I love crushed pearloid shark's teeth inlays and even the varnished fingerboard surface. That it's so unusual is probably why I was so attracted to the Model 481 in the first place. Well, come on. You gotta love any guitar with slanted frets. Whether or not the guitar really fits in with your personality.