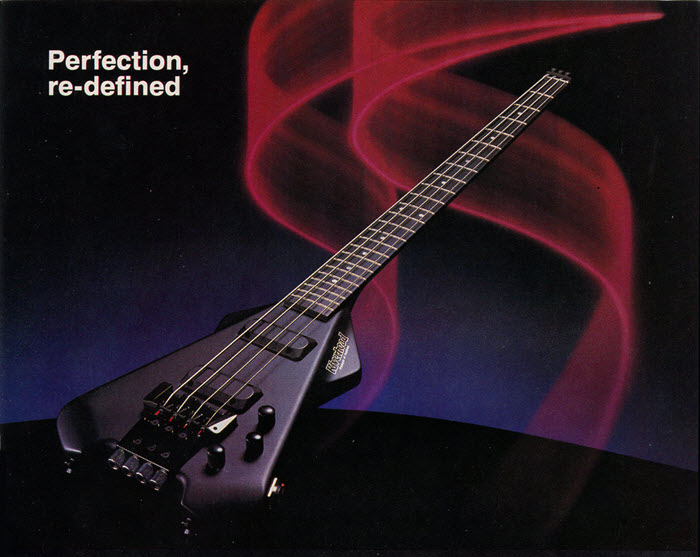 In a Trekkean view of the electric guitar universe, space is populated by all sorts of exotic and unique tribes and creations. You got your Fendermen and Gibsonians and other assorted "normal" beings. Then you have a whole bunch of guitars related to potatoes, like Micro-Frets and Ibanez Musicians, frequently from the 1970s, as it happens. You have your usual run of space weapons, like Vees and Explorers. And then you have assorted vehicles, like Dave Bunker's guitars, the Burns Flyte, or the Riverhead Unicorn seen here.
You can probably justifiably consider certain lap steel guitar designs to be the forerunners of the headless guitar. Oh, like all guitars they need some basic structural components and they need some sort of tuning mechanism, but they kind of reduce the guitar to a plank with strings. You even orient to them in a different way that kind of negates the idea of a head.
Whether or not you buy that argument, probably the first headless guitar I'm aware of was Dave Bunker's appropriately named Astral Series Sunstar, which debuted in around 1966. Dave rather brilliantly stripped the guitar down to its essence, then appended all these removable pods and appendages (including detachable head), making it truly a Starship Enterprise! I don't know exactly when New York guitarist Alan Gittler began his experiments on minimalist guitars, but I think it was after Bunker.
It was, of course, Ned Steinberger (and his principal disciple, as it were, Andy Summers of The Police) who codified the headless guitar concept right around the end of the 1970s. Cort in Korea licensed the design and produced a number of brands popular in the early 1980s. I have one that I used to be able to cram on top of the family's shore supplies when we vacationed. It's in the context of those New Wavey guitars of the early 1980s that this rather fetching Riverhead belongs.
The Riverhead story is a little hard to piece together coherently. They were primarily made in Japan by the Headway company and briefly in the mid-1980s were imported into the U.S. and actively marketed. Headway, it appears, began as a high end acoustic guitar maker in around 1977 in Matsumoto City, basically the epicenter of Japanese guitarmaking. In 1981 Headway made the transition to electric solidbody guitars. Information is sketchy, but it seems they began with Fender-style copy guitars, but I wouldn't bet the farm on it. They seemed to have used the Headway name, as well as the brands Bacchus and Momose, named for the luthier and Headway founder Yasuo Momose, who'd learned his art at Fujigen Gakki, builder of Ibanez and Greco electrics. There have been other brand variations, including, obviously, Riverhead.
Online sources (which seem credible) suggest that Headway experienced two factory fires in 1983, which ended in the construction of the Asuka electric guitar factory in Matsumoto in 1983, coincidental with the launch of the Riverhead brand. Unlike the Bacchus copies, Riverheads seem to have been Headway's "high tech" line. Another source suggests that Headway made all (or most) of its own components. Certainly its guitars had many unique and innovative features, like vibratos designed to pivot two ways.
Riverhead's Unicorn Series was distributed in the U.S. by a company called Prime, Inc., of Marlboro, MA, the same outfit that imported those curious Quest guitars. Designed somewhat after the fashion of the Burns Flyte guitars, Unicorns came with either two single-coil or, as here, two humbuckers. These were probably a unibody construction, with a mahogany core, though the wings might have been added on. Their advertising in late 1984 touted the fact that the pickups were mounted directly on top of the body for maximum tone. The heavy duty cast adjustable bridge/tuner assembly is very similar to a Steinberger, though I'm sure it was Headway's own innovation. For such a high tech looking axe, it's actually pretty basic, with a simple threeway select, one volume and two tone controls. Still, you'd look pretty darned cool in your orange and black Starship Trooper jumpsuit, eh?!
The Riverhead Unicorns were promoted in 1984 and '85, so they were around at least in that time frame, probably 1983-85 or '86 at the latest. They're not exactly plentiful. Prime seems to have had a presence in the Northeastern U.S. I don't know if they achieved much national distribution. The online sources suggest that Riverhead brand guitars were produced until 1997, after which Japanese production stopped. Japanese guitar production recommenced in 1999 and continued at least into 2009, although the company operates factories elsewhere in Asia. At this writing, Headway's web site was not active.
I've always thought the headless technology was cool, but I was never a New Agey kind of guy, and I wouldn't look good in an orange and black jump suit. I always found I liked a head to help me know where I should stop. Guess I occupy more of that boring normal part of the guitar universe than I care to admit!