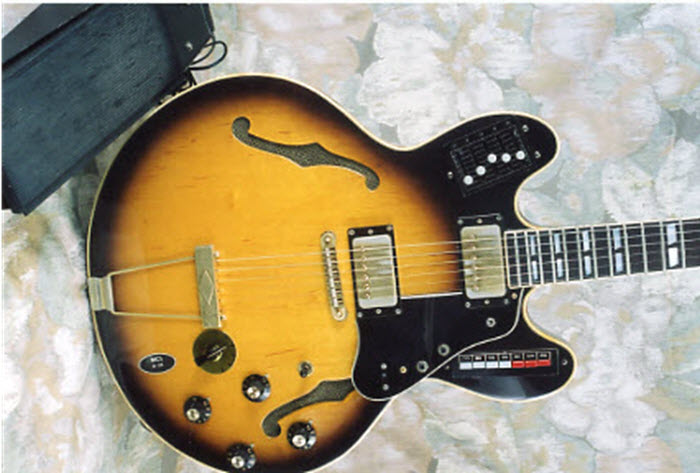 I confess I've not spent much of my life ice skating. Oh, I've been to ice skating rinks, but I don't know, going around in circles on sore ankles just never turned me on. And there was always that queer, loud, ballparkish organ music in the foreground, if you're lucky (or not), played by a live organist. I might have felt differently if the musician had been a guitarist. Or, rather, a Guitorganist!
The Guitorgan has to be one of the front-runners in the race for weirdest guitar concept ever, and there's a lot of competition! Yeah, it comes dressed up in pretty normal-looking guitar's clothing, but after that any resemblance melts away.
I was quite surprised to learn that the Guitorgan concept was around before 1962, when inventor Robert Murrell of Waco, Texas, filed for a patent on the instrument. In a nutshell, Murrell's idea was simple. Take an electronic organ. You press a key and that makes an electrical connection that sends a signal to whatever tone generator circuit you've selected using the frequency location of that key. So, why couldn't you do the same thing with a guitar? Of course, an electric guitar is just an acoustic guitar with an electro-magnetic pickup that translates the interruption of its magnetic field by vibrating steel strings to generate an electronic signal. That's actually a far more complex connection, and irrelevant. Suppose we wire the frets so that the electronic connection is made there? The problem is that the fret touches all 6 strings, so you can't distinguish the frequency or pitch. Solution: cut the frets into 6 segments and wire each segment separately. Then at each touchpoint you get a different, distinct pitch. Run this through some real organ circuitry and you have a Guitorgan!
Well, it's more complicated than that, but that's the basic idea. In 1966 or so, Bob Murrell began working with engineers at Baldwin in Cincinnati to figure out how to adapt their organ electronics to fit into a guitar. By 1967 he'd developed a prototype with his partner Bill Mostyn and took it to NAMM in Chicago, where the guitar was played by one Bob Wiley. We don't know what kind of guitar was used, but they obviously favored hollowbodies. There was enough interest that they went home and began making Guitorgans in the garage, forming a company called MusiConics, opening a factory in 1968, and beginning production in 1969.
Over the years Guitorgan used a number of hollowbody guitars to mount its electronics. Most were Japanese, including a Barnie Kessel model and various ES-335 copies. Online sources say that there were some examples using American guitars produced by Kapa in Maryland, but that would be pretty curious. By the time Guitorgans were produced, Kapas were Japanese hollowbodies with U.S.-made necks that were extraordinarily thin. When you have to mount wires in the neck, thin isn't better. Besides, Kapas barely made it into the 1970s. Who knows?
What's even more surprising is that online sources suggest that approximately 3,000 Guitorgans were produced from 1969-1984. I find it really hard to buy that quantity, both because I can't imagine 3,000 guitarists wanting to play one and because you almost never see them.
And, because the control options are almost mind-boggling. You got flute/accordion/vibes voices, with six register controls for flute mode alone. You got an organ/combo switch with tuning wheel to synchronize guitar and organ. You got a button for open E to tune. You got a button to temporarily activate organ when in guitar mode. You got voice controls for percussive, sustain, tremolo and octave lower. You got a button at the nut to activate the open string while fingering (this may be the weirdest feature of all!). Plus stereo output. And a 5-pin jack to connect to an organ. And a transformer/volume pedal. Not to mention on the guitar side you get standard controls PLUS a 6-position varitone. I don't know about you, but this is way too much information to process in the middle of Apache. Did I mention a $2,500 to $4,000 price tag?
MusiConics did make Guitorgans from 1969-1984, and on a custom-order basis, including with a MIDI option, into the late 1980s. But three thousand musicians bought these? You decide…
This is a well-made guitar, probably built by FujiGen Gakki, the maker of Ibanez guitars. It's a B-35 model probably from around 1977.
I love the idea of this guitar—er, organ—but it's over the top. You might be able to find one, but good luck. If you want to hear what a Guitorgan sounds like, look for Dan Forte's CD The Many Moods of Teisco Del Rey (Upstart Records, 1992), if you can find that, as well. As for playing at the local rink, I think I'd rather be skating, ankles be darned…