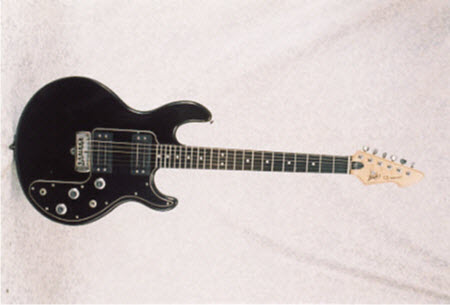 Any time you identify a "first," there's always some other dude who shows up to spoil the party and own the claim. However, I think it's safe to assert that the first company to use computer numerical control (CNC) carving machines to build guitars in the U.S. was Peavey Electronics. About the same time in Japan Fujigen Gakki began employing similar technology, so who has bragging rights to the true first may never be settled, if any of us care.
I guess if you have a job working for Peavey in Mississippi you care about CNC-carved guitars because they help feed your family. In any case, I don't think there are any production guitars made today that don't come out of a CNC machine, so Peavey was a real pioneer who rarely gets the credit that's deserved.
According to Hartley Peavey, the original idea for using CNC machines to help build guitars came from the manufacturing of gun stocks, as in rifles and shotguns. Peavey's chief designer Chip Todd started working on the idea as early as around 1975. Along the way Chip and his crew worked with Hollywood steel guitarist and amp repairman Orville "Red" Rhoads to come up with that nifty circuitry where the guitar is wired so that the tone pot works as a coil tap when it's turned down below 7 or 8. Peavey also developed and patented a new "bilaminated" neck, which basically fused two pieces of maple with the grain going in opposite directions to combat warping. The result was the T-60 (two humbuckers) and T-30 (three single-coils) guitars and T-40 bass, which were introduced in early 1978. The "T" prefix was shorthand for Todd, though it later got reinterpreted to stand for "Technology." I've always thought the T-60 was a really handsome axe, although I've never warmed to frets hammered right into the neck. Obviously, not everyone feels the way I do.
Originally the T-60 was made of natural-finished ash, but later sunburst finish and I think maple body options were added, as well as a rosewood fingerboard for curmudgeons like me. Peavey's T-60, T-30, and T-40 were a little, how shall we say, 1970s in their look. They must have been moderately successful because Peavey decided to stick with guitars.
In 1982 Peavey had Chip Todd revamp its T (now "Technology") line, just before Todd got hired away to Fender. To the casual eye the new T guitars—T-15, T-25, T-26, and T-27—looked a lot like the previous T-60, but there were subtle changes. Todd had lightened the guitars with less dense timbers, added new high-output Super Ferrite "blade-style" pickups, and a variety of pickup configurations. The cutaways were also deepened a bit to improve access up the neck. These new Ts also came with some new finishes, including the jet black seen here and a few metallic paints, including a turquoise and a brown. To my taste, these still look a little too retro '70s, but it wouldn't be long before Peavey got into the weird shapes (like the Razer) that were becoming popular with the heavy metallists of the times.
The T-15 was a shortscale guitar with a pair of single coils and a bridge/tailpiece assembly. The T-25 seen here has twin humbuckers and the cast bridge. The T-26 had three single-coil pickups in a Strat-style configuration. The T-27 had a humbucker and two single-coils, one of the early guitars to feature this. The T-30 went back to the three single-coils. The T-25 pictured is called the T-25 Special, which presumably refers to the fact that it has a phenolic fingerboard instead of the usual maple.
I don't think these Peaveys are especially rare, due in part to the fact that CNC machines can pretty much work as long as you want. On the other hand, these later T Series were only promoted in 1982 and by '83 Peavey was on to the Razer et al. By mid-decade Peavey had move on into much more exotic territory with guitars with fancy figured tops and all sorts of new developments.
Still, all these T Series guitars are fun to play and are relics of that seminal era when new manufacturing technology was revolutionizing how modern guitars are made. Part of Hartley Peavey's rationale was that by using machines, he could keep guitar manufacturing here in the U.S. It's awfully ironic that the adoption of CNC technology would make it even easier to send guitar production to developing countries where you could make them even cheaper. So, I'm not exactly sure what the reward is for being "first!"