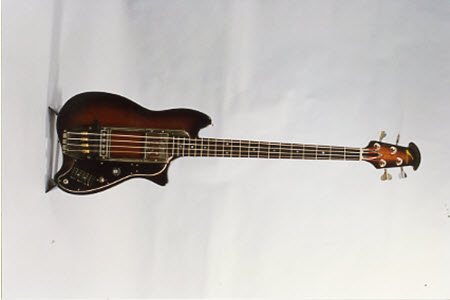 No matter what you think of Ovation guitars, you have to hand it to them for trying, and I mean trying hard. Their application of helicopter technology to acoustic guitars is the stuff of legends. I'm always blown away by how good the synthetic materials sound when you just don't expect them to compare to traditional timbers. I confess Ovation's choice of aesthetics has often been baffling, but some of that is attributable to the times in which they emerged. All of the above certainly applies to Ovation's Quixotic attempts to break open the solidbody guitar and bass market.
So naturally I've always been attracted to Ovation's solids. I mean, what's not to like about a battle-axe-shaped guitar like the Breadwinner and Deacon?! Or those nifty Ultra Kaman UK IIs with an aluminum frame and urethane foam body (finished up in really ugly sunbursts)! As you'd expect, the workmanship was always first rate on those guitars. Unfortunately, I was one of the very few who ever liked Ovation solidbodies, because they were notoriously bad sellers. I guess Mr. Robinson liked them too because he's got a couple of Ovation inspirations in his line offered here, the Eastwood GP and Breadwinner models.
In any case, when I found this Ovation Magnum II Bass with a built-in on-board 3-band graphic EQ, I had to have it! That it was/is exceptionally, well, homely with its lumpy potato shape certainly added to the mystique!
Actually, there's so much going on with this bass it's mind boggling. Not only does the neck have a regular truss rod, it's also got three carbon graphite strips for additional stability/reinforcement. One down the middle of the back and two more under the fingerboard. It's got that big honking neck pickup which would be cool enough, but it has 4 individually adjustable volume trim pots built in under the cover. You need a little screw driver to adjust them to your liking, picking your sweet spots. Of course the brass saddles on the cast bridge/tailpiece assembly are micro-adjustable so you can noodle your intonation to your heart's delight, and you can even adjust the tension of the whole tailpiece using an allen wrench. This bass has only mono output, which is a shame! A similar Magnum I was also offered that gave you stereo output, but didn't have the EQ. So many bells and whistles!
Maybe too many bells and whistles, truth to tell. I'm always infatuated with being able to adjust the heck out of technology, but maybe Eddie got it right when all he needed was a volume knob. I mean do you really want to be fooling around with trim pots in between songs? You might get electrocuted messing with a screw driver on stage. And is that tail tension just right? Sometimes you can overthink things and that may have been what happened with Ovation's Magnums.
As I've said before, I'm not really a bass player, even though I indulged in playing one briefly back in the day. Still, you just don't pass up an opportunity to adjust volume pots for each string AND get to play around with a graphic EQ. The Magnum I (1261) and Magnum II (1262) were introduced in 1977 and lasted until around 1982. This one has a serial number B 01259 which dates it to 1979, right in the middle of the production run. I have no idea if these Magnum basses—indeed the entire Ovation solidbody oeuvre—were ever very plentiful, but I suspect there weren't that many made, and even fewer sold.
Ovation had actually begun making electric guitars—as distinct from its acoustic-electric guitars—way back in 1968 with its Electric Storm series of thinline semi-hollowbodies, the Thunderhead and the Tornado. They tried valiantly to plant the flag for close to 15 years, to no avail. They finally pulled that plug in 1983 and just said no to making their own solidbody electric guitars and basses. Ovation did pick up a few endorsers over the years. Jim Messina and the Strawbs briefly endorsed them. Johnny Graham of Earth, Wind & Fire was seen playing a white Breadwinner on the 1976 album Gratitude. And Eddie Hazel offers a glimpse of a Deacon or Breadwinner on the back of his album Games, Dames & Guitar Thangs. Slim pickins. As in "not so great," not as in the country western singing star.
In 1985 Ovation imported some Korean necks and bodies and finished them up in the U.S. plant. These were the Hard Bodies series that featured the aforementioned GP model. In 1987 they imported a line of Celebrity solids completely finished in Korea. In 1988 Ovation just gave up and bought Hamer guitars and finally had a successful solidbody guitar and bass line on its hands.
Still, I love all the techy stuff with this Magnum II bass, even if it's not always all that useful. Hmm, where'd I put that screw driver?…