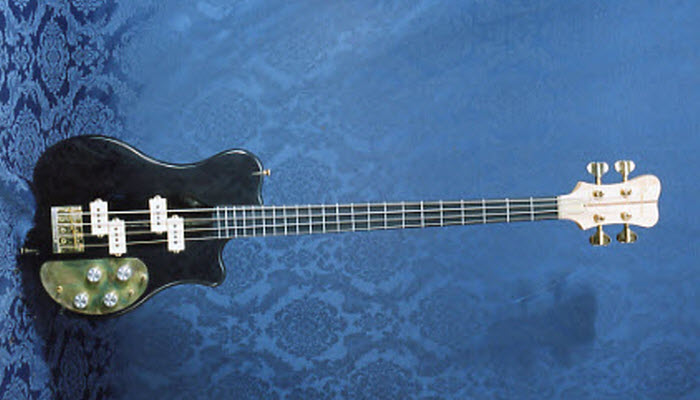 Knowledge can be a terrible thing, especially if you're a collector like me. Once I learn about a subject—say, an obscure guitar maker with connections to bigger things that almost no one knows about—I want one, or two. Never fails. That's how I ended up with this 1981 Renaissance bass.
Now, basses have rarely spoken to me. I was always a 6-string man. Although, that said, I actually did play bass (and sing) briefly in a band for a few months back in 1967 (a rent-to-own, baby blue Hagstrom, as I recall). Most of the time, in a shop or at a show, I usually walked right past the bass guitars.
In any case, the road to my Renaissance began in the shop window of Society Hill Loan on South Street in Philadelphia. I used to work in an office tower near City Hall. I was a writer and no one paid attention to us, so I found that on my lunch break I could zip out, hop on a bus, and in a few minutes find myself walking down 7th Street toward Temptation. South Street was home to a lot of clubs and young hipsters, so naturally Society Hill got lots of interesting instruments.
One day I walked up to the corner display and staring back at me was a clear Plexiglas bass guitar bearing the Renaissance brand. This was one of those RARE instances where the guys in the shop actually knew something about Renaissance. They knew they came from the western suburbs of Philly, maybe Newtown Square, and a music store called Dragonetti's. This was way more information than the usual shrug and "I dunno" that I usually got. A red hot lead!
I didn't buy the bass that day. In fact, in a rare occurrence, I didn't even own any Renaissance gear when I tracked the company down. Which wasn't all that hard. I just let my fingers do a little walking—this was way before you "Googled" anything—and found Dragonetti's Music located in Newtown Square, PA, in Ma Bell's Yellow Pages. A quick call and I reached store owner John Dragonetti. "You know anything about Renaissance guitars," I asked. "Do I? You can't imagine how much that cost me." Pay dirt!
Turns out Dragonetti marked the end of the Renaissance saga, not the beginning. The story began in around 1977 when a young John Marshall decided to go into guitar making instead of college. Marshall had learned how to build guitars from Eric Schulte, a well-known local luthier living in Malvern, PA, a far northwestern suburb of Philly a few miles north of Newtown Square. Marshall got together two partners, recording studio owner Phil Goldberg and studio guitarist and manufacturer's rep Dan Lamb and founded Renaissance guitars in Malvern.
In search of something different, the trio settled on using Plexiglas, inspired by the old Ampeg Dan Armstrong guitars of a few years earlier. Marshall came up with the design. Both the guitar and the bass were similar to what you see here. Three shades of Plexi were offered: clear, smokey gray, and black. Prototypes were made in late 1977 and production began in 1978.
This bass is the SPB Gold model built in May of 1979, in the smokey grey known as "Bronze." The neck is 3-piece mahogany. What you can't see are brass dot position markers along the side of the ebony fingerboard. It has active electronics with two notched filter tone controls, and active/passive switch, phase switch, and a pair of special designed DiMarzio pickups. I'm not really qualified to evaluate basses based on my brief Hagstrom experience, but I think this is pretty top-notch!
However, sales did not go well for Renaissance and the instruments were expensive to make. They needed an infusion of cash. That's when John Dragonetti was brought in. John Marshall had become disgruntled and left to take a job with Martin. Dragonetti put in some capital and immediately found his new partners absent and in early 1980 pretty much in sole control. He redesigned the instruments in an attempt to make them less expensive to produce, the new shapes reflecting more of a B.C. Rich influence. Sunn amplifiers were interested in purchasing Renaissance, but a fluke accident at the NAMM show scuttled that deal. That's when the IRS knocked on the door… The end.
Renaissance guitars and basses are relatively rare. Generously speaking there were only about 600 give or take of six various designs. Basses in this design were around 150 in number, divided between two different models, so maybe 75-100 of these were made, at most.
Being Plexiglas, this is relatively heavy. In my dotage, I like light-weight. However, the likelihood that I'll join a band and play any bass is remote indeed. Also, I tend to stay away from pawn shops, as well. You never know what you'll learn about, and you know where that can lead…