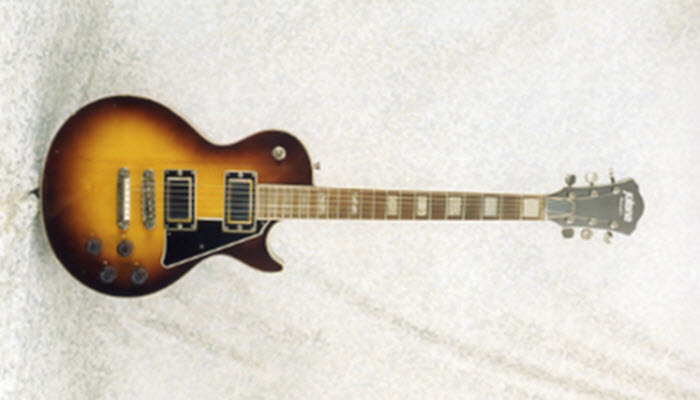 You might know that China is still officially "Communist," but so fiercely Capitalistic that any associations with Mao are hard to parse out. Ditto Russia and Lenin and Stalin. You've got to find an old map to locate the "former Soviet Union." But, if you're an old fogey like me the term is full of "complex notes" as the vinophiles would say. What has this to do with guitars, you ask?
The short story, of course, is that Russia became Communist after the Russian Revolution of 1917. Fast forward to 1941 and the German Nazi army invades Russia, get's stalled at Leningrad (St. Petersburg), and the Russian counter-assault commences. The Allies invade Sicily and Normandy. In 1945 everyone meets up in Berlin and Hitler eats a bullet. The victors divide the spoils, with Russia getting control of the Eastern half of Germany (and Berlin), as well as pretty much everything to the east of that. The Soviet Union, the Eastern Bloc, and the Iron Curtain are created and more than 30 years of Communist rule ensues in those areas. Can you say "Cold War?"
Now, you could probably construct an argument about how the Cold War ultimately affected American popular music, but I won't try. What I find more interesting is that a whole bunch of traditionally guitar-making regions in Europe ended up under Communist rule. Markneukirchen, probably the greatest center of German lutherie, ended up just a few miles over the border in East Germany. Similar areas in nearby Czechoslovakia also ended up in Communist hands, including that where the Jolana company that made the Diamant I seen here was located.
I don't know about you but I didn't grow up withCommunist Guitars on my mind. I just knew they wanted to drop an A-bomb on us. As with all of history, reality and geo-politics operate in totally separate realms! Thank goodness.
Definitive information on Jolana guitars is hard to obtain, even though the brand was one of the most successful in the Eastern Bloc. If you search online, you will actually learn that Jolana guitars represent a pretty heroic story of a man, Josef Ruzicka (1928-2004), who bucked the official Communist dictum that electric guitars represented rock and roll and the decadent Capitalism that music stood for. In around 1953 Ruzicka built his first electric Hawaiian guitar (about as decadent a Capitalistic rock and roll tool as I can imagine, eh?). Thereafter followed some Strat-style guitars, eventually leading to a guitar factory which ended up in Horavice and guitars named for—if Google Translate can be properly translated!—Josef's daughter Jolana.
Just when the Diamant Les Paul version appeared is a bit murky. If you asked me, I'd say around 1972, but other sources online claim that the Diamant appeared in 1979, with the upscale Diamant I, as seen here, debuting in 1983. This may be true. One curious phenomenon you'll encounter in online accounts of Jolana and other Soviet-era guitars is a profound inferiority complex that disparages the quality of these instruments. Indeed, as someone with no youthful experience (and an awful lot of aged experience!) with these guitar, I find this surprising. I have not found Eastern European guitars to be particularly different from guitars produced in Western Europe, and the workmanship is generally speaking quite good. Would this hold its own head-to-head with a Gibson Les Paul? No. But neither would a Crucianelli or a Framus or a Hagstrom.
That said, I have noticed that I consistently date Eastern Bloc guitars as being much earlier than they actually were. I'll eye-ball a guitar and say "1968" when it turns out to be 1979. What appears to be the situation is that Soviet-era guitars aren't so much badly made as they are really out of date, anachronisms! As if the makers are all at least 10 years behind their Western counterparts! Anachronism shouldn't be confused with shoddy quality. But then again, if you're 15 and those were the only guitars you could get, you might see "old fashioned" as a "quality" issue.
In any case, this is a well made little Les Paul copy. The body is maple with a thick, about ¾" thick carved European spruce top. There's binding and the fit and finish aren't bad. These humbuckers ain't DiMarzios, but they're serviceable. If online sources are to be believed, this particular guitar is quite rare based on the finish. The vast majority ("90%") are supposed to have been black, with the rest finished in red, and only a very few done in sunburst, as seen here. It would be hard to judge here in the Western Hemisphere because as far as I know none were ever exported to these parts and you almost never see any—black, red, or sunburst—on vintage guitar dealer lists.
According to some online sources, the Jolana factory produced some guitars branded as Futurama and exported to the UK, where they were played by the likes of George Harrison, Jimmy Page, and Eric Clapton, presumably before they could afford more expensive guitars. Most sources have Jolana shutting down in 1989, about the time that the Iron Curtain came crashing down to end the Cold War, though one source claims to have a 1991 Jolana.
But just when you think the Cold War and Jolana guitars are gone for good, Vladimir Putin chomps off a bit of Ukraine and the NBE Corp. in the Czech Republic announced the return of Jolana guitars. I don't know if the Cold War has returned (I hope not), and I haven't seen any new Jolana guitars, but these old ones, Communist overtones and anachronisms included, are pretty interesting artifacts of a time when a guitar like this Diamant I was unknown to those of us raised under Capitalistic Decadance!