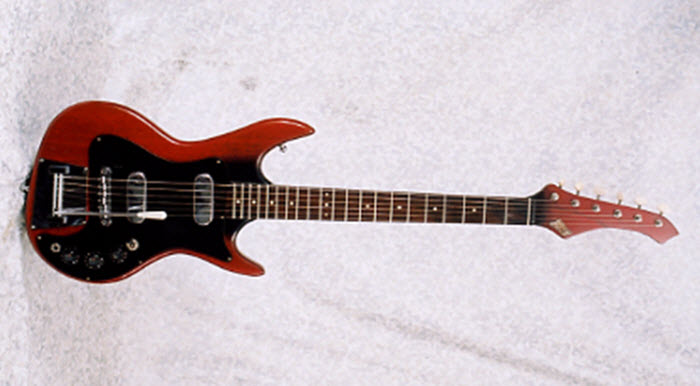 If you've read even a little of my writing about guitars over the years, you know I'm fatally attracted to unusual guitars. There's a reason I'm "The Different Strummer." But even I have to admit some guitars are just plain ugly. A case in point: the Fenton-Weill Tux-master from England, a country (sorry, friends) that has more than its share of these birds.
This Tux-master actually comes with a pretty impressive pedigree. In 1959 the legendary guitar-designer (and notoriously bad businessman) Jim Burns hooked up with a German chap named Henry Weill to build a line of Burns-Weill electric solidbody guitars built in London. Weills was reportedly the electronics expert. This partnership lasted less than a year and it's pretty hard to find examples. However, it's pretty reasonable to speculate that Burns and Weill met more than once over many more than one pint! Then they retired to a band saw to reshape some firewood. These were truly Bizarro guitars, squarish angular monsters all off-balance!
According to online sources (meaning cross your fingers and hope), one of their models was called the Fenton, and that became the source of name of the new company re-formed by Weill in 1960, Fenton-Weill. Whether or not there was a person named Fenton remains one of guitardom's unsolved mysteries.
Regarding this Fenton-Weill guitar I have in my notes that it was a re-design of the Burns-Weill RP2G guitar model but I have no idea how I arrived at such a conclusion. I don't need to point out this guitar's ungainly aspects! That anteater snout headstock, the small, asymmetrical body.
To be fair, this guitar actually has some innovative features. For one thing, the neck is glued in and has a heelless design to improve access up the neck. This is at least a decade in advance of the appearance of that design feature in the U.S. Also, the weird paint job, with the shaded black-burst, was at least 25 years ahead of its time, such aesthetics not appearing until the mid-1980s.
Actually, this guitar isn't entirely "stock." The bridge is a Gotoh replacement and the 3-way switch and jack are not original. However, this kind of fits with the gestalt of Fenton-Weills. That's because Henry Weill was also an early pioneer in sourcing parts from Japan, as it turns out (if online sources are to be believed). Apparently Weill bought pre-assembled pickguards, with pickups and wiring, from Guyatone. Reportedly, Henry "tweaked" them, but the electronics are Japanese. Online rumors suggest that Weill didn't do the wood-work either. Necks are supposed to have come from Germany. Thus, the presence of a Gotoh bridge doesn't violate the spirit of the law.
Like most ugly-duckling guitars, this actually plays and sounds pretty well. The original Featherlite vibrato is great for your rendition of Apache or Walk, Don't Run. I suspect you wouldn't want to be seen strapping this on for a heavy metal gig, but it does have a cool surf vibe.
When Burns and Weill split in 1959, Weill continued to make guitars badged Weill-London. These seem to be even rarer than Burns-Weill guitars. I couldn't find a single online image of one, but they no doubt continued the same aesthetic. The Fenton-Weill brand was in play at least by 1963. Weill had his own factory by this time and was also producing amplifiers, plus reportedly producing guitars for Hohner and Selmer.
If you Google-Image Fenton-Weill guitars you'll get a range of designs that include the square Bizarros some vaguely Supro-ish LPs, a kind of Alamo Jazzmaster thing, and these skinny anteater whatever-they-ares. Some have bolt-on necks, many are set-necks like this. Guitars and basses. The black-bursty finish touches are fairly tyoical.
Fenton-Weills seem to have come in a plethora of model names, "-master" being favored, including Dualmaster and Twinmaster. Minor details differ between models. Consistency was no hobgoblin for Fenton-Weill!
Alas, Henry Weill doesn't appear to have been much better at business than Jim Burns and in 1965 the Fenton-Weill company was history, imploding in bankruptcy.
I can't be certain when this guitar was made, but the window is pretty tight: the widest being 1960-65, with 1962-65 being more likely.
Today, sourcing parts from foreign lands is common practice. It was novel when this guitar was made, as were many of the other features. The awkward design, however, is completely original and completely…ugly! So ugly you gotta love it! I know I do…